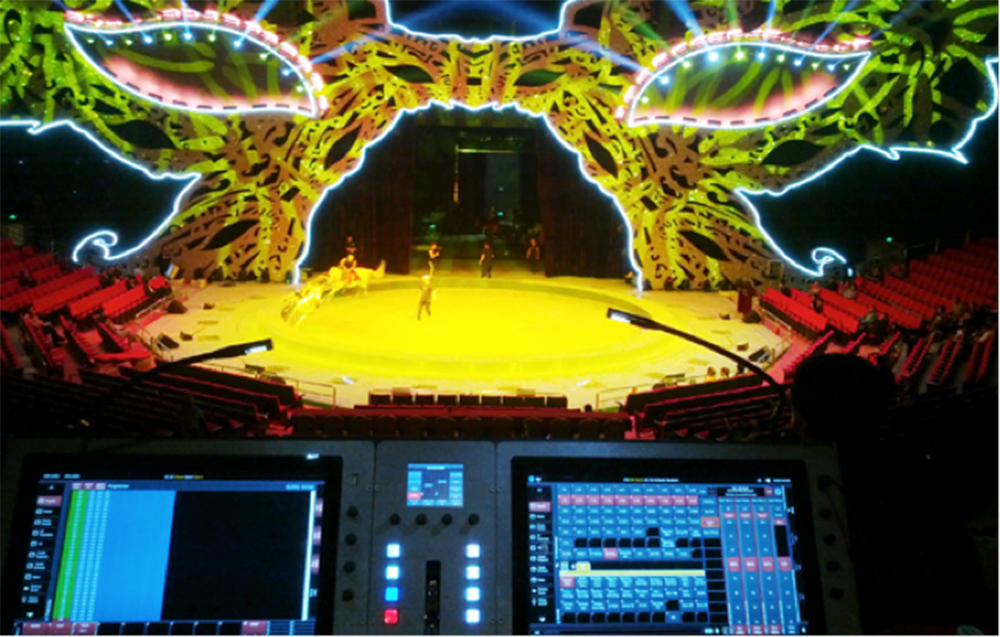 The M6 Lighting Console Brings Joy to Changlong International Circus Festival
June 13, 2014
Located in the southern Guangdong province and bordering Macau, Zhuhai is a premier tourist hotspot in China. Recently, it is also the host to the Changlong International Circus Festival, of which the committee selected the HARMAN's Martin M6 Console to control and calibrate the lighting systems on and around the stage. Local Martin distributor Guangzhou Dan-Pro Stage Equipment Co., Ltd recommended the console Martin not only to match the popularity of the venue, but also to provide a compelling experience to such a joyous event.

The Martin M6 console offers the most advanced visualization of lighting control, accommodating a wide product range from traditional fixtures to moving lights and even the most advanced media servers with ease. The setup for the festival features two M6 consoles of the 64 channel version, as well as eight Ether2DMX8™ DMX routers.

Yuri Zhang, Vice GM of Guangzhou Dan-Pro Stage Equipment Co., Ltd. said:
"The M6 console is extremely popular amongst integrators, especially for live applications. During shows that span multiple days, it is imperative for the lighting systems to be controlled by a console that can consistently keep up with the pace without failure. To this end, the body of the console consists of a lightweight aluminum shell, which also allows for a compact design and fast setup times."

The show features 10 consecutive days of clown acts, circus and aerial acrobatics, animal performances and magic acts, pushing top groups around the world to exciting levels of brilliance. Since there are no two acts alike, all participants had different requirements for synchronizing the lighting effects with their performance. Powered by an industrial multi-core processor and solid-state drives, the M6 console is well equipped to endure such a long and arduous event.

According to Zhang, the M6 console is one of the most reliable lighting consoles to date. He added:
"It pushes innovative boundaries in terms of flexibility and modularity, as it works with nearly all forms of lighting equipment. By adding a custom touchscreen display to improve ergonomics and workflow, we boost user confidence, so that they may focus on the show."

The Circus Festival organizers, Changlong Group's board members, and technical staff were all satisfied with the performance of the Martin M6 console, and praised it for its design and effectiveness. The operators found the controls to be "ambitiously effective" and thus, the M6 will continue its mission to accommodate regular programs for the Changlong International Circus.