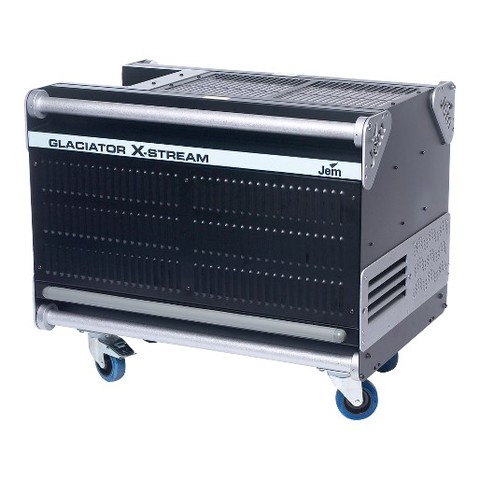 Larger Images
Without question, the most desirable atmospheric effect is that of a lush carpet of ground-hugging fog.
Features
Controllable from external DMX source
Electronic Low Fluid Sensing
Integral Fan for extended fog projection
No need for a separate Fog Generator - Glaciator is completely self contained!
No need for big three phase power supply - Glaciator needs under 16A at 230V
No need for separate Gas Cylinders or Dewar Vessels
On-board control panel featuring fog and fan level controls plus auto timer
Optional two-way ducting system available
Powerful 2500W integral fog generating plant
Specifications
Downloads
Version
Language
Size
Uploaded

Specifications

Specifications
B
37.8 KB
May 18, 2018
Caracteristiques techniques
B
35.1 KB
May 18, 2018

Manuals

User manual
B
57.6 KB
May 18, 2018
Manuel d'utilisation
A
140 KB
May 18, 2018

Illustrations

Dimensions
A
326 KB
May 18, 2018
Ducting System Dimensions
A
81 KB
May 11, 2018

Parts

92620004 - Glaciator X-Stream Fluid Drain Pipe Kit
A
183 KB
May 11, 2018
Martin Heat Exchange Part Numbers
B
116 KB
May 11, 2018

Service Procedures

Temperature calibration methods
A
May 22, 2018

Service Notes

Thermocouple colour changes
A
May 22, 2018
If any of the links above result in strange characters in your browser, please right-click the file to save it to your computer.
Support/FAQs
Jem Glaciator
(discontinued)
---