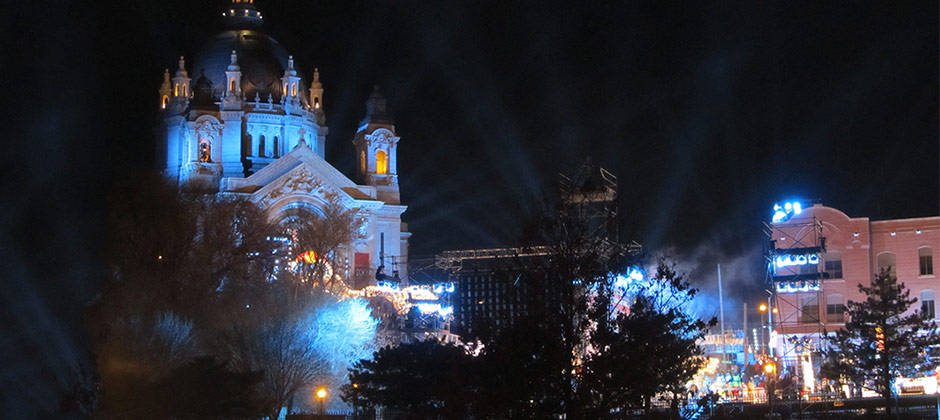 108 MAC Quantum Washes illuminating downhill action at Red Bull Crashed Ice World Championship
May 04, 2015
Even in the depths of January, Red Bull's Crashed Ice event in St. Paul, Minnesota, drew more than 100,000 people to a weekend of after-dark competitive ice cross downhill skating. Spread out over three square miles of the city center, the massive track and viewing area required hundreds of Martin Professional fixtures to be properly lit. Lighting Designer Paul Guthrie of Toss Film + Design Inc. was brought in by Red Bull to lead the layout and design of all the lighting fixtures for the event.
Crashed Ice takes place four times a year in world-class cities such as Helsinki, Belfast and Edmonton. Skaters compete in heats of four on temporary 1,500-foot long ice tracks featuring steep turns and high vertical drops erected in these urban environments. The track in St. Paul was set up in front of a cathedral – a backdrop made all the more impressive by high-quality lighting.
Guthrie, whose expertise lies in concert lighting design for acts such as Fleetwood Mac, Sheryl Crow and Nine Inch Nails, usually operates lighting cues during a performance. While Crashed Ice was an unusual project for Guthrie, the ease-of-use of the Martin fixtures provided a sense of familiarity in a new territory. Guthrie said:
"Our main workhorse for lighting the area was the MAC Quantum Wash, which I had only previously seen in a demo. We had 108 of them, and they worked flawlessly – especially considering this was one of the first times we'd used them outside in winter."
Guthrie cites the MAC Quantum Wash's color rendering, beam punch, and low weight as major factors in his decision to deploy Martin's new moving head. Primarily used for audience lighting, the MAC Quantum Washes were mounted on towers along the track to set the tone of the event. Conversely, MAC Viper Wash DXs were instrumental in filling in dark sections of the tracks, making the high-speed races more photogenic. Guthrie explained:
"The MAC Viper Washes added a splash of tungsten to reach into tight corners. We also stationed 52 MAC 2000 WASH XBs at the base of the cathedral to emphasize the cathedral's dramatic façade and deployed Atomic 3000 strobes at the beginning and end of the tracks to draw the audience's attention."
Guthrie's crew had only 10 days to mount more than 800 fixtures across the huge event area. While it's a tremendous undertaking, Crashed Ice is a boon to St. Paul's tourist economy. Guthrie concluded:
"After hosting for four years, the city really loves the crowd that Crashed Ice appeals to. Martin Professional was just as instrumental in making sure that the event was a spectacle for the audience as well as a success for the city."
Martin equipment
MAC Quantum Wash, 108 x pcs.
MAC Viper Wash DX 22 pcs.
MAC 2000 Wash XB, 52 x pcs.
Atomic 3000 DMX, 8 x pcs.