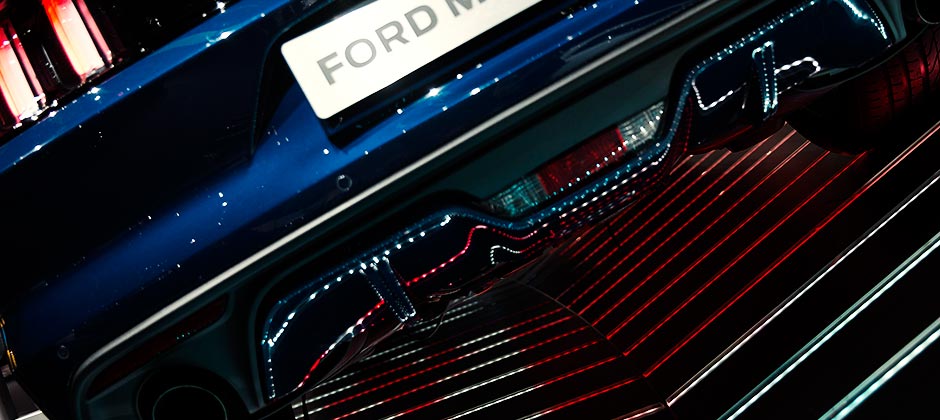 Auto manufacturers' show booths enhanced by Martin Professional moving heads and VC-strips
August 19, 2015
The cities of Detroit, Geneva and Frankfurt have something in common. Each plays host to three of the world's biggest and most prominent auto shows. Manufacturers often leverage the attention garnered by these international events to launch new flagship models that will be the core of their business for the year to come. With so much at stake, brands like Ford, Bentley and Jaguar Land Rover understand that an audience-engaging show booth is worthless without camera-ready, visually stunning displays of their new vehicles. That's why they tap world-class design firms like Imagination and lighting suppliers like Static Light Company, which are staffed by experts who understand the challenges of illuminating a car's sleek curves and metallic sheen in an indoor convention hall. To meet those challenges, they rely on Martin Professional's lighting fixtures. Morten Gjoetz, Sales Director of Strategic Accounts, Martin Professional said:
"Our MAC series of premium moving heads and our creative video solutions are regularly put to the test at worldwide auto shows. Their versatility is what makes them so prevalent, as they're used for both functional and experiential purposes – often at the same booth."
North American International Auto Show 2015
NAIAS is often held in auto capitol of the United States, the Motor City, more commonly known as Detroit. This year, Ford's redesigned F-150 took home the 2015 North American Truck of the Year award. The massive vehicle was part of a sprawling and interactive booth that Imagination spent nearly a full year designing to emphasize the Ford brand's leadership in innovation and performance. The pavilion featured a terrarium full of pine trees and plants to symbolize Ford's sustainability practices and pedestals populated with cars and trucks highlighted by Martin fixtures. Jonny Milmer, Head of Lighting Design, Imagination said:
"The sun provides the best lighting for an automobile, so being indoors is the first compromise," said. "Our top priority is having consistent simulated sunlight."
Imagination deployed high-power MSR lights for a brilliant shine throughout the booth. Some fixtures were tuned to an iconic deep blue to match the Ford logo, used to light the impressive blue-branded architecture. The MSR lights were bolstered by modified Exterior 400™ architectural lighting fixtures, selected specifically for their ability to accurately render the exact hue. Milmer said:
"We were able to achieve precisely the same blue with the 400s as we were getting with the MSR sources. The architecture's consistent blue color was absolutely necessary for primary branding, driving home that blue's sentiments and emotional resonance."
The LED-based Exterior 400 is capable of providing extremely bright light at narrow to wide beam angles and across large distances. Milmer's team also selected Martin MAC Viper™ Wash and MAC Aura™ fixtures to further flourish the cars' details.
Martin Equipment List (Ford)
Exterior 400, 140 pcs.
MAC Aura, 48 pcs.
MAC Viper Wash, 12 pcs.
Geneva International Motor Show 2015
More than 682,000 visitors descended on Geneva last March for the 85th annual Geneva Motor Show. Unlike Detroit, Geneva lacks a significant auto industry. In keeping with Switzerland's neutrality, the country's primary car show acts as a level playing field for global manufacturers. Exotic sports car debuts are complemented by grandiose booth designs, engineered to draw in drooling photographers and adoring fans. Imagination tailored its work for Jaguar Land Rover and Ford for this show, resulting in two very different experiences for two equally different brands.
Jaguar Land Rover's booth was characterized by its solid stone surfaces and striking wood walls, providing a specialized, intimate atmosphere that would dovetail with the luxurious-yet-rugged vehicles. Milmer explained:
"Warmer lighting tones help the Jaguar Land Rover brand to enhance its luxurious materials and architecture while also complementing the warmer pallet of material colors used in the stand design. The MAC Aura is color calibrated at manufacture so it allows us to precisely and consistently light for camera, where we can easily adapt the lighting to suit different presenters' skin tones. We're able to use an array of Martin MAC Auras to simulate a soft studio light knowing that the colors will be exactly the same from fitting to fitting."
When it was time to unveil new vehicles, however, the MAC Viper Performance™ was the ideal solution for both Jaguar Land Rover and Ford. Milmer said:
"The Viper Performance's 6,000° K white color temperature complements and works with the daylight color we use for vehicle lighting and allows us to use this fitting without further color correction. The colors are vivid and the lens edge is both soft and well-defined which helps to reduce the unwanted spill and enables us to create high levels of contrast to make the car really stand out."
The Viper Performances' color accuracy and brightness were sufficient enough to boost the effects of the 1,500+ 25 mm VC-Strip™ fittings with which Imagination had outfitted Ford's booth. The elaborate design featured a 40-meter wide LED-based Ford logo that was then laid into the floor and covered with a glass surface festooned with more pixels.
Douglas Green, who works with Milmer in Imagination's lighting design team, was pleased with everything – particularly the extremely fast installation. He said:
"We had only a small amount of space to work with but the VC-Strips proved to be easy to lay down and simple to program with the P3-300 controller. Their operation was consistent and they were definitely cool."
Douglas Green, also a Lighting Designer at Imagination, was pleased with everything – particularly the extremely fast installation. He said:
"They operated very reliably and their punchy output made real impact in the bright motor show environment. Our client really felt like they had the edge on their competitors."
Martin Equipment List (Ford)
MAC Viper Performance, 36 pcs.
VC-Strip (25 mm pitch), 1,546 pcs.
P3-200 System Controller, 1 pc.
International Motor Show 2015
The 66th annual International Motor Show (IAA) will be held in Frankfurt this September. Known as one of the most prestigious car shows in the world, many brands often use IAA to debut experiential show booths. Andy Mama, Director of Static Light Company Ltd, and a frequent collaborator with Imagination, helped deploy a show booth for Bentley with different objectives than Ford's highly pixelated design, which he also worked on. Mama said:
"As a premium brand, Bentley's IAA booth borrowed inspiration from world-class fashion brands. Many high-fashion brick and mortar shops use lighting to establish a very intimate warmth. Bentley wanted to establish a similar ambience."
Mama worked with Jack Morton Worldwide and XL Video to, yet again, roll out the VC-Strips, but this time in a very different application. Instead of individual pixels, visible under transparent glass, Bentley needed the strips to slowly pulse with changing colors and animated shadowy movements, all set behind a nearly opaque, white frosted glass wall. The result was a diffused white light that gently and evenly emanated from the walls of the show booth. Mama explained:
"It was this lovely and luxurious chrome pattern effect wrapped around the whole booth. It was the complete opposite of the Ford application and really shows the versatility of the VC-Strips. With Ford, the point was to show off each individual light, but here you couldn't see a single one and the effect was that of a consistent, massive source."
Bentley first premiered this design at IAA in 2013 and will again be using it at this year's upcoming show. Imagination will again be supporting Jaguar Land Rover and Ford. Milmer said:
"Again it will involve a lot of VC-Strips, MAC Auras and MAC Vipers. But Ford is always eager to use the technology in different and often progressive ways – luckily Martin's lights are adaptable enough for a fresh design at each show."
As the international auto market grows, Martin Professional continues to refine existing fixtures and develop new products to assist lighting designers in this distinct market. Gjoetz said:
"We're constantly expanding our core series of solutions for the auto market and now more than ever we're focusing on easy upgrades. All products are anchored by the same long-term platforms to ensure our customers experience seamless integration and fast learning curves."
This commitment to the industry is underscored by Martin's concierge-level of service and customer support, which Gjoetz attributes to his team's prioritization of "customer peace of mind." Milmer concluded:
"When we first purchased the VC-Strips for setup, Gjoetz flew out to us immediately. The support was phenomenal. At no point was anything difficult."