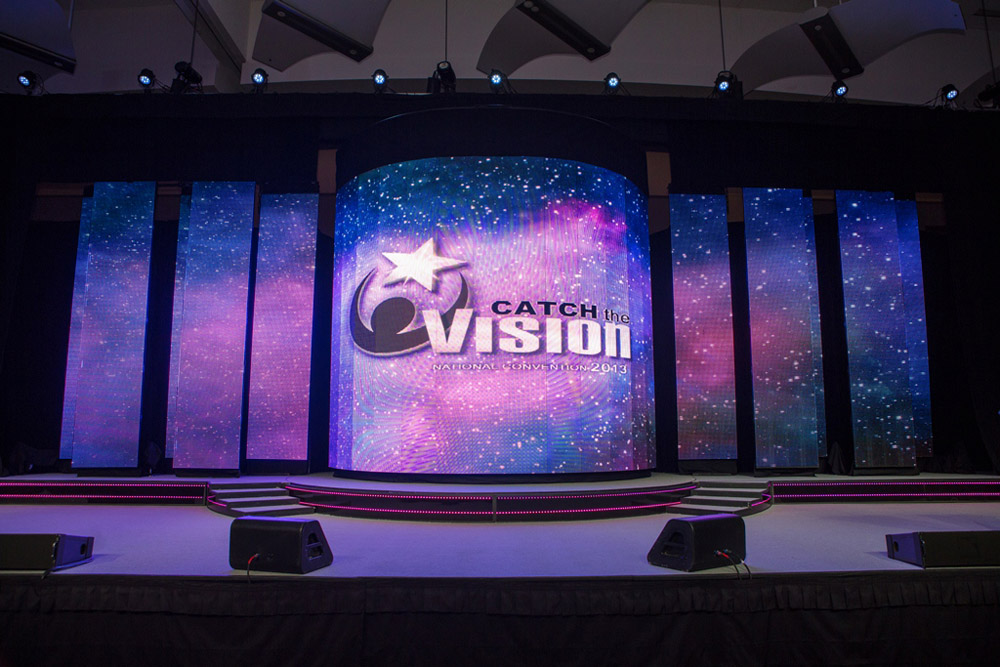 Axxis Inc.'s Revealing Martin LED Video Panel Design
April 19, 2013
See the Axxis presentation and reveal set in action here.

Axxis, Inc. of Louisville, Kentucky, has developed a unique and versatile presentation and reveal set using Martin EC Series LED video panels as its main visual element, and companies are using it to great effect.

The set, made up of a curved LED wall turntable and LED columns, can be used for a variety of purposes, including product, speaker or band reveals and was inspired by the Axxis design team, led by Stewart Davis.

Cocktail napkin design at 30,000 feet (http://www.axxisinc.com/_blog/Axxis_Blog)
The system was conceived in early December as Stewart was flying back from a client visit in Tampa. "Their directive was to 'push the design envelope' and at 30,000 feet inspiration hit!" explains Davis.

As the circle on a coffee-stained napkin morphed into a turntable – a perfect reveal for a band or event finale - Stewart then imagined placing an LED wall on the turntable and curving it. "Then we thought, what if we flanked the turntable with more LED and put it on traveler track to have even more reveal and endless walk-on opportunities?"

Impactful, inspiring design
Back on the ground, the design quickly became reality and was consequently used for an award's show at the Conklin National Convention held January 31st to February 2nd at the Hilton Convention Center in Branson, Missouri.

"The client sought a highly impactful, inspiring design and we delivered that," Stewart states. "The system was used to show a variety of graphics and was used for several reveal moments, including a band reveal. The customer was blown away."

EC Series
The cutting-edge system consists of 80 curved EC-10 LED panels on a turntable (ground supported) plus 100+ EC-20 LED panels on traveler tracks. Despite the high number of panels used, the two-rail system is rigged at only six points with 48 castors beneath. The highly functional design is also an aesthetic delight with various resolution LED panels (10 and 20 mm) working at various depths and consisting of both moving and stationary elements.

"The fact that we can support a curved video wall this size from the ground, a 10 mm video system, speaks to the fact that it's lightweight. It took the weight off the structure so we could use it for other purposes," Stewart states.

Space is often an issue with such a large video set up and the backstage area for the Conklin event was no different with only 6 feet of space to work with. Stewart continues, "This level of production with such a small footprint is only possible with LED and with the modular Martin LED panels we could fit it to the space. It's also easy to strip it down and send it out to another user."

The system is controlled via the Martin P3 System Controller, which makes setting up the LED panels straightforward and intuitive. The P3 allows also LED screens to be treated like lighting instruments through direct DMX control of brightness, color, pixelmapping and more.

Axxis plans to reuse the set design often and are working on modifications of it for other clients. In fact, as an early adaptor of Martin's 40 mm LC Series LED panels, plans call to integrate them into a new design so that the system will contain 10, 20 and 40 mm resolutions.