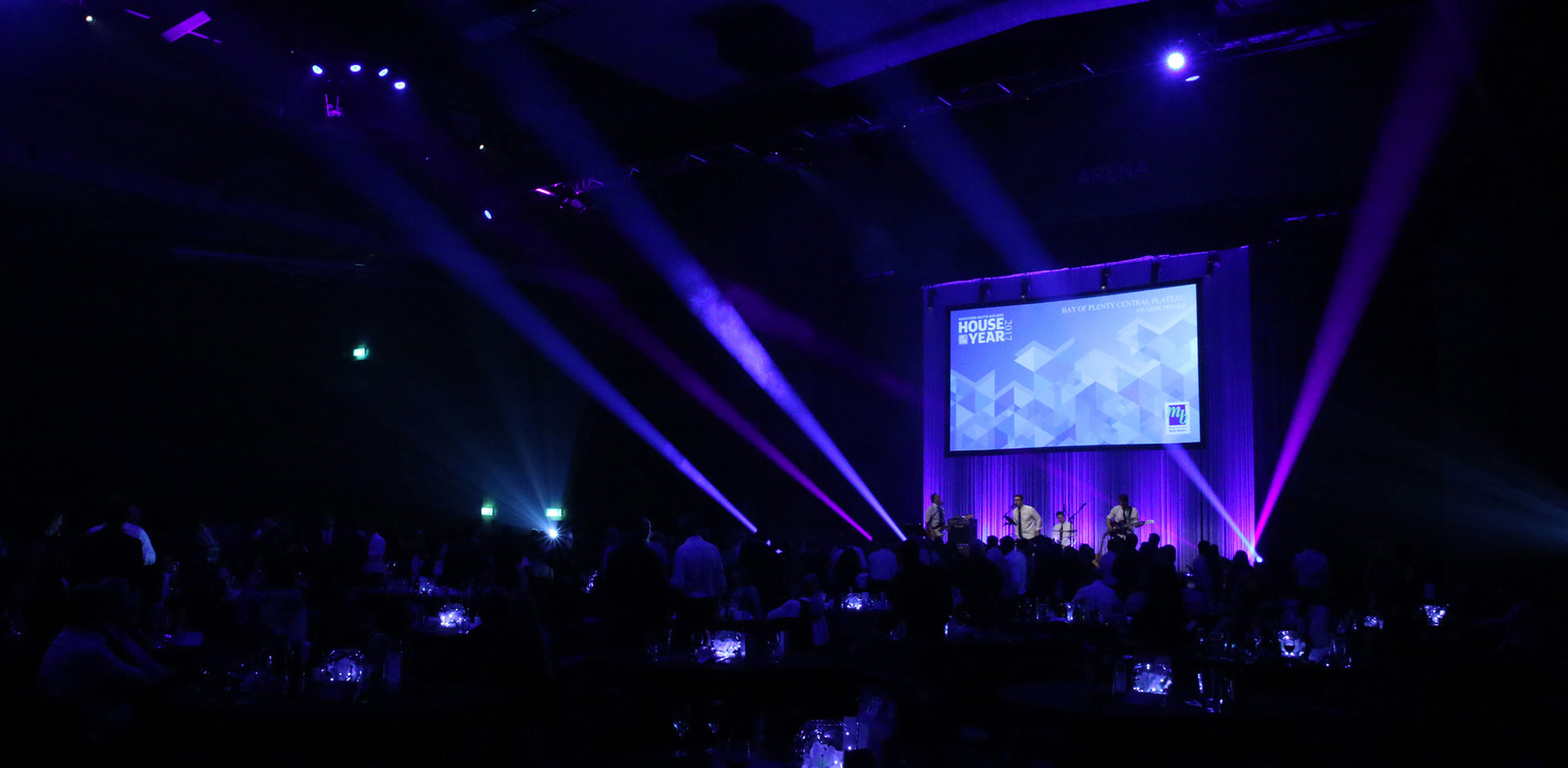 Bay Audio Visual Expands Inventory with Versatile Martin By HARMAN Lighting Fixtures
July 30, 2018
Show Technology provides Martin Professional RUSH MH 7 to Bay Audio Visual for concerts, conferences and more
TAURANGA, New Zealand—Bay Audio Visual recently upgraded their lighting inventory with Martin by HARMAN RUSH MH 7 Hybrid fixtures, which were supplied by Show Technology.
Bay Audio Visual is a leading AV production company specializing in a wide range of indoor and outdoor events from the Coromandel to the Whakatane regions, including concerts and conferences, rentals, sales and installations. In order to service their wide range of clients, Bay Audio Visual was needed to update their inventory with a flexible and affordable fixture capable of creating mesmorizing lighting effects for everything from coroporate events to live concerts. To achieve these goals, Bay Audio Visual reached out to Show Technology, who suggested Martin Professional RUSH MH 7 Hybrid fixtures for their versatility, power and dynamic effects capabilities.
"The versatility of the RUSH MH 7 really appealed to us," said Jordan Baldock, Production Supervisor of Bay Audio Visual. "We chose the MH 7 because the beam, spot and wash modes allow us to light a stage with fewer fixtures, without compromising quality or features. Plus the colors look sensational on stage—especially when used for bands and room lighting."
In order to service larger clients like the ASB Arena and ASB Stadium, Bay Audio Visual needed to provide fixtures with plenty of power. Each RUSH MH 7 is equipped with a 250 W Philips Platinum 11R Lamp, which provides sharp, crisp optics. The moving head features a motorized focus capable of creating a punchy 2.2° beam. This class-leading optical system allows Bay Audio Visual the flexibility to create lighting effects for every occasion—from high-energy dance floors to performing arts spaces.
"Bay Audio Visual wanted to add a dynamic lighting fixture to their collection," said Nick Reeves, Technical Sales NZ at Show Technology. "They needed something that covered all the bases for a variety of different events. So, we suggested the Martin Professional RUSH MH 7. The beam, spot and wash modes offer a lot of flexibility in a small, affordable package."
The RUSH MH 7 Hybrid offers versatility with advanced, dynamic effects in a compact form factor without compromising on Martin's high-quality standards. With options for up to 12 interchangeable rotating gobos (8 indexing), 10 colors and 8-facet circular prisms, the MH 7 is the perfect solution for creating dynamic lighting for any event.
"I take this opportunity to thank Bay Audio Visual for choosing RUSH MH 7 Hybrid by Martin to upgrade their inventory and Show Technology for successfully deploying Martin to meet Bay Audio Visual's unique requirements," said Ramesh Jayaraman, VP & GM HARMAN Professional Solutions, APAC. "Whether it is evoking emotions in a theatrical performance or enhancing the dance-floor experience, our vision is to supply versatile fixtures that are of great value for our customers. We have seen Show Technology's passion and creativity stand out and look forward for many more such engaging relationships with their customers"