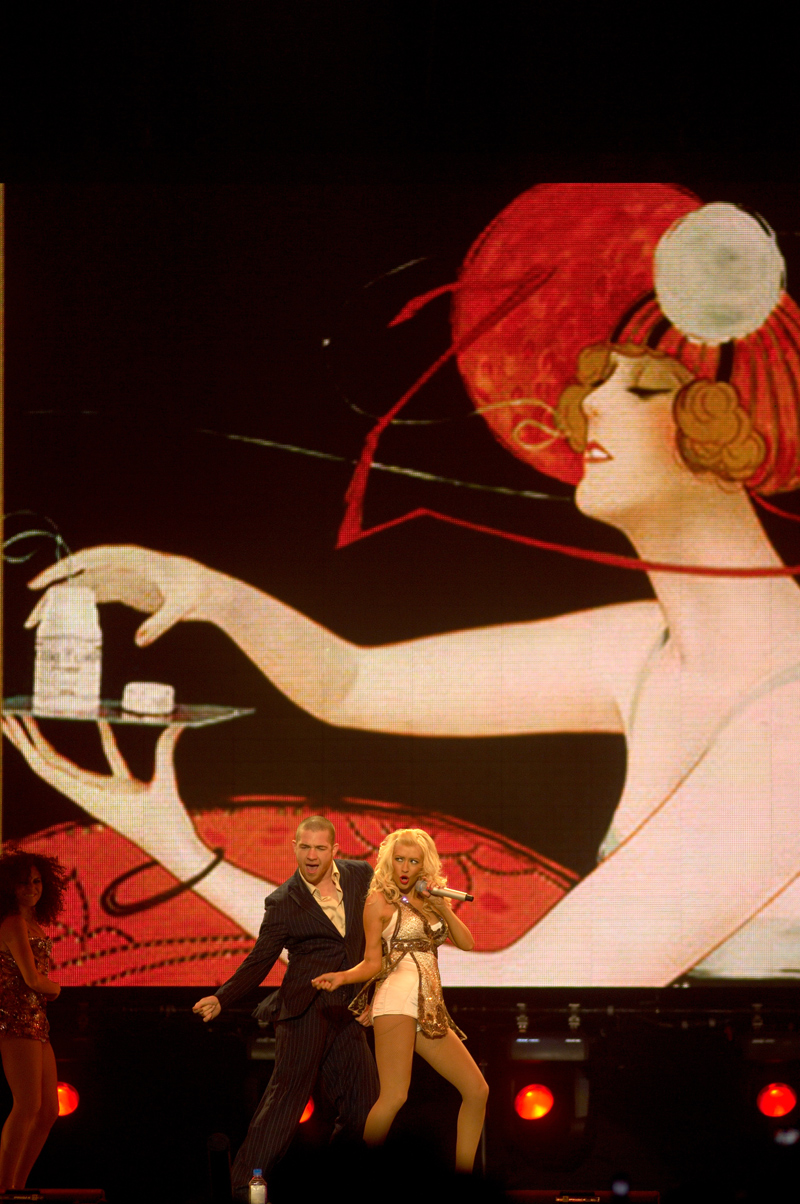 Christina Aguilera "Back to Basics" World Tour
January 26, 2007
Nov. 16th saw the start of Christina Aguilera's "Back to Basics" world tour in support of her 2006 album of the same name. The album is a throwback to the jazz, blues, and feel-good soul music of decades ago, but with a modern twist.
That theme transcends her live performances with a theatrical, three part show that sees the American pop singer in three dramatically different, prop-filled scenes: Jazzy Hollywood, Duke's Joint and Enter the Circus.

Peter Morse and Barry Halpin teamed up on lighting design duties with Peter collaborating with Butch Allen on the production and set designs. "Butch and I worked hand in hand on the set design," Peter states. "One complemented the other which was an advantage instead of being handed a set design that had little to do with lighting consideration. The formation of the trusses and so forth had a lot to do with conforming to the set itself."

That truss design included a unique, retracting truss chandelier made up of MAC 700 Profiles. The chandelier consists of four rings, layered flat, with each ring smaller than the next so it drops down like a chandelier. "It gives a nice layered look," Peter says. "We knew we were going for a high trim, approximately 40 feet, so we needed a fixture that would carry that distance, and at the same time the truss is lowered down to 15 to 18 feet so we needed a good zoomable fixture too. I put the 700's through their paces when the chandelier comes down for some nice ballad looks."
Upstage of the chandelier, above a video wall, are six ladder trusses with more MAC 700 Profiles. "We also had MAC 700 Profiles upstage doing backlight specials on the floor," states Barry Halpin. "We used custom gobos and custom colors for all the fixtures and used the 700's animation wheel mostly for midair gobos as we didn't have many projection surfaces. We also had MAC 700 Washes located on the floor as shin kickers."

Three arc trusses with Austrian curtains that lower in out as well as general swing wing trusses were outfitted with MAC 2000 Profiles and Washes. MAC 2000 Washes also surround a large center video screen with more 2K's on soft ladders on either side.

Although designers were going for a more conventional look there are very few conventional lighting fixtures used on the show. The Martin automated lights handle the period looks capably. "The fixtures are all around fixtures that take care of all extremes," says Peter.

And reliability? "The lights have held up well," says Barry. "You don't really have to worry about reliability with Martin gear." Lighting supply is by Ed and Ted's Excellent Lighting of Oxnard, California.

All lighting is run from a Martin Maxxyz console. "Eric Wade did the programming for the show and got me started on the console," says Barry. "It's my first experience with it – it was good and has huge potential. The Maxxyz support has been great. It's definitely the logical console to move to from the Hog II. The Maxxyz can definitely do more - just a few simple issues to be worked out."

"It was really a time issue," Peter adds. "We only had 7-9 days to put this together so we turned to the Maxxyz and Eric. He flies on that console. The guys I work with love the Maxxyz and it hasn't let me down yet."

The first leg of the "Back to Basics" tour visited Europe last fall with the second leg scheduled to begin in North America February 20th. A third leg is scheduled for Latin America in late spring.