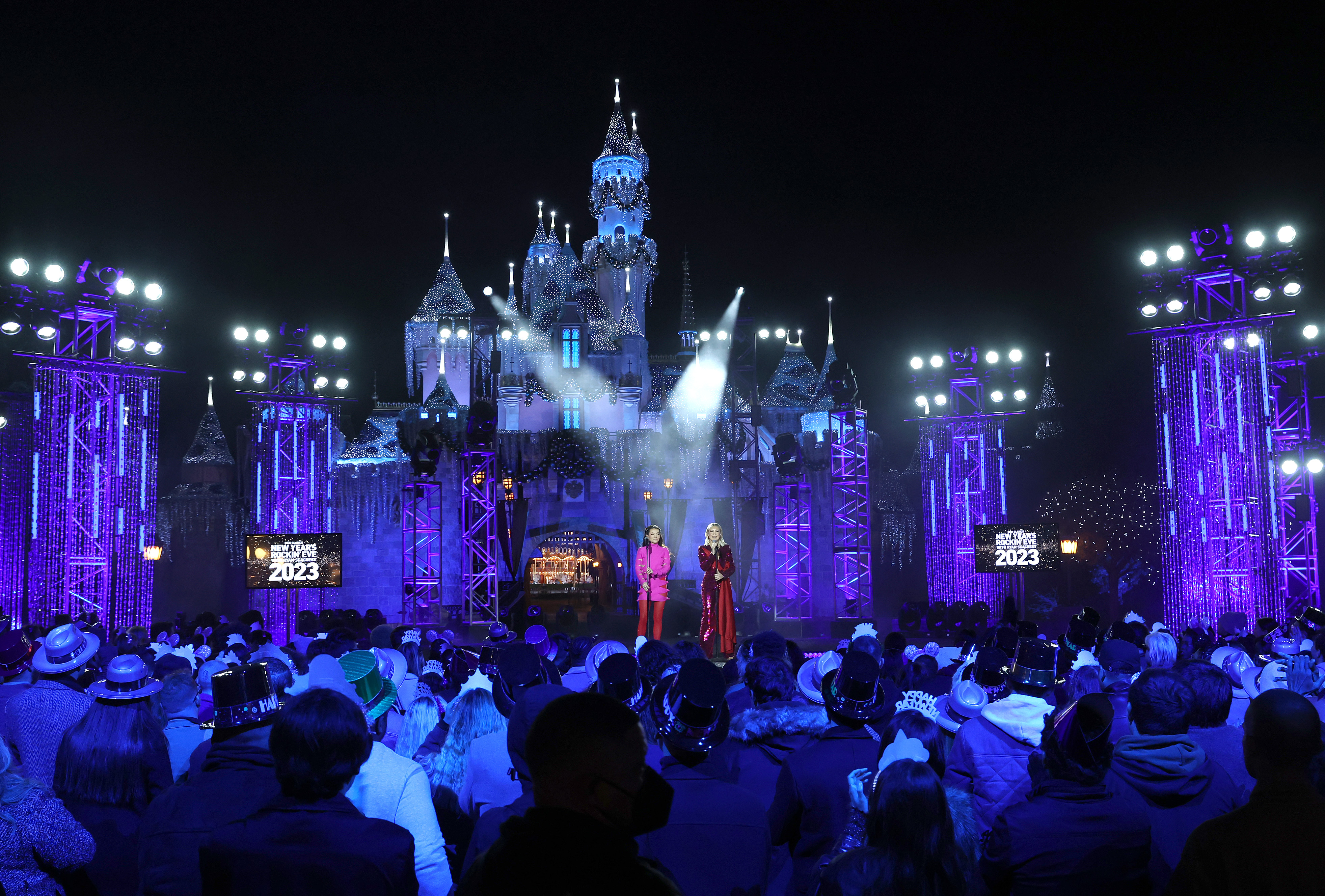 Dick Clark's New Year's Rockin' Eve Rings in 2023 With Help from Martin Lighting Solutions
March 14, 2023
LOS ANGELES—To ensure enchanting and dynamic visuals for the 2023 broadcast of Dick Clark's New Year's Rockin' Eve, lighting designer Lee Rose with supplier PRG selected and deployed a comprehensive range of Martin lighting solutions.
A network television staple since 1972, Dick Clark's New Year's Rockin' Eve annually rings in the New Year with an eclectic roster of performers and guests alongside coverage of the festivities in New York, Los Angeles, and other cities throughout the globe. The Los Angeles portions of this year's special were filmed at two locations in Disneyland––Flo's Diner in California Adventure and the iconic Sleeping Beauty Castle––alongside the usual studio location, this year from Radford Studio Center. Each location also featured performances by a wide variety of artists including singer Ciara, Halle Bailey of pop duo Chloe x Halle and K-Pop group TOMORROWXTOGETHER among others.
Given the multiple filming sites and eclectic artists, Lee Rose knew he needed lighting solutions that not only translated to audiences both in-person and at home, but also accommodated the strict requirements and turnaround times for filming within Disneyland. To meet these requirements, Rose worked with PRG to implement classic Martin fixtures, such as the RUSH PAR 2 Zoom, alongside modern solutions like the new Martin MAC Aura XIP.
"You are really limited in programming time when shooting at Disneyland," said Rose. "From the park closing time, and the point where guests are cleared, to opening the next morning is around 6 hours. The other hurdle this year was that at Disneyland they are very concerned about what the 'guest experience' is during the day and how the gear looks. They're not thrilled with the look of lights wrapped in plastic. IP rated fixtures were a primary design consideration. Also, the city of Anaheim has to approve structural engineering on anything you put up in the park. They're very specific about how much weight you can have and how much ballast you can use."
For the Sleeping Beauty Castle and Flo's Diner locations, the Martin MAC Aura XIP was a crucial wash for achieving consistent visuals both indoors and outdoors. The latest workhorse fixture in the MAC Aura family, the XIP sports a durable yet lightweight design that's rated for outside usage, ensuring uncompromised coverage and output in any weather condition. The XIP also thrives just as easily indoors due to its low-noise operation, ultra-quiet cooling system and a dedicated Theater/Broadcast mode for sound capping at 25.2 dB. Visually, the XIP offers saturated washes and detailed blends thanks to its twelve RGBW aura filaments, pixel control with video mapping capabilities and an optimized light engine for more accurate coverage and minimal stray light.
"The weight considerations and the need for an IP-rated fixture was one of the deciding factors to push forward with the XIPs," explained Rose. "I actually live very close to the Martin headquarters, so I came over to see them when they first came in. The first thing I noticed was, of course, the filaments, which are perfect for something like a television broadcast, where you see a lot of eye candy programmable really quickly. The fact that the waterproofing system keeps the fixture at a very low weight, combined with the filament effects, really convinced me to get my hands on the XIPs."
Alongside the MAC Aura XIP, Rose utilized Martin RUSH PAR 2 RGBW static wash fixtures at all three shooting locations. Although the RUSH PAR 2 is one of Martin's older solutions, it is nonetheless an exceptionally bright PAR can with twelve RGBW LEDs, 10-to-60-degree zoom and a multi-purpose bracket for floor or truss mounting. For Rose, the RUSH PAR 2's consistency and ease of use are enough reasons to continue including the light in his rig.
"The reliability of the RUSH PAR 2 is one of the reasons I've continued using it for the last seven or eight years now," said Rose. "The fact that it zooms and is small enough to fit in the corner blocks made it the perfect choice. They keep working even though they're discontinued, and I don't recall ever looking out there and saying, 'Oh shoot, one of them is dead.'"
Additionally, Rose implemented Martin VDO Sceptron Series LED video battens for additional visual flair at the studio and Sleeping Beauty Castle locations. Available with 10mm, 20mm and 40mm pixel pitches, the VDO Sceptrons provide a wide range of easily programmable visual effects and looks powered by the Martin P3 System Controller family. Finally, Rose deployed Martin MAC Quantum Wash fixtures, equipped with a unique Colorganics system and LED RGBW color mixing up to 750 watts, to reinforce audience lighting at the studio location. The overall lighting rig successfully illuminated the broadcast's performers and immersed audiences in-person and via the small screen.
"Getting those fixtures to the event sites on time took some doing on Martin's end," added Rose. "The support I've received from Martin over the years has been great all along—and it's been a long history."