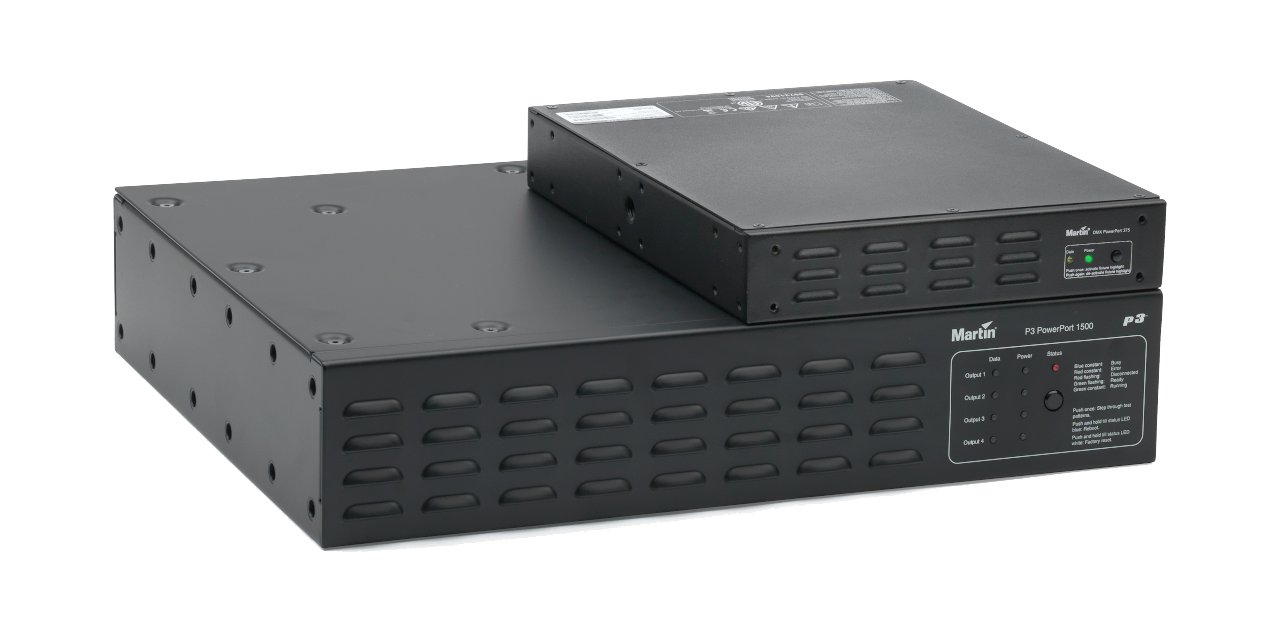 HARMAN Professional Debuts Martin DMX PowerPort 375 Power and Data Unit
September 25, 2019
NORTHRIDGE, CA – HARMAN Professional Solutions announced the launch of its Martin DMX PowerPort 375 Power and Data Unit, the newest addition to the Martin PowerPort family, supporting all Martin Creative LED fixtures.
With an ultra-compact footprint and a wide range of supportable DMX-based applications, the DMX PowerPort 375 can support the entire Martin Creative LED range, which includes these Martin product families:
Martin VDO Fatron
Martin VDO Dotron
Martin VDO Sceptron
Martin VC-Grid
Martin VC-Strip
Martin VC-Dot
Martin Exterior PixLine
Martin Exterior Dot-HP
The DMX PowerPort 375's versatile housing supports single- and dual-unit mounting in 19" racks, wall-mounting and truss-mounted hanging configurations. The robust connectors and built-in DMX/RDM compatible splitter facilitate easy daisy-chaining between units, while the local test-button provides quick system-check without running back to the console.
"Our range of Martin Creative LED products has been hugely successful over the last several years." said said Wouter Verlinden, Product Manager, Martin Creative LED Video. "But in some applications, the existing power and data unit, such as the P3 PowerPort 1500 was just too large. With the DMX PowerPort 375 we give users the freedom to use our products in smaller quantities, and/or in applications where the power unit needs to be hidden away in a smaller location. While P3 offers great advantages to run these Creative LED fixtures with a video source, in some applications, fully DMX-based control is preferred. The DMX PowerPort 375 does offer exactly that, offering the user a choice between DMX and P3."
Additional Details
We invite you to learn more about the new Martin DMX PowerPort 375 Power and Data Unit as well as the full line of Martin professional lighting solutions at martin.com. We also invite you to explore what's possible from HARMAN Professional in all 26 solutions we support.