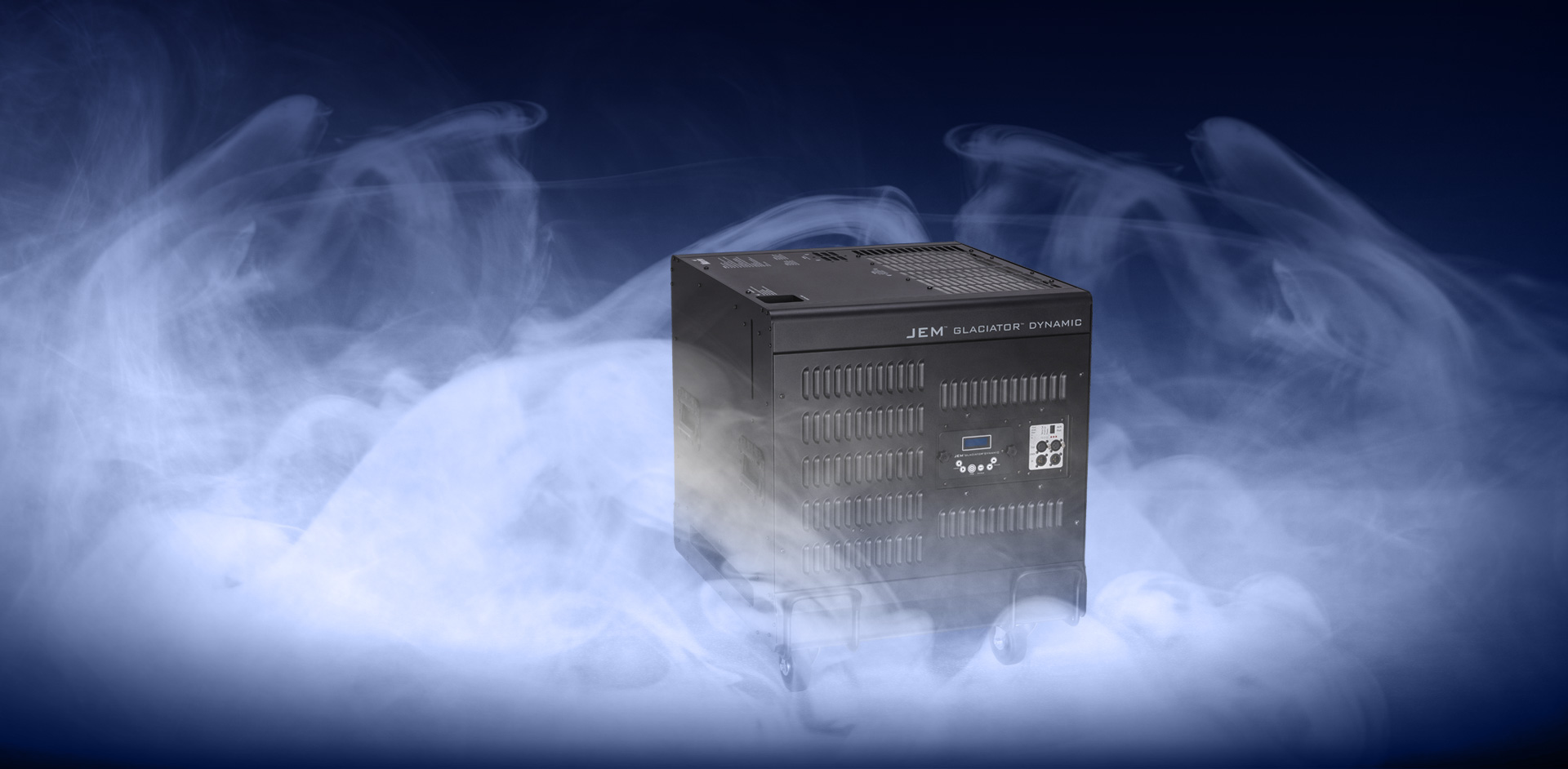 HARMAN Professional Solutions Announces Martin JEM Glaciator Dynamic Self-Contained Low-Fog System
April 09, 2018
Latest generation of industry-leading Glaciator system system is quieter, more compact and rugged, and features a global universal power supply
ProLight + Sound (Hall 3.0, Stand C50), FRANKFURT—HARMAN Professional Solutions, the global leader in audio, video, lighting and control systems, including networked AV, today announced the new Martin by HARMAN JEM Glaciator Dynamic low-fog system.
The JEM Glaciator Dynamic represents the most significant upgrade to the industry-leading JEM Glaciator series in more than a decade. Thanks to a completely reimagined design, JEM Glaciator Dynamic is smaller, quieter, and capable of operating in more locations, representing the ultimate all-in-one solution for generating low-lying fog in any venue—without the need for external fans, industrial gas tanks or ice. The JEM Glaciator Dynamic was built with ultra-quiet operation in mind, delivering lower ambient noise for intimate theatrical productions. An updated universal power supply and rugged steel chassis ensure reliable performance on demanding world tours, while streamlined user controls enable fast and easy control of fog effects and output.
"For more than 25 years, the JEM Glaciator series has set the standard of excellence in low-fog effects, and now we're raising the bar again with the JEM Glaciator Dynamic," said Justin Cicerone, Product Line Manager, HARMAN Professional Solutions. "No other low-fog system delivers such a robust combination of effect quality, simplicity and return on investment, so it's no wonder the JEM Glaciator is the most specified low-fog effect machine in the world. With the JEM Glaciator Dynamic, customers can simply add fluid and achieve a lush blanket of pure white fog for every show. Just plug it in, set the stage, and amaze your audience."
The JEM Glaciator Dynamic uses JEM custom-engineered low-fog fluids to create realistic, consistent and precise low-fog effects without the use of industrial gases or ice. A unique effect carburetor and improved closed-loop refrigeration system creates soft, dense fog that is colder and dissipates slowly. In related news, HARMAN Professional Solutions also announced a refresh of the entire Martin atmospheric effects fluid line today.
Every aspect of the JEM Glaciator Dynamic has been optimized to dampen acoustic output, with new inverter-drive technology and all-digital sensors that tightly control each internal component. When the compressor and fans come to life, they spin up softly to create mesmerizing on-stage effects, without distracting off-stage noise. The JEM Glaciator Dynamic passed rigorous testing at HARMAN Professional's acclaimed JBL audio engineering lab in Northridge, CA, ensuring quiet performance for even the most intimate scenes, operating at just 61.1 dBA, or 54.2 dBA on standby.
A steel chassis and durable access panels make the JEM Glaciator Dynamic a perfect fit for demanding tours. At just 785 x 648 x 769 mm (30.9 x 25.5 x 30.2 in.), the JEM Glaciator Dynamic is 10% smaller than the previous generation, making it easy to transport and store even in the smallest performance spaces. The all-new mechanical design offers immediate access to internal components for easy maintenance, and a new 208-250 V, 50/60 Hz. universal power supply mitigates the need to cross-rent when travelling overseas.
Streamlined user controls include an integrated digital remote control and a new fast-access keypad, so users can select the desired output level with the touch of a button. The JEM Glaciator Dynamic also includes 3- and 5-pin DMX connectivity with RDM, making it easy to control low-fog effects remotely.
The JEM Glaciator Dynamic features a full range of premium accessories to customize the system for any production:
The JEM Glaciator Dynamic Triple Ducting Kit includes a black powder-coated steel adapter and three long and flexible ducting hoses for transporting low-fog to greater distances within a performance area.
The JEM Glaciator Fog Blade is a wedge-shaped extension for the Glaciator Ducting Kit that discretely channels low-fog and creates waterfall-like fog effects when suspended.
The JEM External Fluid Reservoir Kit extends the runtime of the JEM Glaciator Dynamic to provide hours of uninterrupted low-fog effects.
The Glaciator Softcover is made of reinforced heavy duty black PVC with 12 mm internal padding nylon to protect the JEM Glaciator Dynamic from the rigors of transit.
The JEM Glaciator Dynamic will be available from HARMAN distributors worldwide in June 2018. For more information, visit www.martin.com/jem-glaciator-dynamic.