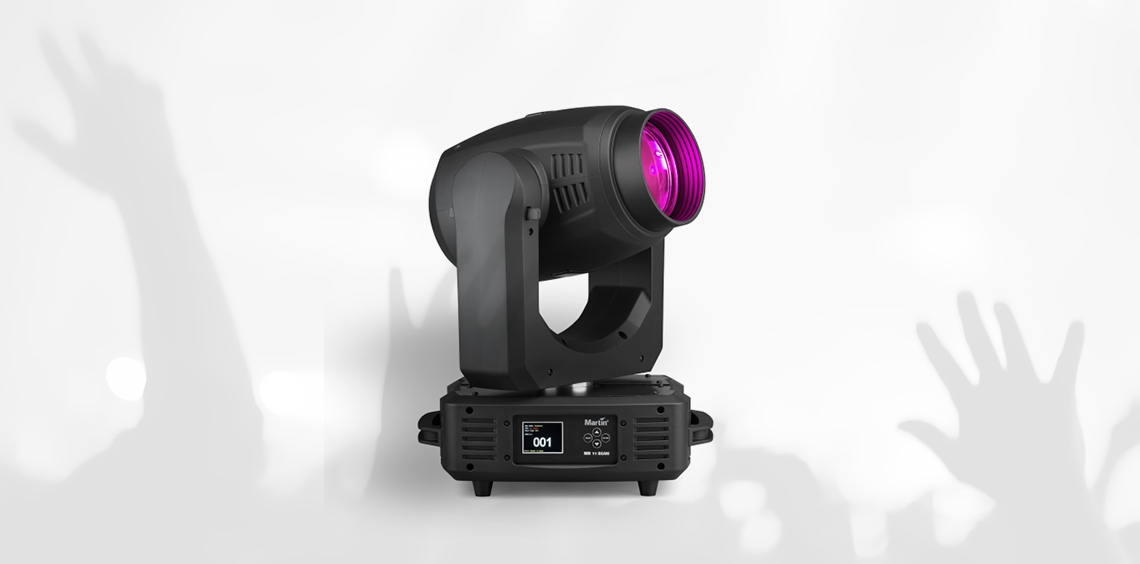 HARMAN Professional Solutions Debuts High-Intensity RUSH MH 11 Beam Moving Head
November 17, 2017
New Mid-Sized Luminaire Offers Unprecedented Intensity and Super-Sharp Mid-Air Effects
LDI (Booth #242) – LAS VEGAS – HARMAN Professional Solutions introduced today the Martin RUSH MH 11 Beam, a high-intensity beam moving head designed for high end installations and rental applications. A replacement for the highly successful MH 3 Beam, the new RUSH MH 11 Beam utilizes the same lamp from the RUSH MH 7 Hybrid, but with refined beam optics that provide excellent intensity and sharp mid-air effects in a beam-only fixture.
"The new Martin RUSH MH 11 Beam truly has the best intensity and optics capabilities in its class," says Mark Buss, Product Manager, RUSH for HARMAN Professional Solutions. "Because it has the same color temperature and palette as the Martin MAC Axiom and RUSH MH 7 Hybrid, it blends perfectly alongside those fixtures in applications wanting a more cost-effective beam-only product with the intensity and clean mid-air gobo looks the RUSH MH 11 provides."
The RUSH MH 11 utilizes the same 250W Platinum 11R lamp found in the Martin RUSH MH 7 Hybrid. When this lamp is combined with the class-leading optics of the MH 11, the fixture achieves sharp, high-output beam effects with a super-tight 2.6 degree beam angle. The fixture can produce a range of complex and precise mid-air looks utilizing eight rotating and indexing gobos and an eight-facet prism. The fixture has thirteen selectable colors and frost and motorized focus, and has a ruggedized industrial design that makes it perfect for high-end touring and rental applications.
"The Martin RUSH MH 11 is the perfect successor to the RUSH MH 3 Beam," says Bradley Drummond, Director, Hospitality Solutions and Marketing at HARMAN Professional Solutions. "The fixture is ideal for high-end live venue installations such as houses of worship, nightlife and cruise ships, and its ability to color match with the RUSH MH 7 and MAC Axiom makes it a great choice for touring applications as well."
Additional Details and Availability
HARMAN is showing the Martin RUSH MH 11 Beam fixture in Booth #242 at Live Design International (LDI) 2017. For further details, we invite you to visit: LDI