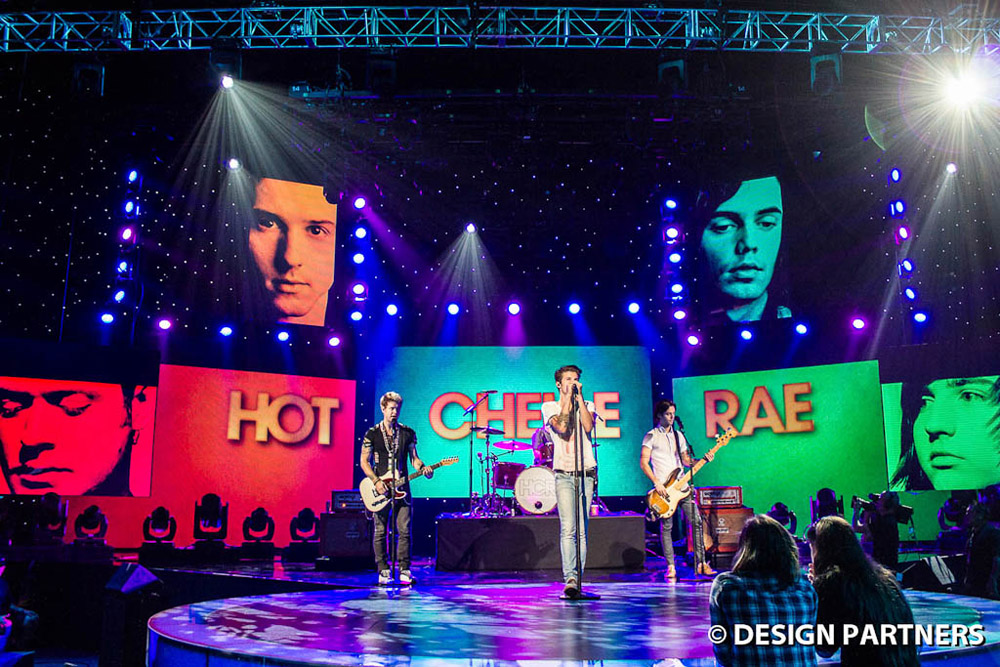 LD Lee Rose Turns to MAC Aura™ for 2012 Jerry Lewis MDA Telethon
October 08, 2012
The Jerry Lewis Muscular Dystrophy Association (MDA) Labor Day Telethon is a time-honored television tradition in the U.S. The 2012 edition, renamed MDA Show of Strength, featured a new format with LD Lee Rose of Design Partners turning to the Martin MAC Aura as a key element of the lighting design.

This year new producers revamped the benefit with a 3-hour taped show that featured significantly more contemporary talent like Alanis Morissette, Hot Chelle Rae, All American Rejects, will.i.am and more. The show aired on September 2nd on the MDA "Love Network" of stations across the US.

Lee Rose has employed the MAC Aura in his designs since its launch in 2011 and chose them for the MDA special for their extremely bright and focusable beam, as well as their quick movement and small size, which made vertically hanging them easy and visually attractive, he says.

Lee mounted the Auras in groups of five placed vertically in six different locations around the stage to fill in the space above and between large LED screens (production design by Joe Stewart). He used an additional 15 Auras, five each along the tops of the large screens upstage.

The Aura is also a superior color mixing fixture with a broad range of shades available from two independent color systems. Lee says he also turned to the Auras because of their homogenous color of the beam and for the backlight illumination effect.

Lighting supplier for MDA Show of Strength was PRG with the Auras sub-rented from 4Wall Entertainment.

Photos: Design Partners, Inc.