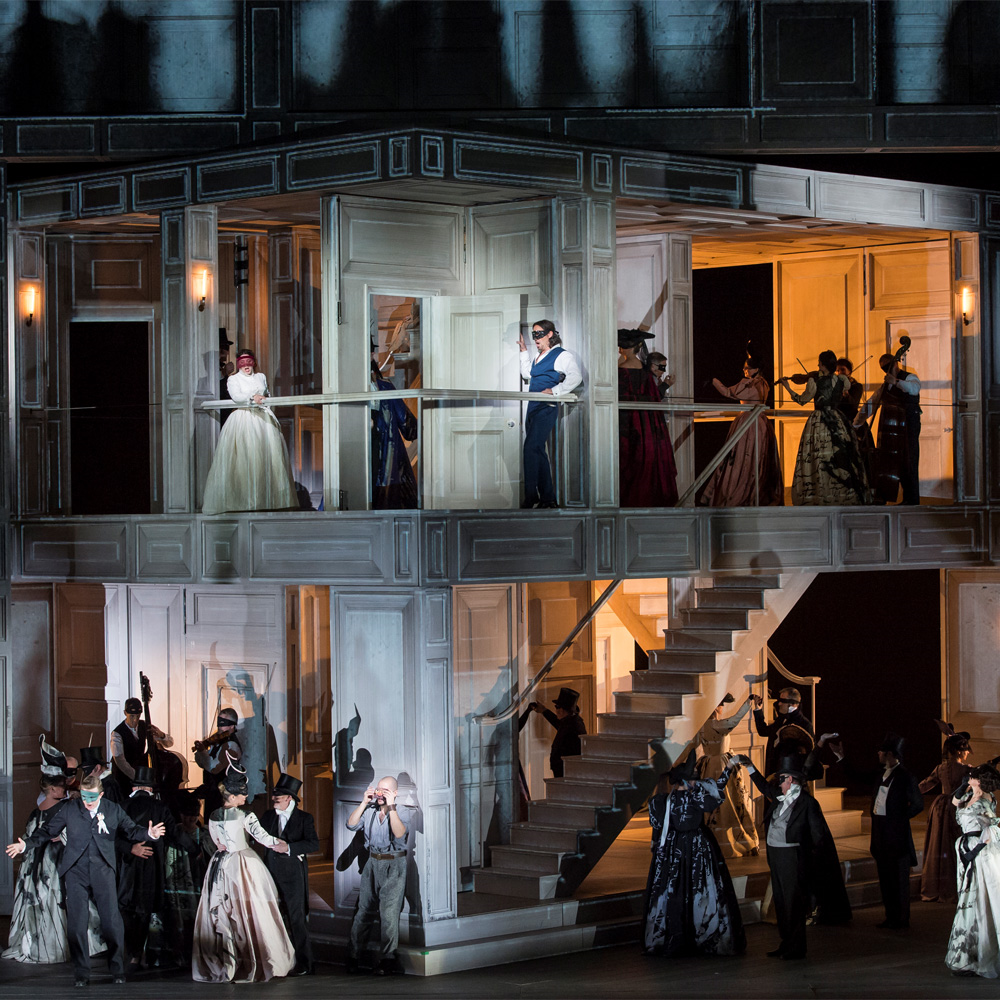 London's Royal Opera House uses Martin lighting in over 400 annual performances
July 02, 2014
The Royal Opera House (ROH) in London's Covent Garden is home to The Royal Opera, The Royal Ballet and the Orchestra of the Royal Opera House. As one of the world's most prestigious venues it features more than 400 performances each season, many of which are new productions. To ensure success throughout such a demanding schedule, the venue's production team turned to Martin Professional's lighting fixtures to help fill out its 1000 light rig.

The Royal Opera House's relationship with Martin began in 2004 when it added 10 MAC 2000 Performance luminaires to its production rig and then additional fixtures in 2011 after great success with the Performances. Recently, the ROH upgraded the venue's rig with another 20 of Martin's MAC Viper Performance moving head lights.

As Lighting Systems Manager at the Royal Opera House for the past 14 years, Paul Hornsby looks after the infrastructure of the building for performance lighting, including the maintenance, testing, and upgrading of the venue's lighting systems. Hornsby said: 
"We run a continual refit program – a lot the moving lights we have are 13 or 14 years old now so we're gradually replacing them. The latest upgrade was made in summer 2013 when we brought in Martin's MAC Viper Performance moving lights to replace our MAC 2000 Performance fixtures. The Vipers are significantly faster, brighter, and more energy efficient than their predecessor."
Hornsby explains:
"The Royal Opera House has three main spaces – the main stage and the purpose-built Linbury Studio Theatre and Clore Studio – all of which are in continual use. Most of our work happens on the main stage which has a new show every ten days. We have a main rig and additional show lighting bars which can be used when required."

About Martin Professional's fixtures he commented:
"We love working with Martin Professional lights because they're durable fixtures that are easy to use and maintain."

As a general rule, visiting productions are encouraged to use the house rig. According to Hornsby, the house equipment fulfills what most lighting designers need. Hornsby stated:
"We try not to rent gear because a show here could live for up to 40 years. For example, 'Don Giovanni' is a new production that could come back bi-annually for the next ten years and the lighting design would remain the same during that time. If we had to rent equipment each time, that would be a substantial overhead."

In addition to the 20 MAC Vipers, which Hornsby says reduces rigging and change over time, the venue has placed several MAC Aura LED wash lights at front of house. Hornsby chose the Auras due to limited space in the Royal Opera House's auditorium where he needed a light that would not obstruct the audience's view. He added:
"When we discovered the MAC Aura it was absolutely fantastic. Nobody notices the fixtures being there because they are so discreet and quiet, but still capable of producing the quality light we needed out front."

Low noise and reliability are essential in every new light Hornsby specifies for the Royal Opera House. Continuing on this, Hornsby added:
"The entire Martin range is quiet. Although we have spares for every fixture in the rig, we rarely have a problem. Since August 2013 we've had just one light come down for a slight, easily fixed, issue. With a rig that must work 15 hours a day, seven days a week, that really does speak for itself."

Martin Equipment List:
10 x MAC III Performance
10 x MAC 2000 Performances
20 x MAC Viper Performances
10 x MAC Viper Wash DX
24 x MAC Aura LED Wash Light
8 x MAC 101 LED
8 x Martin Atomic Strobes
4 x Martin Wizard
2 x Martin Pro 400

About the Royal Opera House, London
The Royal Opera House presents almost 400 performances at the iconic Covent Garden theatre in London, each year and reaches an audience of more than 650,000. Beyond that, last year, more than 7.5 million people enjoyed our work across the globe through our ROH Cinema Season, Royal Ballet Live, Royal Opera Live and other online and interactive projects. The Royal Opera House also plays a leading role in education, community engagement, skills development, professional training and cultural regeneration in the UK.

Visit the website of the Royal Opera House.