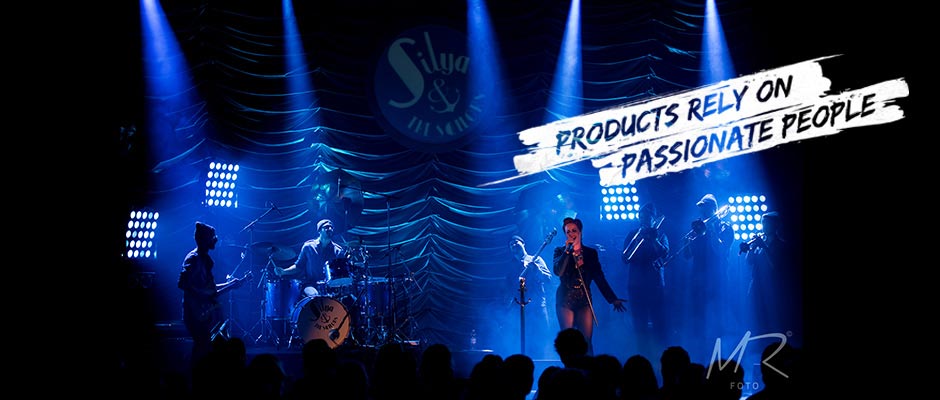 M6 road test with Daniel Sørensen on tour with Silya & The Sailors
January 21, 2015
On site at a Norwegian rental company in the autumn of 2014, Lighting Designer Daniel Sørensen was introduced to Martin Professional's Espen Bechmann (Key Account Manager, Norway), who offered him the chance to test the M6 console. Sørensen jumped at the chance, immediately fell in love with the M6 and brought his newfound love on tour with him and Silya & The Sailors.
Norwegian artist, Silje Haugum Nymoen, a.k.a. Silya, was known back in the day for her feature appearances with pop group Multicyde. She moved to New York and did a few solo projects under the artist name SiLyA as well as wrote songs for other artists. In the fall of 2013 she had a comeback in her native Norway when she won the Norwegian version of Star Fight (Stjernekamp) and earned the title 'Norway's Ultimate Entertainer'. In the wake of this victory, Silya wanted to do a show in Oslo, Norway with her band, The Rapscallions, and called in Daniel Sørensen to be in charge of scenography and lighting. What was supposed to be a couple of shows turned into three tours in 2014, and band members from Silya's American band, The Sailors, were flown in to join the most recent tour.

Sørensen: A Designer/Lighting Designer/Tour Manager/Scenographer
Sørensen works freelance as a Lighting Designer and Tour Manager for several acts within the pop, rock and electro genres. While studying fashion design in Bournemouth, UK he was offered a part-time position as Production Manager at a student venue where he got to operate the lights for different shows. Upon his return to Norway he was offered a position at Rockefeller Music hall while also working at setting up his own fashion business. He was quickly offered the chance to tour with a band and has been busy touring and designing ever since.
 

Sørensen's holistic methodology
Sørensen likes to work very closely with the artist to include their thoughts and ideas in his designs. He also tries to capture the artist as he sees him or her. In the case of Silya he said:
"She is so multi-faceted. Her music blends the best of modern pop, soul, rock and cabaret. She is a true entertainer, a master at captivating audiences, and she's the most confident artist I've ever worked with. All this I try to take into the equation as well."
Because of his background in design, Sørensen is often involved with the entire visual process in connection with concerts and tours, including scenography, costumes, lighting and the PR aspect as well. He tries to incorporate elements from stage design into album covers and PR material and vice versa, to create a coherent image for the artist.
Commenting on inspirations for the tour with Silya & The Sailors, Sørensen explained:
"Silya and her band have a fascination with everything related to marine life - hence the band name - and they wanted to create a set to resemble something in between a sailors' club and a cabaret nightclub. So I included marine elements in the stage design, costumes and lighting design."
As part of his  design process, Sørensen always creates moodboards for the artist with pictures and thoughts. This usually goes down very well with artists as it then becomes easy to relate to Sørensen's ideas. He recently started using Pinterest to create boards with various inspirational material such as fashion, lighting, films, textures etc. and then uses these to recreate specific atmospheres in his designs.
 

M6: The verdict
After getting up close and personal with the M6 on the tours, Sørensen feels the M6 is a strong competitor to the other desks on the market.
Elaborating, Sørensen said:
"Having tested several desks from other manufacturers, I found the M6 is one of the most intuitive and easy to learn desks I've laid my hands on. It has several features which makes it really versatile, and the user interface makes it quick and easy to customize according to your personal preferences. I would highly recommend it to anyone who needs a reliable console as a touring companion."
A feature request from Sørensen for future versions of Martin consoles would be an option to rearrange playback banks in a specific order to match bands' ever-changing set lists.
Sørensen commented:
"There are ways to work around this, but I'm hoping it will be as simple as "copy-paste" in the future."
Sørensen also used Martin's M2GO portable controller when the crew was required to fly to venues on the tour. He explained:
"Because of its compact design and low weight, you can take the M2GO onboard flights in carry-on luggage. You are quickly up and running as you can easily load shows from the M6 via an external touchscreen. Being a big fan of the M6, I would wish for future versions to include M6-like faders."
Paul Pelletier, Product Manager for Controllers said:
"At Martin Professional we're committed to delivering innovative consoles developed on the basis of market demands and feedback. Letting our customers field test our consoles provides us with valuable feedback from the users in real-life applications and all this information is accumulated and used for future product development."
Now keen to take on other Martin products, Sørensen will soon be joined on tour by the MAC Quantum Wash and the MAC Viper AirFX and will also experiment with VC-Dots.

Read more about Silya
Read more about Daniel Sørensen