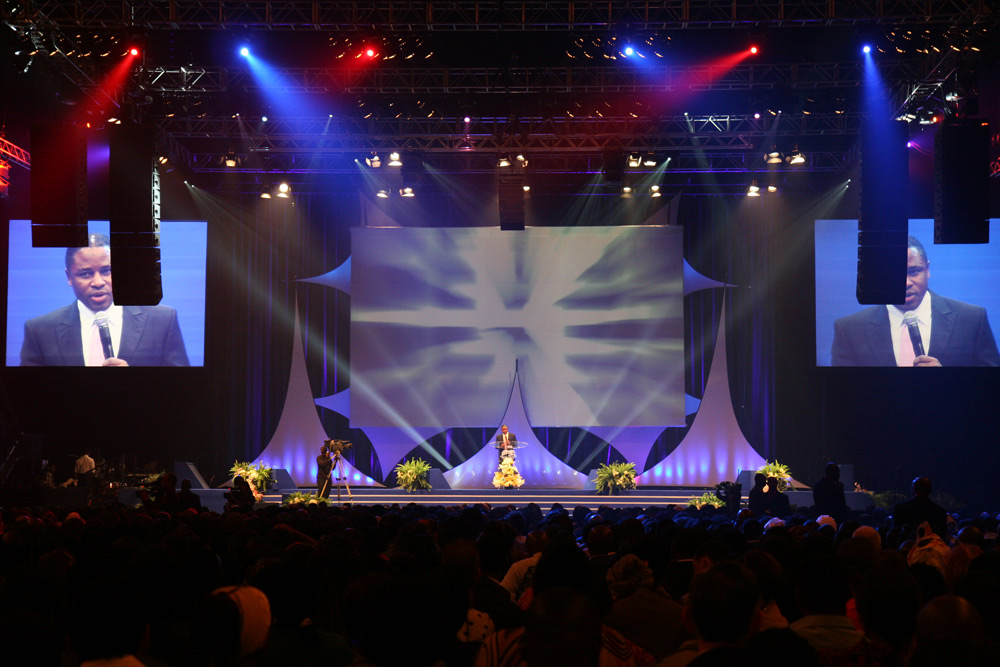 MAC 250 Beam™ on HOW Event at Wembley Arena
November 09, 2009
Entec Sound & Light recently purchased and then promptly employed the new Martin MAC 250 Beam on a House of Worship event at Wembley Arena, the "Word at Work Conference" hosted by Christ Embassy.

Entec provided lighting, sound, rigging and trussing, media servers, and set video projection for the event. Lighting designer was Entec's Ryan Brown who had 6 MAC 250 Beams™, 12 MAC 700 Washes™, 12 MAC 700 Profiles™ and 20 MAC 250 Washes™ as well as other automateds and static fixtures at his disposal.



The MAC 250 Beam upgrade kit converts any MAC 250 Wash fixture into a punchy new beam effect in only 5 minutes. Brown chose to use the MAC 250 Beam because "we wanted to achieve beam effects that would render on camera while hiding the fixtures from view," he stated. "I originally had envisioned them for use in 'walk in' looks where they stood a better chance of reading with less stage light, however they proved to be bright enough for use even with the full stage wash."

The upgrade kit consists of a new front module with micro Fresnel lens and a set of six beam effect gobos/apertures. It produces an intense, tight beam with a distinctive wide beam look that looks great mid-air.
Brown says, "When I first turned them on the director of photography asked 'where are the search lights coming from?'"

The religious service was held five times at Wembley Arena over three days in September.

"With some 20 hours of show time I wanted to achieve as many different dynamic looks as possible for the opening sections and then settle into a static look for the sermon that was unique show to show."

The MACs were placed center stage directly behind a center triangular piece of fabric in two groups of three. This meant that the fixtures were hidden from view fulfilling the client's request that no floor lights be seen. The 250 Beams, located behind the stage set, provided aerial effects as well as highlights on the set and upstage drape.

"Combined with the video, LEDs lighting the set from behind, 700 Profiles lighting from the front and the 250 Beams, I was able to easily change the look and depth of the stage set as needed," Brown said.

Brown calls the compact size of the MAC 250 Beam a feature unto itself and reports that the lights performed with no problems despite running for nearly four days straight.

Crew boss was Willie Coster, Simon 'Boff' Howarth ran dimmers, Neil Whitehorn managed the media server and projectors, and Mark Pritchard handled the moving lights.