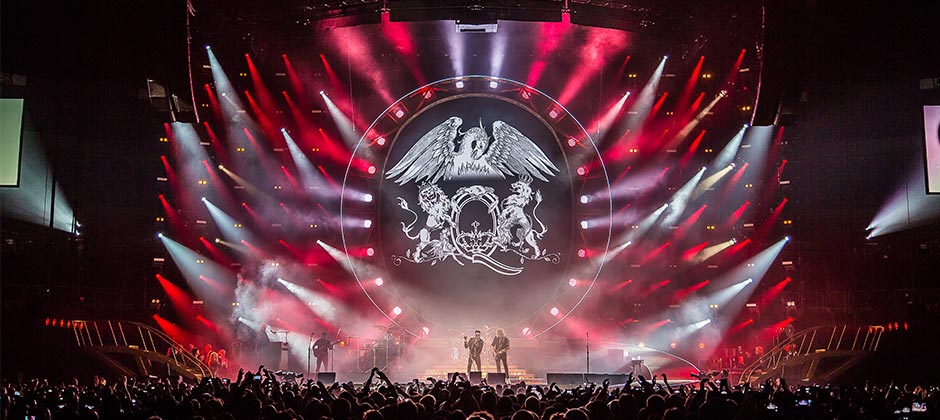 MAC Viper AirFXs pay tribute to classic Queen shows
May 07, 2015
Legendary British rock band Queen just finished a world tour. Since the loss of their multi-talented front man Freddie Mercury in 1991, original band members Roger Taylor and Brian May have worked with several vocalists. For their recent tour, they joined forces with Adam Lambert – known for his participation in season 8 of American Idol. They also brought 97 MAC Viper AirFX fixtures.
We sat down with Lighting Designer, Rob Sinclair, to learn about designing lights for one of the world's most iconic bands. Sinclair was approached in 2012 and asked to do lighting for the Queen Extravaganza – the official Queen tribute band. Because Queen + Adam Lambert liked what Sinclair had done with Queen Extravaganza, they asked him to come and work for them on the upcoming tour. As Sinclair put it:
"It was a case of being at the right place at the right time."
The versatility of MAC Viper AirFX
The design process for the world tour started back in the fall of 2013, where Sinclair met up with Queen and Adam Lambert as well as Set Designer Ric Lipson. The idea of the Q-shaped stage came from this meeting. Lipson and Sinclair continued developing the concept over the next few months and everything fell into place during rehearsals.
Sinclair's lighting design includes 97 MAC Viper AirFXs. The previous leg of the tour was done with MAC Viper Profiles, but when UK rental company NEG Earth had the MAC Viper AirFX in stock Sinclair jumped at the chance to work with them. He first got acquainted with MAC Viper AirFX last year at a shoot-out in Las Vegas where the fixtures displayed tremendous output and efficiency. He then took 120 of them on the Kylie Minogue Kiss me Once tour. Sinclair explained:
"I'm actually a big fan of the MAC Viper Profile as well. It is a more "finessed" light, but we didn't need the finesse for the Queen + Adam Lambert tour – we just needed the brightness. And they have the same zoom range gobos and irises, so they do everything the profiles would do, but offer more brightness."
To Sinclair, it was purely about brightness. He needed something bright enough to compete with an enormous LED screen, spotlights and the many other stage elements. He said:
"The crew likes the MAC Viper AirFXs for their small footprint, for how easy they are to handle and how reliable they are. To me that is an added bonus, but my main concern is how the fixtures look and what comes out of the front of them."
The MAC Viper AirFX is known for its versatility. It is the original hybrid fixture which gives you hard-edge, mid-air effects and wash in one fixture without compromising on output or color. Sinclair commented:
"The MAC Viper AirFX is a wonderfully versatile fixture. For this show, I needed them to be constantly hard-edged. However, I have specced them for a couple of upcoming projects where I will be using them as washes."
Modern design with ties to the past
Sinclair designs lighting for a diverse range of artists, such as Kylie Minogue, Peter Gabriel, Adele, Pet Shop Boys, Miley Cyrus, and Vampire Weekend among many others. We asked him how he tackles the challenge of designing for such a variety of acts and Sinclair responded:
"My process is always the same. I study the artist and immerse myself in their music. Once I have done that I am able to do my job and help them tell their stories and present them in the best way possible."
Sinclair's methodology does have several recurring traits. He never mixes fixture types on the same positions and he likes big blocks of color. However, his first priority is always to ensure that everything is appropriate for the artists and their music. Sinclair elaborated:
"With Queen, I'm very aware of the long and wonderful history of productions. I wanted an overblown rock show and one that would proudly take its place amongst those iconic Queen shows. I envisioned the show as bright, powerful and modern, but with a definite nod to the past."
A lot of people wouldn't mind being in Sinclair's position, so on a final note we asked him if he had any advice for aspiring Lighting Designers, to which he replied:
"It's a great advantage to know how everything works. If you know roughly how to make your ideas a reality, there is a far greater chance of success."
Credits
Photography: Ralph Larmann
Rental: NEG Earth
Set Design: Ric Lipson, Stufish
Lighting Design: Rob Sinclair
Lighting Crew Chief: Seth Conlin
Crew (European leg):
Mark 'Ethnic' Cooper
Kenny Rutkowski
Robin Sheridan
Jim Mills
Blaine Dracup
Danny Wiserman