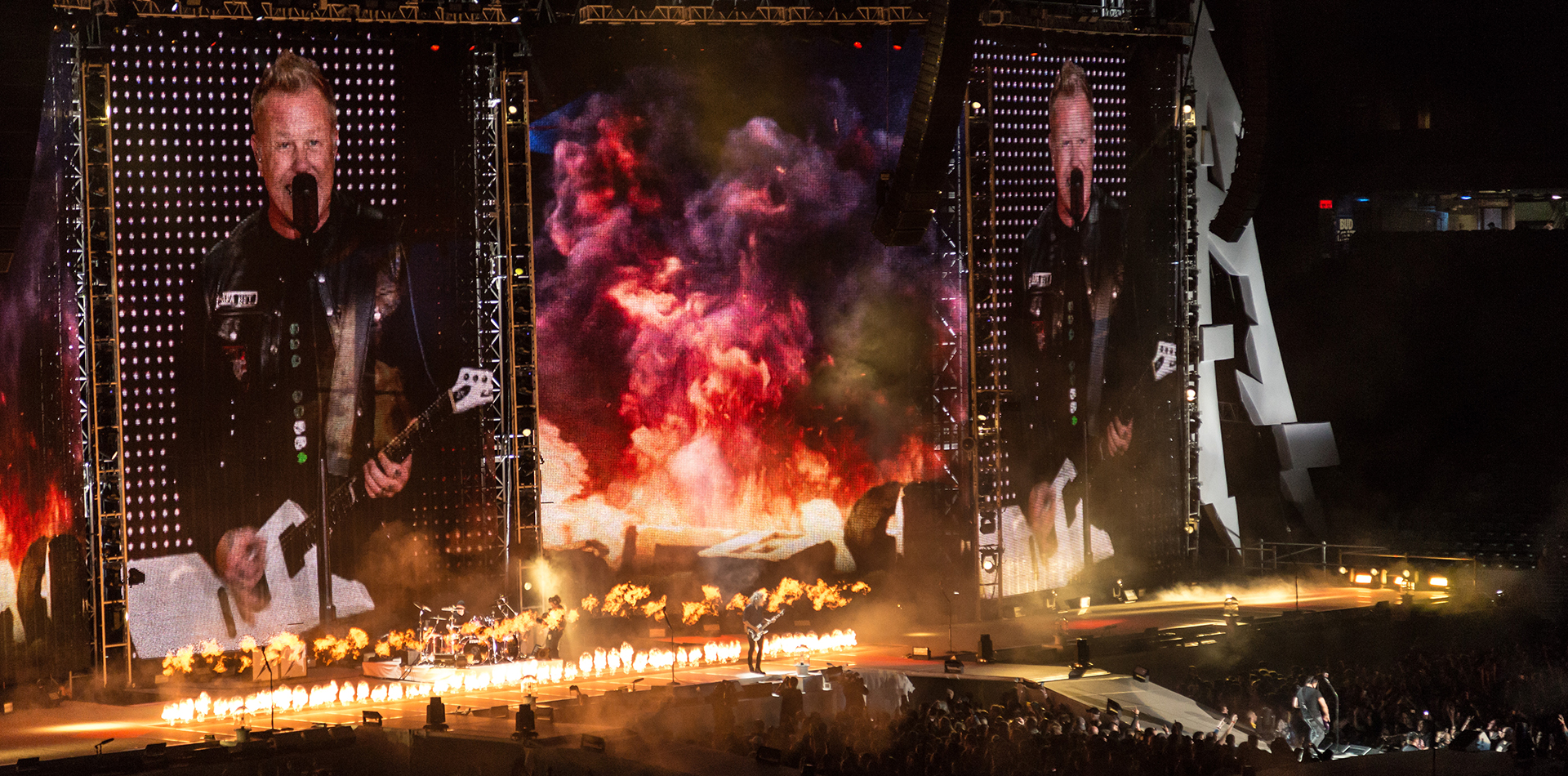 Martin by HARMAN Delivers an Electrifying Display for Metallica's 2017 "WorldWired" Tour
June 06, 2017
Lighting Director Rob Koenig selects MAC Axiom Hybrid fixtures and Atomic 3000 LED strobes to create innovative and intense visuals for the legendary band's massive world tour
Metallica recently embarked on the "WorldWired" world tour to support 2016's "Hard Wired…to Self-Destruct," their first studio record in eight years. The stadium tour features a unique stage design that forgoes a traditional ceiling structure in favor of a colossal, open look with huge video screens and heavy pyrotechnics. In order to overcome major rigging limitations and compete with the over-the-top stage production, Metallica's longtime Lighting Director Rob Koenig selected Martin by HARMAN Axiom Hybrid fixtures and Atomic 3000 LED strobes for their power, versatility and compact footprint.
"The production on the "WorldWired" tour utilizes a vastly different approach to stage design compared to what Metallica has done in the past," said Koenig. "There is no stage set, and there's much more video content than on previous tours. I knew that I needed a versatile hybrid fixture, and I fell in love with the Axiom Hybrid when I was programming another tour. They've been very reliable and it's an incredibly versatile light. We can get a linear beam, wash fixture or a profile fixture with a sharp edge."
The "WorldWired" tour features a massive, 140-foot stage with no roof or ceiling structure, leaving a framing truss system as the only means of support for the video screens, pyrotechnic units and any stage lights. Koenig's design features 54 Axioms placed on vertical ladders in-between five 35' x 38' video screens, with nine fixtures on each ladder.
"Weight distribution was a big problem with this stage, and it was a big factor in selecting the Axioms," said Koenig. "Not only are they compact and lightweight, they have enough firepower to compete with the brightness of the video screens. I'm very satisfied with them."
In addition to the Axiom Hybrid, Koenig deployed 30 Atomic 3000 LED strobes on the ground behind the band and along the catwalk. Incorporating backlight illumination with RGB-controlled LEDs pointing into the reflector, the Atomic 3000 delivers extreme brightness and stunning dynamic transitions throughout the show.
"The Atomic LED Strobes are amazing," said Koenig. "The form factor is great, the output is fantastic, they're incredibly reliable and I love the aura feature. There is a lot of punch with that fixture."
photo by Jeff Yeager and Brett Murray