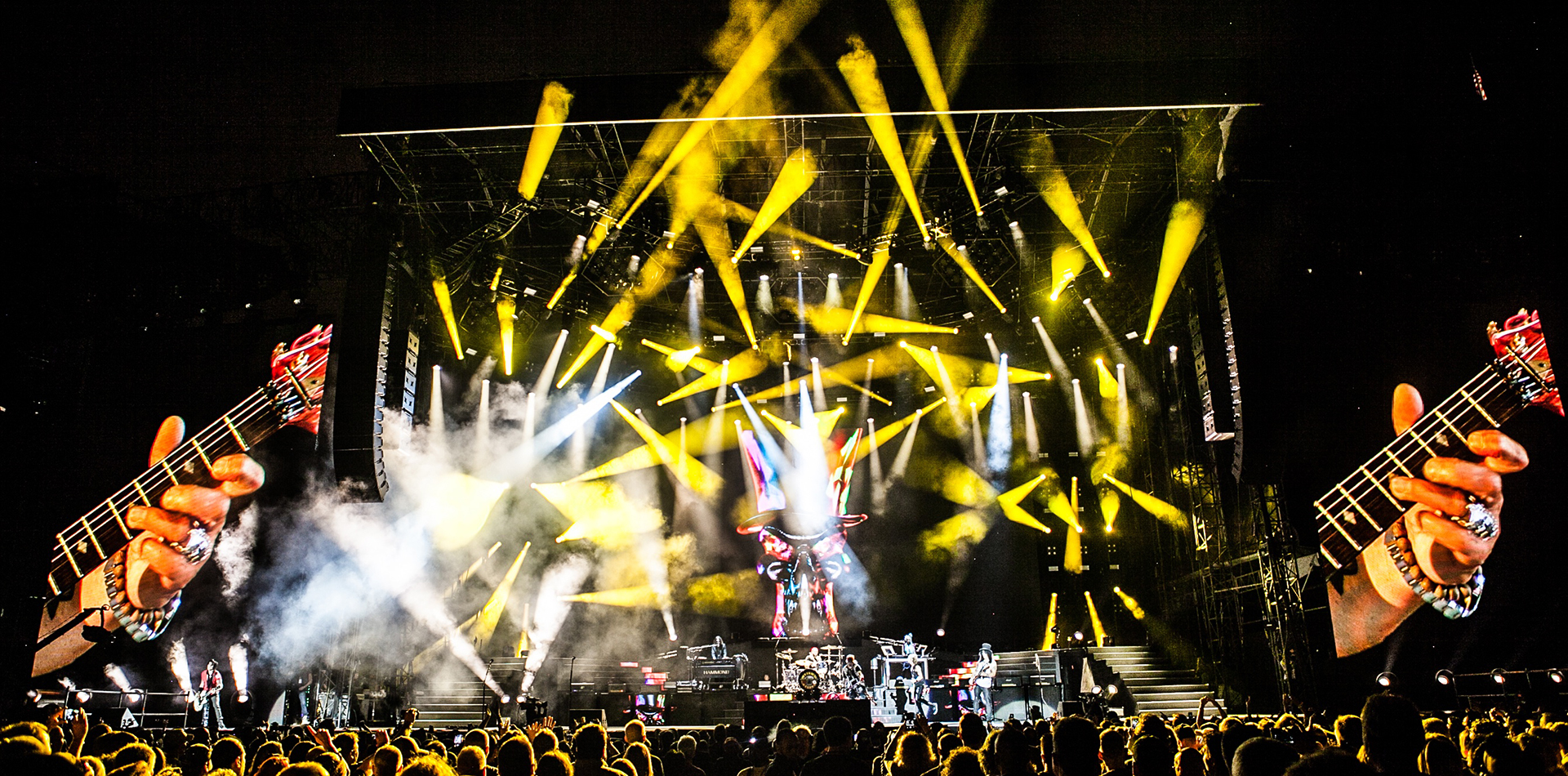 Martin by HARMAN Delivers Modern, High-Impact Lighting for Guns N' Roses Reunion Tour
September 28, 2016
Atomic 3000 LED and MAC III AirFX fixtures allow production designer Phil Ealy to deliver stunning visuals for the most highly anticipated rock reunion of the decade
With a career spanning more than 30 years, 100 million records sold worldwide and nearly 40 major award nominations, hard rock legends Guns N' Roses have reached almost every musical milestone imaginable. And with their recent "Not in this lifetime …" world tour, Guns N' Roses have done what most fans thought impossible—reunite. In order to provide a larger-than-life experience that would satisfy stadiums of fans around the world, production designer Phil Ealy and lighting programmer/director Rob Koenig used Martin by HARMAN Atomic 3000 LED and MAC III AirFX fixtures.
"The Guns N' Roses band members wanted to revisit their classic stadium rock show made famous during the "Use Your Illusion" tour, but with updated fixtures," said Ealy. "We used the Martin Atomic 3000 LED and MAC III AirFX to bring the visuals up to date and create an aesthetic mix of old- and new-school rock. The band is really happy with how the show looks. It's exactly what they wanted, and the fans are getting what they expected."
The lighting rig for the Guns N' Roses "Not in this lifetime …" tour includes Martin Atomic 3000 LED strobes. These fixtures have provided the lighting team with incredible reliability across a variety of applications—from high-intensity strobe lighting to unique visual effects with the new Aura backlight feature—all while remaining within their budget.
"Atomic 3000 LED is the coolest strobe on the market," said Koenig. "We've had zero failures with them whatsoever. Being able to get the look of a traditional xenon strobe out of an LED source is incredible. Martin knocked it out of the park with this one. The added Aura feature was used quite a bit on this show. It gave us non-emissive light and motion for what would otherwise be black camera backgrounds."
"Strobes have always been a big part of my rock 'n' roll designs, and the Atomic 3000 LED is hands down my fixture of choice," said Ealy. "In the early days of rock, there was never a concern about power charges, but now there is. With effective power consumption, these fixtures help us realize the big picture of our productions without the need for additional head room from venue or generator power, which saves on production costs."
Also integral to the tour's visual aesthetic are Martin MAC III AirFX lights. The extremely bright and highly versatile fixture allows the lighting team to achieve a variety of effects throughout each performance.
"I wanted a large aperture fixture that would be ideal for the stadium environments," said Ealy. "The MAC III AirFX fixture was recommended to me by Upstaging, Inc., and I'm super happy with them. It's a great fixture that gives us exactly what we wanted."
The lighting rig for the Guns N' Roses tour is supplied by Upstaging Inc., which has been putting on spectacular shows for the biggest names in music for more than 40 years. Upstaging has worked with Martin by HARMAN for years to deliver unsurpassed quality and creative structured solutions to fit the needs of any company, event or artist.
Photography Credit: Katarina Benzova