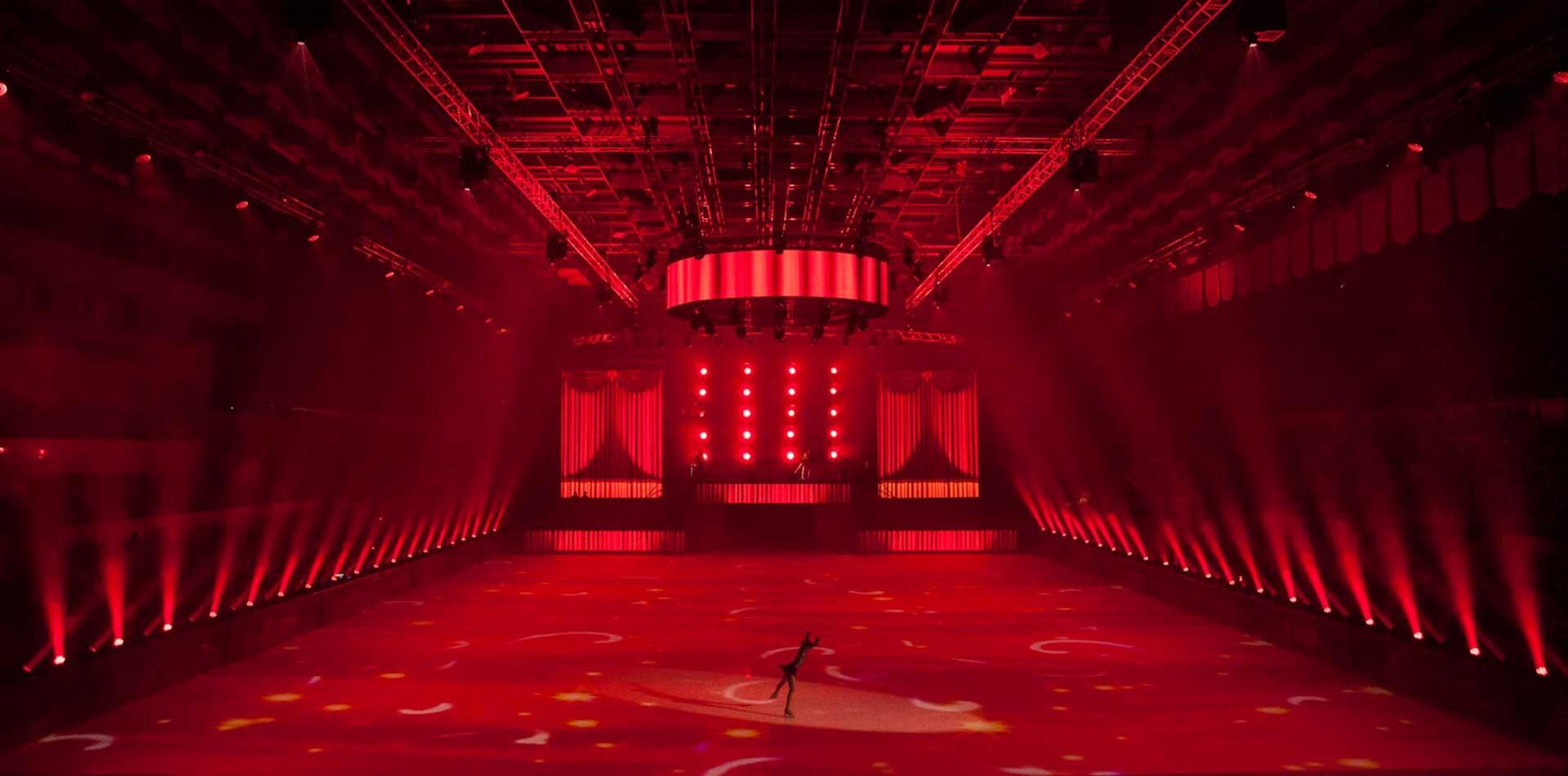 Martin by HARMAN Delivers Vivid Lighting, Mid-Air Effects for Champions' Figure Skating Event at Moscow Day Celebration
June 03, 2016
Eighty Martin by HARMAN MAC 101 LED moving head wash-beam fixtures used to create unique experience at world-class figure skating event
As part of the Moscow Anniversary Day celebrations, the Luzhniki Arena turned up the excitement for the Vivat Russia! champions' figure skating event with a creative and memorable lighting experience, using 80 Martin by HARMAN MAC 101 LED moving wash fixtures. Part of the Luzhniki Sports Complex in Moscow, Russia, the Luzhniki Small Sports Arena is an 8,700-seat indoor facility with a long history of hosting memorable events. Built in 1956, the arena played host to the 1973 Summer Universiade events, volleyball competitions during the 1980 Summer Olympics and the 1986 Goodwill Games. The arena was also the home of the Dynamo Moscow ice hockey club from 2000 to 2015.
"The MAC 101 fixtures have a small footprint but are powerful and very cool to work with," said project Lighting Designer, Alexey Zhuravlev. "With the MAC 101s we were able to create a lot of great mid-air effects along the entire perimeter of the arena. We could also easily 'cut off' the audience and make only the ice rink visible by surrounding it with numerous bright beams. This large set of MAC 101s played a major role in our show and stood out vividly among all the other solutions."
Though the event was billed as a show of figure skating champions, the program included a number of vocal and acrobatic events. This diversity influenced the arena's lighting accordingly, with the greater part of the venue set up as a skating rink and a standalone stage for non-skating performances, which also needed dynamic lighting. The lighting system included wash lights, beams and 80 Martin by HARMAN MAC 101 fixtures. The MAC 101s were primarily placed around the skating rink for highlighting key moments of the show.
The project became a creative collaboration between lighting designers Alexey Zhuravlev and Roman Vakulyuk. Together, they created a large set of lighting presets and scripts for every moment of the show, including the individual ice performances as well as the vocal and acrobatic events.
"The MAC units were really helpful on the ice rink due to their capability to produce powerful shots of light", said Zhuravlev. "These fixtures lend themselves to interesting experiments with pan/tilt, speed, color and intensity. Our team made maximum use of the whole lighting arsenal, finding and implementing many new bright and creative ideas."
Featuring rapid movement and calibrated colors, the MAC 101 is a compact and intuitive LED moving head wash light with a beam brighter than its small size would suggest.
For more information on Global Show Trade and Lighting Designers Alexey Zhuravlev & Roman Vakulyuk, please visit: http://www.gst-group.net
Photography: Sergey Neklyudov