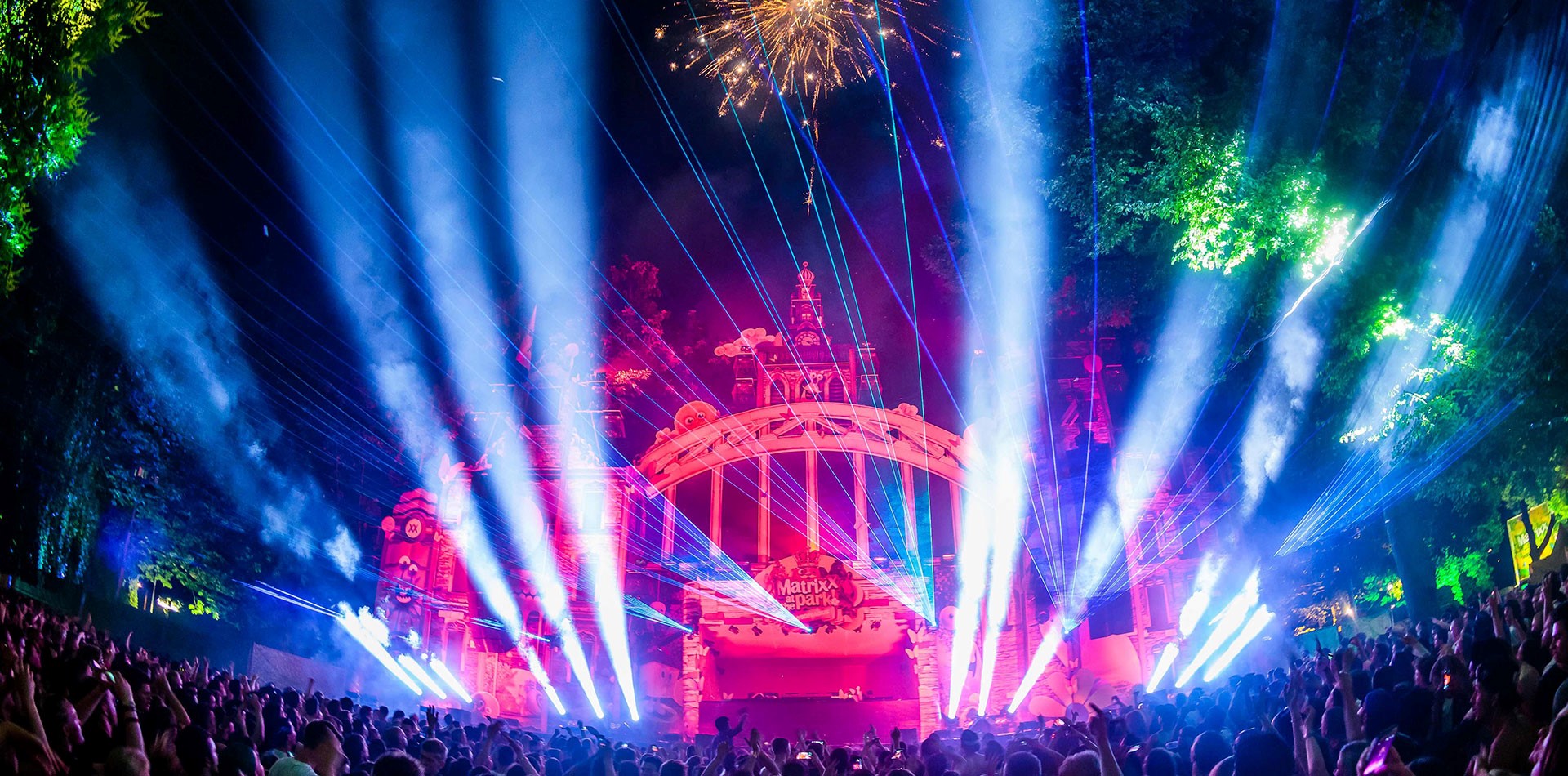 Martin by HARMAN Illuminates a Historical Celebration at the Matrixx at the Park Music Festival
August 23, 2016
MAC Axiom™ Hybrid fixtures and Atomic™ strobes deliver an immersive lighting experience for the 100th anniversary of the Four Days Marches event
Sound and lighting provider Focus Amsterdam recently used Martin MAC Axiom Hybrid fixtures and Atomic strobes to deliver an immersive lighting experience at Matrixx at the Park, a seven-day music festival held in conjunction with the annual International Four Days Marches Nijmegen — the world's largest multi-day marching event. In celebration of the event's 100th anniversary, the stage at Matrixx at the Park was decorated with a collage of Nijmegen's most famous landmarks. Lighting and stage designer Joris Schenk was hired to integrate concert lighting into the complex stage design, and he selected Martin fixtures for their powerful performance, versatility and reliability.
"There were lots of external decorations on the stage, so it was challenging to include lights, video, sound and effects without compromising the entire theme," said Schenk. "I chose the new MAC Axiom Hybrid fixtures because they can provide a very narrow beam, spot and wash all in one fixture. They were the perfect choice for the stage."
The Four Days Marches is an annual walk that has taken place in Nijmegen since 1916. Over 40,000 participants walked up to 50 kilometers each day during the event and more than 1 million attended various events throughout the city. For the 100th anniversary celebration of the march, the stage at Matrixx at the Park was decorated with a collage of the Waalbrug Bridge, St. Stephen's Church, Belvedere watchtower and the "Waagh", a famous building in the city's market square.
When it was time to design the lighting rig, Schenk knew that space would be at a premium. He needed fixtures that were not only powerful, but could function in multiple roles on stage. The MAC Axiom Hybrid is an all-in-one product that met his needs by combining beam, spot and diffused wash functionality in one compact unit. Furthermore, the Axiom's small footprint and lightweight design enabled Schenk to integrate the fixtures seamlessly into the complex stage design.
"We had the opportunity to test the Axioms before the show and we were very impressed," said Schenk. "The aspects that stood out were the outstanding depth of color, the incredible zoom range, the nice package of gobos and the focus, which automatically adjusts and syncs perfectly with the zoom."
Reliability was also a key concern, since there would be little time to repair or replace a fixture during the festival. Martin's industry-leading reliability was more than up for the challenge and the Axioms performed flawlessly throughout the entire festival, despite high temperatures and near continuous use.
"It's always exciting to incorporate a new fixture without using it extensively first, but after two nights of programming and seven days of the show — almost 100 hours total — the Axioms have produced excellent results," said Schenk. "We used 32 Axioms for the show, and didn't have any problems throughout the entire event — a perfect score! In the future, I plan on using the Axioms more because of their incredible reliability, output and multi-functional use."