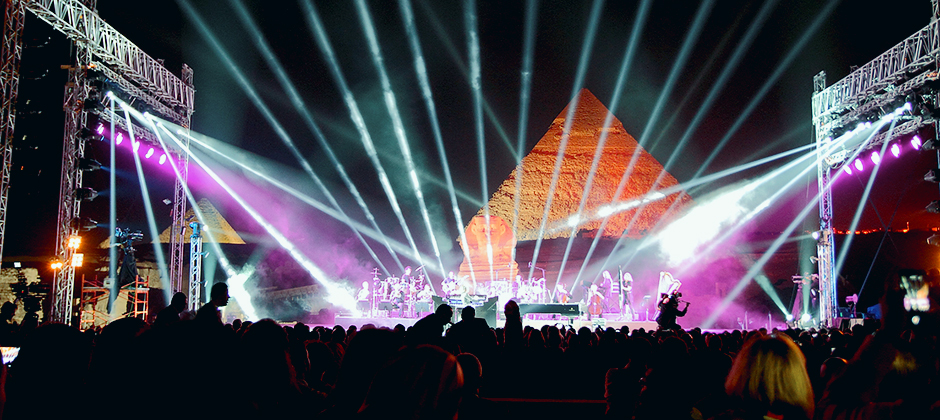 Martin Lighting Fixtures Shine on Yanni at the Great Pyramids of Egypt
January 14, 2016
HARMAN's Martin lighting fixtures helped frame a unique concert setting for international pop star Yanni during a sold-out, two-show run at the Great Pyramids of Egypt, which took place over the 2015 Halloween weekend. The shows were captured in 4K high-definition audio/video and will air in March as part of a PBS special entitled "Yanni: The Dream Concert – Live from the Great Pyramids of Egypt," which will also be released on DVD and Blu-ray.
Veteran lighting company Prolite Event Solutions used an array of Martin's MAC Viper AirFXs, MAC Quantum Washes, MAC 2000 Profiles and MAC 700 Washes to dazzle the crowds and enhance the live video recording of the performance. The Egypt-based company has lit arena concerts for 25 years for an array of artists, including Shakira, Andrea Bocelli, Julio Iglesias, Kylie Minogue, Brian Adams and Mariah Carey.
For Yanni's performances, Prolite Event Solutions selected 24 MAC Viper AirFXs for side and backlighting and 24 MAC Quantum Washes for side wash. In addition, 20 MAC 2000 Profiles and 16 MAC 700 Washes were used to light the audience.
"We chose the MAC Viper AirFX's for their extensive features," George said. "The front lens gave us a powerful, fat beam look. We also experimented with the wide zoom range and the rotating gobo wheel, and got great effects from that combination. The MAC Quantum Wash is the perfect fixture for side wash. The power, range and saturation of colors was a fantastic juxtaposition to the stark desert backdrop, which added an almost surreal aspect to the show."
Baher George, co-founder of Prolite Event Solutions, said that the unique combination of location and performer challenged him and his team to experiment with bold, innovative lighting looks.
"This was a one-of-a-kind-event," said George. "Yanni performing is unique blend of jazz, classical and world music with world-class musicians against the backdrop of Pyramids, artifacts which have stood for almost 5,000 years. Working with Bud Horowitz, Yanni's lighting director, we chose a light show that complemented the elegant, soulful nature of the pieces, drawing the audience's eye to the musicians and highlighting the majesty of the setting."
Prolite Event Solutions has used Martin fixtures for more than 20 years. Baher George and Maged Fikry, co-founders of Prolite Event Solutions, said Martin has long distinguished itself as the industry standard and is requested by venues as the lighting of choice far more than any of its competitors. George said this demand is in large part a testament to the quality of manufacturing and durability of the fixtures, and credits his company's long, fruitful relationship with Martin to the fact that its core brand characteristics match Prolite Event Solutions' mission statement.
"The Prolite mantra has always been 'experience, reliability and imagination'," George said. "After more than 20 years, we're privileged to get to work on shows of this caliber, which challenge us to come with new, inventive lighting productions. Martin fixtures embody the qualities of our mantra, and the company's continued innovation in the professional concert lighting field translates to products we're confident are going to wow the audience every time we use them."
As a world leader in the creation of dynamic lighting solutions for the entertainment, architectural, and commercial sectors, Martin lighting and video systems are renowned the world over. Martin also offers a range of advanced lighting controllers and media servers, as well as a complete line of smoke machines as a complement to intelligent lighting. Martin operates the industry's most complete and capable distributor network with local partners in nearly 100 countries. Founded in 1987 and based in Aarhus, Denmark, Martin is the lighting division of global infotainment and audio company HARMAN International Industries. For more information please visit: http://www.martin.com