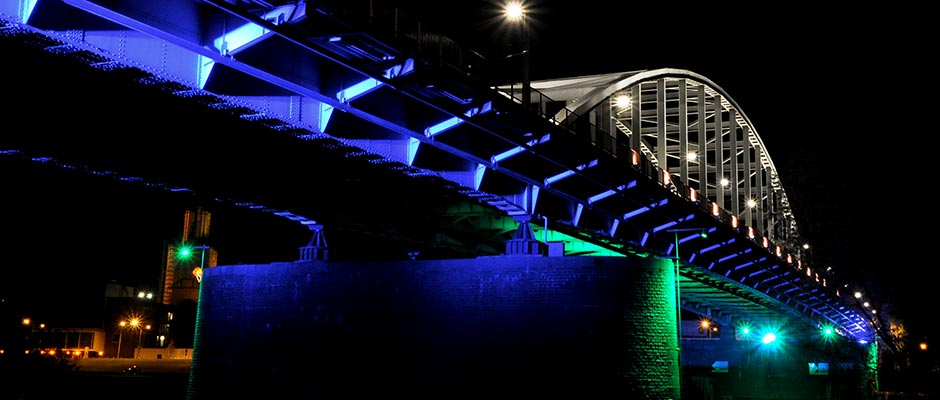 Martin Professional Exterior 400 and 410 fixtures illuminate historic John Frost Bridge in Arnhem, Netherlands
September 17, 2015
A key objective point of Operation Market Garden during World War II, the John Frost Bridge is one of three bridges in the city of Arnhem, Netherlands, and serves as a central connection to the city across the Lower Rhine river. The bridge is named after British Major-General John Dutton Frost, who commanded the Allied forces that defended the bridge during the Battle of Arnhem. In celebration of the bridge's world-renowned history, the city commissioned Netherlands-based lighting integrator and Harman distributor Fairlight BV to illuminate the bridge in 2004. Eleven years after the initial install, Fairlight BV was brought back to retrofit the design with more energy- and cost-efficient lighting fixtures from Martin Professional.
Fairlight BV faced two main challenges during the installation. The first was the location of the fixtures. Due to the bridge's architecture and the surrounding area it was very difficult to reach the areas where the fixtures are installed. Therefore the company brought in large cranes to swap out the lights. The second challenge was the limited amount of time Fairlight BV had to complete the retrofit before a city-wide Memorial Day celebration.
In the initial design and install in 2004, the company used Martin's Exterior 200 and 600 fixtures to light the bridge. Satisfied with the durability and quality of Martin's Exterior line, Fairlight retrofitted the fixtures with 12 of Martin's Exterior 400 and ten Exterior 410s – the latest in the line.
Bram Adams, Sales Manager has been with Fairlight BV for more than eight years. He said:
"The city wanted to save money on power and service. The 400s and 410s more than met those requirements. They use LED technology that increases energy efficiency and ensures a longer working period with minimal maintenance needs."
The design is broken into three main sections: the stanchions and supports along the bridge, the bottom section of the bridge and the pillars on which the bridge stands. Each light in the design can be controlled separately, allowing for any section of the bridge to be lit in different colors. The lighting system is pre-programmed to reflect different seasons and special occasions throughout the year with a range of colors.
Fairlight used a mix of several lenses to create the desired lighting effects. The company also took special care to ensure the surrounding buildings were not splashed with excess light and that the light was evenly thrown across the driving lanes for safety.
Adams concluded:
"Fairlight BV has a long and successful track record with Martin Professional. Their products are always high quality and their service is impeccable. The Martin fixtures were the perfect choice to light the bridge 11 years ago and they remain the best choice today."
Equipment List
Exterior 400, 12 pcs.
Exterior 410, 10 pcs.
RDM 5.5 RDM/DMX Splitter, 4 pcs.