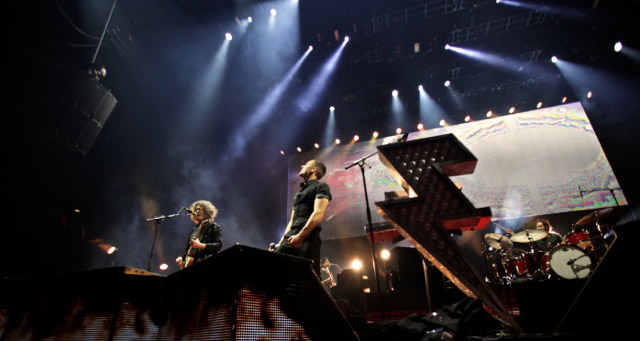 Martin's Viper AirFX goes into Battle Born with The Killers
April 05, 2013
After a four-year hiatus, The Killers returned to action last year with a new album, Battle Born. This year the tour continues and the band are playing live shows across Europe, the USA, Canada and South America. With a lighting rig full of Martin Professional luminaires, ahead of its official launch, the company's latest MAC Viper AirFX™ fixture is giving the shows added visual bite.

The tour's lighting and video designer Steven Douglas has been working with The Killers for over eight years. Juxtaposing the band members' onstage proximity with their desire for an 'open' look - plus the fact that there are several different possible versions of each song - presents both challenges and opportunities for the lighting design.

"The lighting is quite strong, it's not very pop," says Steven. "They wanted a wide open, Springsteen-esque kind of stage set-up. The band members are very close together, so there's not a lot of spread to focus on. But the advantage is that it opens you up to doing different shapes, using a lot of narrow beams with the spaces in between as part of the overall look. It is a different type of challenge to the kind of set that utilises a lot of full washes."

The tour's Martin Professional inventory includes 28 MAC Vipers, including 22 Viper Profiles and 6 MAC Viper AirFX, 37 MAC Auras, 27 MAC 2000 Wash XBs, 3 MAC III Profiles and 6 more MAC III Profiles converted to follow spots.

"I had used the same combination of fixtures for the last four or five tours and this time I wanted to do something different," Steven continues. "I've always liked the MAC 2000 Wash and, when the Viper came out, really liked that too. I knew the band wanted harder-edged lighting and the Vipers got a good, solid beam. You can get a really narrow beam from it without using the iris, so you don't lose any of the intensity."

The MAC Viper AirFX combines both hard-edge, mid-air effects and a stunning wash field that carry across the fixtures entire 11-59° zoom range. It is capable of snapping or fading into a wash light at any point and features a highly efficient optical system giving it the attributes of a profile and the output of a wash light.

"When the Viper AirFX came out, I was looking for a high impact fixture that we could put out wide left and right. I've only had them a couple of weeks, but they have integrated seamlessly into the show."

With intensive rehearsals leading in to the shows, Steven hasn't yet had a chance to really put the Viper AirFXs through their paces, but he knows they will pay dividends in a set where multiple designs are programmed for each song.

"The set list changes regularly and the visuals for each song depend on where it falls - the upstage screen might be open or closed, there may be drape or no drape, lasers or no lasers," he says. "For example, when we started these shows I had three different versions of Mr. Brightside programmed. But they've now started opening the show with a new version and the house lights on, no stage lights whatsoever - just walking on and playing. It confuses people a little and has had lots of people yelling at me to turn the house lights off, even though they can see I'm calmly sitting at my desk!"

When it came to a choice between taking Martin fixtures or LED screens to South America, as far as Steven was concerned it was a simple choice.

"The Auras do a lot of work in the show and as I wasn't guaranteed to be able to pick them up locally, I decided to take them and chance it with local screens," Steven says. "One of the key factors is that they are a lot lighter than a screen, they do a lot more for the show for the same freight weight, which made it a straightforward decision."

The MAC ViperFX sees its launch at ProLight+Sound 2013 on Martin Professional's stand 9.0 A93.