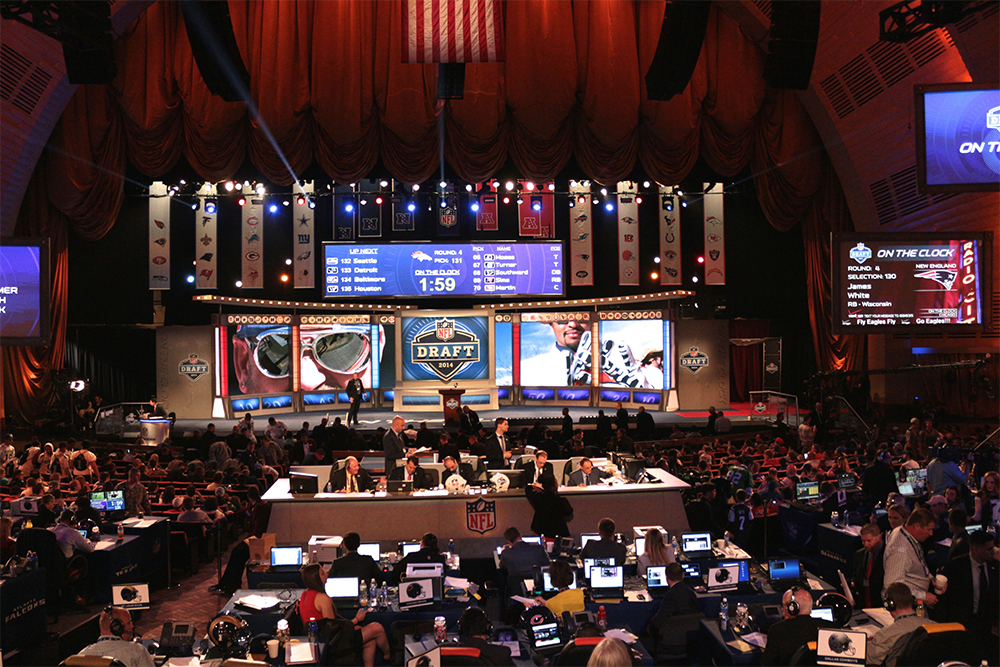 Michael Franks chooses Martin Professional for the 2014 NFL Draft
May 27, 2014
Held at New York City's prestigious Radio City Music Hall, this year's 2014 NFL Draft was the highest rated ESPN Draft telecast in more than two decades. To ensure proper lighting of the players, audience and for the live television broadcast on both ESPN and NFL Network, Christie Lites and Principal Lighting Designer, Michael Franks, deployed Martin fixtures to provide light to the entire venue.

In total, more than four miles of cable were used to power 14 MAC Auras, 20 MAC Viper AirFXs, 19 MAC Viper Performances and 24 MAC Viper Profiles throughout Radio City Music Hall from Thursday, May 8th – Saturday, May 10th.

What began as a relatively quiet experience in 1936, the NFL's annual Draft has become one of the largest productions and most anticipated yearly events. As the NFL has continued to grow, so has the emphasis on production quality.

Franks explains:
"This was our first year with a complete Martin rig. Doing this project for 18 years, the Draft has consistently grown into a bigger event. We are constantly looking at how we can make it better each year and this year Martin played a big part in that. With two different networks now covering the event, the challenges grew even more as additional areas needed lighting coverage. It was a lot to manage but having the consistency of one team, we were able to create a uniformed look that worked for everyone."

Franks decided to make the transition to Martin fixtures after several product demos and side-by-side comparisons with competitors. He adds:
"We did the entire set-up in a matter of three days so there was definitely a lot of pressure to get it perfect the first time. In addition, there is a new red carpet set-up outside the Draft before the first night that we were responsible for lighting. There were a lot of different parts but Martin helped tie it all together."

Echoing Franks' statement, John Trowbridge, Gaffer Crew Chief at The Wolf Productions stated that he enjoyed working with a quality product such as Martin:
"In prior years, we've used a selection of different manufactures, so it was nice to tighten things up with just Martin. Christie Lites is a Martin shop with a bunch of great fixtures so it made my life and my team's life easier dealing with one company."

At Radio City, the team needed to ensure that every area of the venue, including the hallways and all three balconies, were lit for live television. Franks continues:
"Martin's fixtures helped us to keep a uniform look and they also proved to be really even and bright. We used a few of Vipers as follow spots which gave us the ability to light the players when they walked into the audience, since the 'house' followspots couldn't reach them there. The Viper AirFXs and Viper Performances were used to light the walls, giving them color and patterns that were shown behind players and correspondents on both ESPN & NFL Network. We also used the Viper Performances to light the tables in a controlled way due to the fact that this year, they were positioned behind the fans."

Franks said he appreciates the quality of light, and color of the Martin fixtures, as they are different than what he has seen from competing lighting manufacturers. He concluded:
"I'm always one to refer to the phrase that 'change is the only constant'. A project like this never stops changing and the switch to Martin was a great choice for this production. We always need to find ways to be more efficient and Martin has been an improvement and a refinement in how we handle the Draft."

Chris McMeen, Christie Lites, was the account representative for the package.