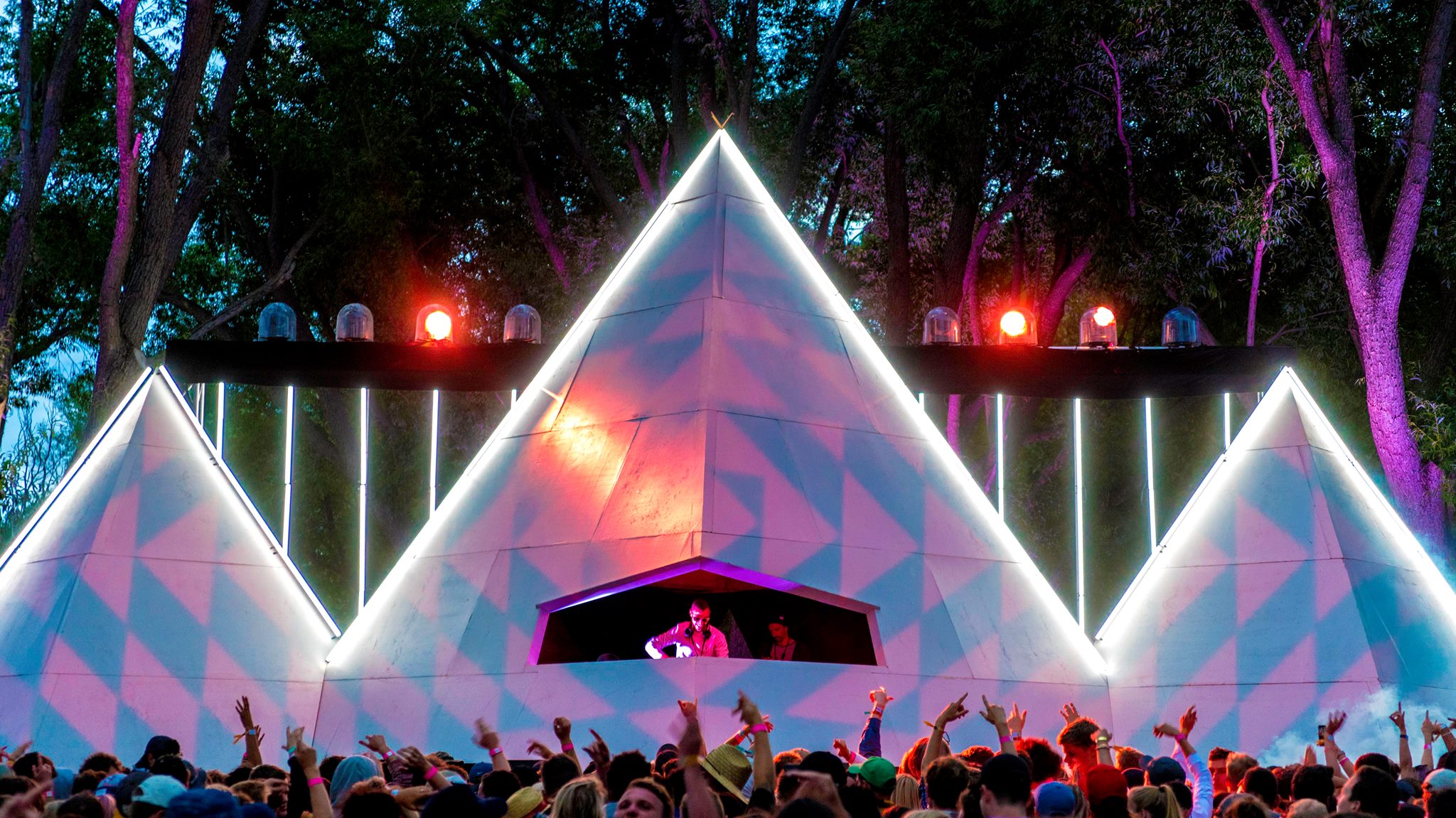 Rhythm & Alps Music Festival Rings in the New Year with Martin by HARMAN Lighting Solutions
December 07, 2018
WANAKA, New Zealand—TomTom Productions recently collaborated with Show Technology NZ to create an immersive and innovative lighting design utilizing Martin by HARMAN VDO Sceptron LED video fixtures at Rhythm & Alps music festival.
Located amid New Zealand's stunning Southern Alps mountain range, the 2018 edition of Rhythm & Alps attracted 10,000 fans to Cardrona Valley for a three-day lineup of top international performing artists and DJs. The music festival took place on December 29 – 31, 2018, and featured performances by Vince Staples, Action Bronson, Nightmares On Wax, The Cat Empire and more. Festival organizers hired leading New Zealand-based event production company TomTom Productions to enhance the festival's Pyramid Stage with an immersive and unique lighting design. With the help of local lighting vendor Show Technology, TomTom created an innovative lighting rig featuring Martin VDO Sceptron 20 LED video fixtures.
"The festival organizers gave us a lot of creative freedom to experiment with unique designs and new solutions for Rhythm & Alps 2018," said Hamish Edh, Managing Director, TomTom Productions. "The Martin VDO Sceptron fixtures helped us achieve a wide range of looks with intuitive control and high-quality color, both of which are essential for creating a powerful and immersive stage design."
The stage design for Rhythm & Alps' Pyramid Stage included a large projection-mapped pyramid centerpiece. TomTom used the VDO Sceptron 20 fixtures to provide more than 650 feet-worth of backlit illumination behind and around the impressive Pyramid set piece. The VDO Sceptrons' integrated power and data cabling enabled the TomTom team to place the power supply more than 160 feet backstage, and to daisy-chain many fixtures with long cable runs, making for an exceptionally clean setup without messy cabling and driver boxes on stage.
"We were asked to provide an innovative lighting rig which was both powerful and impressive," said Nick Reeves, Auckland Branch Manager Show Technology. "In order to satisfy the client's expectations, we selected Martin VDO Sceptron LED video fixtures, one of the most versatile LED solutions on the market today."
In addition to the VDO Sceptron fixtures, TomTom also included Martin MAC 101 moving head wash fixtures to simultaneously provide extra dimension to the giant pyramid structure and deliver enhanced colors and moving textures on the dance floor. Together with the revolutionary VDO Sceptron fixtures, the MAC 101 fixtures helped TomTom deliver the perfect lighting compliment to the unique stage design.
"We were pleased to provide outstanding lighting solutions for New Zealand's fabulous Rhythm & Alps festival," said Ramesh Jayaraman, VP & GM, HARMAN Professional Solutions, APAC. "We thank TomTom Productions and Show Technology for their confidence in Martin by HARMAN lighting solutions, and for delivering an immersive experience for the audience and performers alike."
Social tags/links:
https://www.tomtomproductions.co.nz/
https://www.instagram.com/tomtomproductionsnz/?hl=en
https://www.facebook.com/tomtomproductions/?ref=br_rs
Photo credit: Kate Roberge Photography