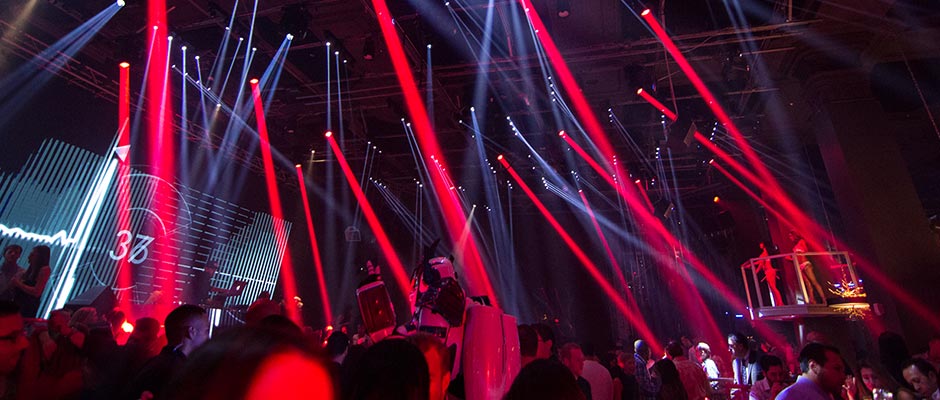 RUSH by Martin helps create a dynamic and energized atmosphere at Parq Club
March 24, 2015
As founder of install firm SJ Lighting, Inc., Stephen Lieberman relies on creativity, principles of design, and high-quality lighting fixture manufacturers like Martin Professional to build visually dynamic club atmospheres. He recently outfitted San Diego's Parq club with an array of RUSH by Martin products including RUSH MH 3 Beam, RUSH MH 1 Profile and RUSH PAR 1 RGBW in an installation that was both comprehensive and cohesive with the club's other design elements.
 
Located in San Diego's Gaslamp Quarter, the 38,000 square foot club opened in the fall of 2014. Lieberman was brought in midway through the two-year construction period by a referral from the interior designer. He describes his organization's role as visual "enhancers" based on the designer's aesthetic. Lieberman explained: 
"It's important to consider all aspects including geometry and perspective. You know it's done right when it looks like a single design firm was responsible for the whole space."
 
While creating a cohesive environmental design is Lieberman's overall responsibility, his primary focus is the lighting, the club's primary visual element during party hours. He relies on Martin's line of club-oriented RUSH lighting fixtures to immerse every inch of the club in lighting in a way that boosts every guest's experience. Lieberman said:
"The Martin RUSH MH 3 Beam does the heavy lifting. The big effects over the dance floor –that's the RUSH Beam. The lighting over the main attractions like the DJ and the dancing girls – also the RUSH MH 3 Beam. Every fixture has a purpose but you need to make sure that the space is properly lit."
 
The RUSH fixtures certainly contribute to Parq's highly stimulating interior, which is frequently described as 'heavy on technology' and 'over-the-top.' But Lieberman believes bright, prominent illumination is only one component of proper venue lighting. He considers lighting fixtures essential to maintaining a dynamic atmosphere for guests, performers, producers and club staff. Lieberman said:
"Club shows often go for more than eight hours. Our goal is to give the lighting designer enough tools he needs to keep things fresh, for both staff and guests, night after night. A great lighting designer tells a story along with the music. The more tools he has, the better the story he can tell."
 
Lieberman founded SJ Lighting Inc. in 1994 and has worked with major worldwide music festivals and events ever since. He now focuses primarily on nightclubs and has installed hundreds of Martin RUSH products in the past six months as part of his all-encompassing visual stage designs.
 
Martin Equipment
Dance Floor
RUSH MH 3 Beam, 32 pcs.
RUSH MH 1 Profile, 28 pcs.
RUSH Par 1 RGBW, 12 pcs.
Patio
RUSH MH 1 Profile, 8 pcs.