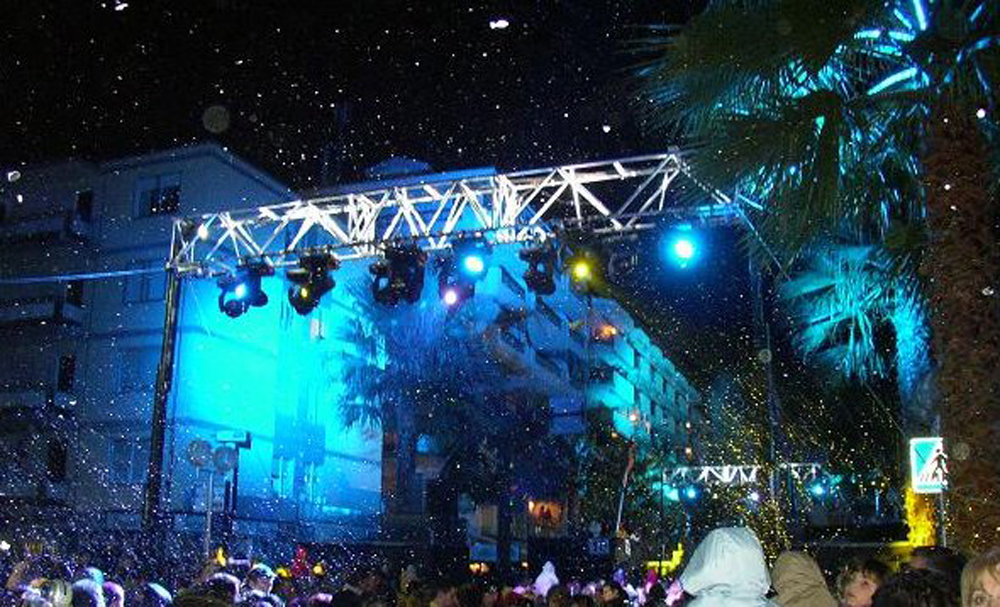 Salou Festival, Spain
April 29, 2005
Earlier in the year, nearly 8,000 people gathered in the Spanish resort town of Salou for the annual winter Salou Festival. Iluminación Albadalejo, the biggest Martin rental company in Spain, handles the event each year, supplying a bevy of Martin gear and other brands used at the festival.
This year some 145 Martin luminaires were the key elements in a spectacular presentation of light, customized and synchronized to the beat of the music. The light show lasted approximately three minutes and was programmed on a Martin Maxxyz (with one as backup) one week prior to the show. Maxxyz programmer and operator was Juan Manuel Martinez Perez. Maxxyz reportedly handled the complex synchronization of the cue times to the music exceptionally.
After the presentation there was a parade of floats in which the automated lights played an important role. Some 10 James Thomas SuperTruss bridges (8 meters each) supported by 2 Genie SuperTowers each handled 6 MAC 600 wash lights, 4 MAC 500 profile spots, 2 MAC 2000 Profile II and 2 RoboColor Pro 400 color changers. Four Martin Magnum 2000 fog machines provided the atmospheric haze and mid air projection canopy and a pair of lasers also played an integral part in the show. All design was done on a Martin ShowDesigner Gold version.
When asked what they liked about the Maxxyz, lighting professional Raúl Gómez commented, "The speed. It's already far better than the controllers that we had used before. And the time we've saved! Normally, with the other controller, we used the entire night before the show to review the show and to alter cues. With Maxxyz we needed less than 3 hours!
"We were impressed by the DMX output speed of the Maxxyz. The output speed is much better than our previous desk, and all the fixtures reply to the DMX info at the same time. This improved our show and made it better for us and for the audience." Iluminación Albadalejo acquires their Martin equipment through Martin's Spanish representative, Ecler.