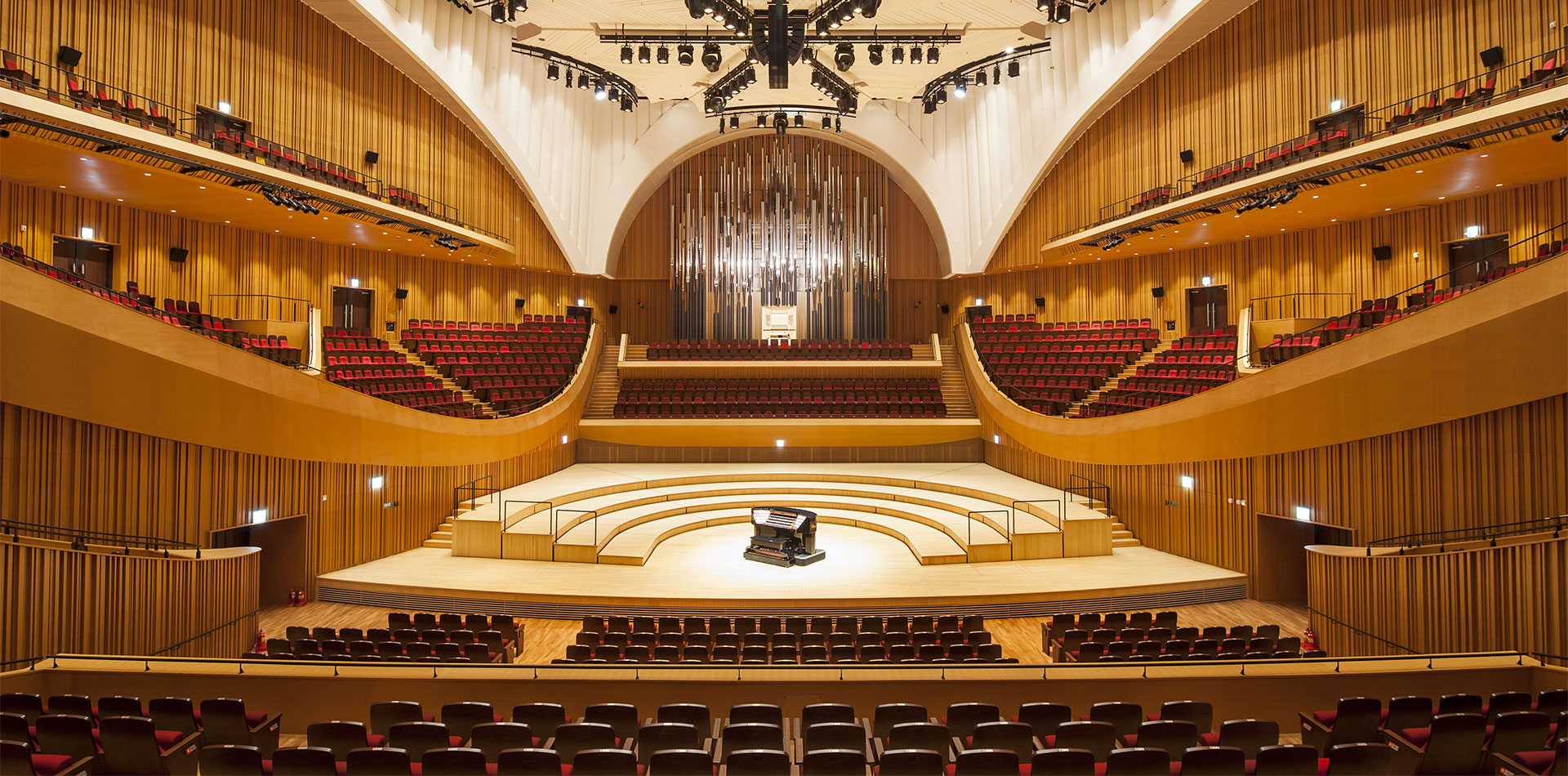 Seoul's Elegant Lotte Concert Hall Upgrades to A State-of-the-Art Martin By HARMAN Lighting Solution
March 27, 2019
SEOUL, South Korea—Hansam System Co., Ltd. recently installed an array of Martin MAC Quantum Wash fixtures at Lotte Concert Hall to achieve 360° coverage and near-silent operation in the world-class venue.
Lotte Concert Hall is a contemporary 2,036-seat auditorium, newly built by the Lotte Corporation and located in Seoul's elegant Lotte World Mall. The hall was designed by renowned international firm Nagata Acoustics, and features terraced, wrap-around "vineyard style" seating for optimal acoustics in every seat. The hall needed a state-of-the-art lighting solution to ensure consistent coverage for all viewing angles, as well as minimal noise during delicate classical and opera performances. They hired Hansam System Co., who installed an array of Martin MAC Quantum Wash fixtures to meet the hall's unique needs.
"We trusted the experts at Hansam System Co. to help us create an engaging environment at our concert hall and provide guests with a stunning visual experience to match the extraordinary acoustics of the space," said Ms. Eunjung Choi , Lighting Director, Lotte Concert Hall. "And since the hall's design can amplify even the smallest sounds, we appreciated the ultra-quiet operation of the Martin fixtures they chose."
Hansam System Co. settled on an array of 24 MAC Quantum Wash fixtures hung from an acoustical "cloud" high above the stage. In addition to its beautiful wash fields, the Quantum Wash also produces tight beams with its 1:5 zoom and features a rotating front lens for spectacular mid-air effects. Its advanced Colorganics RGBW LED system provides deep, saturated colors and brilliant white light with smooth, consistent mixing. The fixture's extremely low noise level makes it ideal for classical and opera concerts, keeping the focus on the music during quiet passages.
"Lotte Concert Hall was specially designed to increase the sense of communion between the performers and the audience," said Mr. Moowoong Cha, Sales Director,Hansam System Co. "The auditorium needed effective lighting equipment with extremely quiet operation, and HARMAN's industry-leading solutions were perfectly suited to this application. The MAC Quantum Wash fixtures' enhanced brightness and vivid colors elevate the entire experience for concertgoers."
"HARMAN Professional Solutions is delighted to present lighting fixtures that perfectly complement the renowned Lotte Concert Hall," said Ramesh Jayaraman, VP & GM, HARMAN Professional Solutions, APAC. "We would like to thank Hansam System Co. for not only innovatively utilizing Martin's cutting-edge solutions, but also for their customer-first approach and prompt delivery."
ABOUT HARMAN
HARMAN (harman.com) designs and engineers connected products and solutions for automakers, consumers, and enterprises worldwide, including connected car systems, audio and visual products, enterprise automation solutions; and services supporting the Internet of Things. With leading brands including AKG®, Harman Kardon®, Infinity®, JBL®, Lexicon®, Mark Levinson® and Revel®, HARMAN is admired by audiophiles, musicians and the entertainment venues where they perform around the world. More than 50 million automobiles on the road today are equipped with HARMAN audio and connected car systems. Our software services power billions of mobile devices and systems that are connected, integrated and secure across all platforms, from work and home to car and mobile. HARMAN has a workforce of approximately 30,000 people across the Americas, Europe, and Asia. In March 2017, HARMAN became a wholly-owned subsidiary of Samsung Electronics Co., Ltd.
GLOBAL
David Glaubke
Director, Public Relations
HARMAN Professional Solutions
APAC
RV Ramachandran
Marketing Director - Asia Pacific Harman Professional Solutions
+65-6870-5000 Office
+65-9146-2464 Mobile
© 2018 HARMAN International Industries, Incorporated. All rights reserved. Harman Kardon, Infinity, JBL, Lexicon and Mark Levinson are trademarks of HARMAN International Industries, Incorporated, registered in the United States and/or other countries. AKG is a trademark of AKG Acoustics GmbH, registered in the United States and/or other countries. Features, specifications and appearance are subject to change without notice.
TAGS: Entertainment, Performing art, Theater