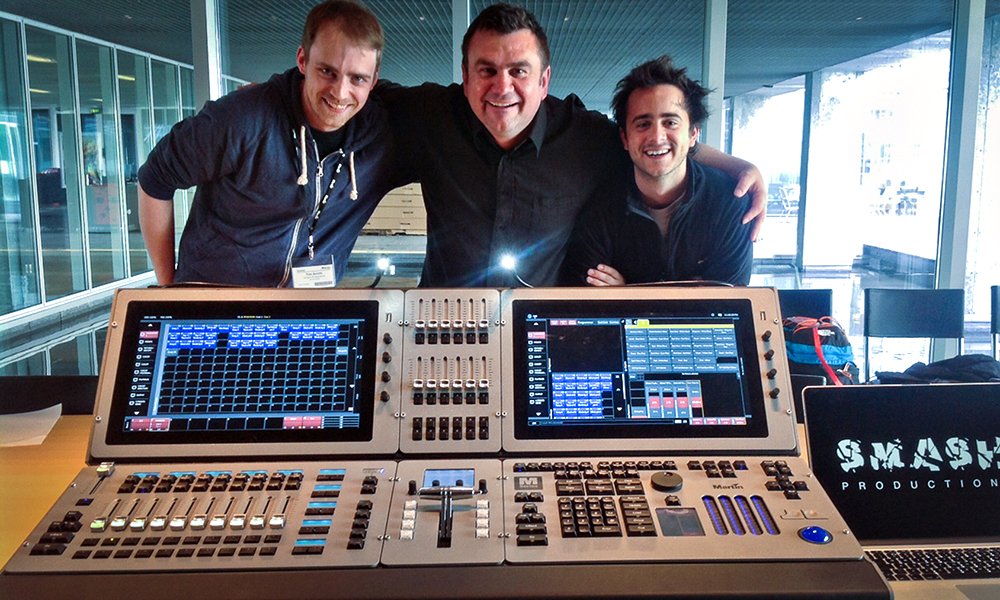 SMASH Hit for First Martin M6™ Console in UK
July 10, 2013
Bristol, UK creative visual design practice SMASH Productions (www.smashproductions.org.uk) has taken delivery of the first HARMAN Martin M6 console in the UK and Europe, which will be available for rental and also in action for assorted shows and productions in which SMASH is involved.

SMASH, headed by Alex 'Junior' Cerio and Tim Smith, is known for its innovative, imaginative and fresh approach to production design and the art of creating fabulous environments by combining lighting, video, visuals and scenic elements for all types of live events.

Their work encompasses many genres and styles, embracing corporate launches and parties through to touring with top international DJs and bands.

SMASH is in the process of investing in key areas of equipment like control surfaces to further facilitate the design side of the business, and the new M6 is an addition to SMASH's ever-growing collection of lighting consoles.

The M6 console can be hooked up to media servers in their studio and used for pre-visualizing, designing, planning and programming shows in advance. It is also the intention to enable them to have an element of continuity worldwide on key shows.

"Investing in control elements to run mixed media shows is very much on our agenda," explains Alex, adding that they have worked closely with Martin on some of the latest M6 software developments.

Already owners of a Martin M2GO™ console and Ether2DMX8™ node, SMASH are well aware of the reliability and familiar with the quick and intuitive operational philosophies of Martin's M series of products.

The M6 is a state-of-the-art lighting console that functions as an advanced 'visual control' surface, and is designed from the ground up to control anything from conventional and moving lights, digital fixtures, LED pixels and a full range of media servers.

That is one of the many things that appealed to Alex and Tim. "It very much fits our philosophy and the way we incorporate different media in constructing a show."
SMASH also chose the M6 as a complementary controller to their range of LED video walls, media servers and content creation / VJ team. With its VTC and SMPTE inputs, it is perfect for timecode triggered shows.

"We wanted a forward-looking console," says Alex, "And this definitely fits the bill. It provides straightforward and easy control of complex multimedia shows and also looks to the future with a wide variety of new visual tools." Apart from lighting and video, these could also be automation relating to a whole range of other effects.

Alex and Tim also like the fact that the M6 is modular and fully user-configurable by choosing which interchangeable modules are fitted.

Martin's Show Consultant Dave Stewart, who co-ordinated the deal, adds, "A massive amount of thought has gone into the M6 console and how it can be used by the most demanding designers, programmers and operators. SMASH is a really creative and demanding client. The M6 presents a real challenge to established control brands, with inventive and easy-to-use hardware like fast-dials access to parameters and multi touch-screens."

The first SMASH Productions show for the new M6 was David Guetta's special guest appearances on Rihanna's UK & European stadium shows. SMASH recently provided production and visual design (lighting and video) plus technical co-ordination for the main stage of the Love Saves The Day Festival in Bristol, and Alex is Lighting Director for David Guetta's on-going live performances. They also provided LED screens to the High Definition Festival in Essex in June.