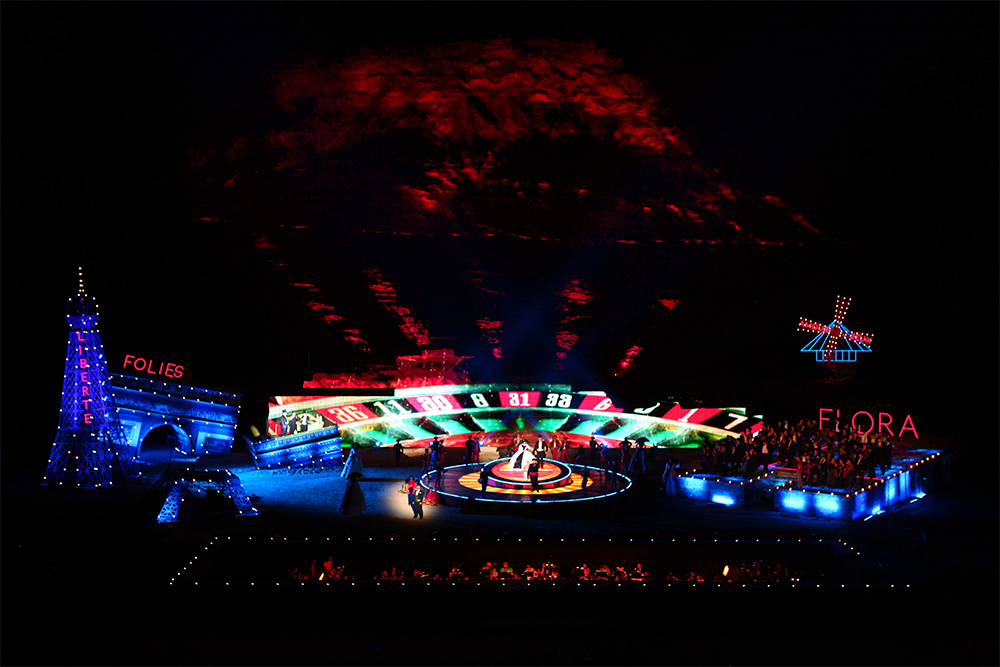 Stunning lighting backdrop on Mount Masada for Verdi's La Traviata
September 11, 2014
The fifth annual Masada Opera Festival, held at the foot of Mount Masada—one of Israel's most popular tourist attractions—featured stunning performances of Giuseppe Verdi's La Traviata opera for an audience of thousands over the course of six days. With Mount Masada serving as a stage backdrop and the sets incorporating the desert elements of the area, Lighting Director Bogumil Palewicz along with Michal Znaniecki, Stage Director, and Luigi Scoglio, Set Designer, deployed Martin Professional fixtures to provide stage and effects lighting.

The outdoor stage was created to depict the city of Paris, France rising from desert sand. Working with the stage designer and set designer to ensure the audience's view was not obstructed, Palewicz created a design that positioned the lighting equipment in the sand and on towers placed away from the main stage. Palewicz used Martin's MAC Aura LED Wash lights to create a bulb effect for the Paris stage and used Martin's MAC Quantum Wash fixture for white light washes.

The stage design also featured Martin's MAC III Performance, MAC Viper Profile, MAC Viper Performance, and MAC Viper Beam moving head lights. Palewicz said:
"The MAC III Performances are great for big productions like La Traviata or even events on small stages. Despite the long distances from the stage, the fixture's framing system allows for really precise lighting. Martin's MAC Viper series has strong output, true colors, and tremendous gobo effects."

In addition to lighting the stage, Palewicz also used Martin fixtures to light Mount Masada as a backdrop for the production's set designs and integrate the mountain background seamlessly with a video wall on stage. In order to effectively extend the stage with the mountain, he utilized Martin's MAC III AirFX fixtures to light a section of the mountain 1,200 meters wide by 500 meters tall.

Not only did the production call for the color of the mountain to change with performance, but Palewicz also needed to project shapes and images onto the mountain as well. "I needed a powerful fixture capable of producing strong output over a long distance," said Palewicz. "The mountain had to connect with the video wall on stage and the AirFXs were the perfect solution for creating a flawless backdrop."

"Due to the outdoor nature of the performances, the Martin fixtures were subjected to harsh conditions such as dust and extreme heat. Their durable design more than withstood the desert environment, allowing us to have a consistent show throughout the six day festival," said Palewicz. "I could not have imagined our success without the support from the Martin team and the reliability of their equipment."

The production company was Stage Design Israel.