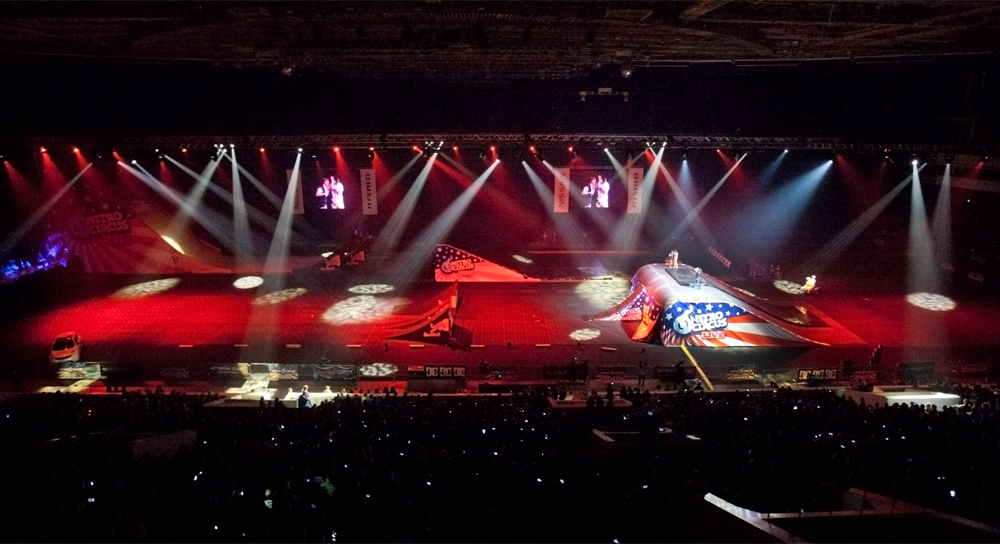 The Brightest MAC III AirFX for Nitro Circus Live
February 24, 2014
At the end of 2013, a great show that took huge audiences worldwide came to Russia and had the heart of extreme sports fans beating both in Moscow and in Saint Petersburg. The stars of Nitro Circus Live put on a unique and inspiring show for the Russian spectators and the bright effects from the MAC III AirFX, provided by the rental company Euroshow, added something extra for the spectacular performances full of power, energy and adrenaline.
Nitro Circus was founded in 2009 by professional action sports athlete Travis Pastrana in an attempt to unite the most fearless extreme athletes in the world. The original Nitro Circus show consisted of a variety of tricks on motocross bikes, roller skates, scooters and other vehicles like cars for Barbie dolls, toy tricycles, boogie boards for surfing, tandem scooters and many more. Some of the tricks have already achieved status as a world record, including the famous Nitro Bomb where 20 athletes make backflips while floating in the air.

The team includes Aaron Fotheringham who since childhood has been confined to a wheelchair. He travels the world with Nitro Circus and demonstrates how he will not allow his disability to hold him back.Among other things, Nitro Circus is known for participating in an MTV reality show.

Wanted: Extreme Power
The Nitro Circus Live team were very clear and specific about their requirement for light. They needed wash, profile and strobe lights. They were only interested in 1500 W moving heads, and in line with their passion for extreme sports they wanted extreme lights. The circus arena is huge and therefore the power of fixtures became a crucial factor. And so, Euroshow proposed a combination of Martin Professional fixtures consisting of MAC 2000 Wash XB, MAC III AirFX and Atomic 3000 DMX.

The brightest MAC III AirFX is welcome
The precise and powerful effects of the MAC III AirFX appeared as a framing for the whole act. In Nitro Circus the performers risk their lives to demonstrate a truly spectacular measure of dexterity and courage. As you can imagine, this means added pressure and responsibility for the lighting design.

During the show MAC III AirFX produced spectacular visual effects in geometric shapes. Such accurate and precise control of light beams underlined the atmosphere of the whole show.

Alexander Blednykh, who owns the Euroshow rental company says about the MAC III AirFX:

"Brightness is the alter ego of MAC III AirFX. Today we don't have a fixture with brighter output. It appeared in the professional market not long ago but it have already managed to become an essential part of the riders. The Lighting Designer was happy that we were able to provide him with these fixtures in Russia. He showcased the features of MAC III AirFX in an excellent way. Like a true master, similar to when an artist creates a masterpiece. Commonplace objects and structures received a new look under an exquisite array of effects."

Check out Nitro Circus on YouTube

Photography: Elena Blednykh (http://lenreport.ru/)

Martin Equipment
MAC III Profile, 4 pcs.
MAC III AirFX, 24 pcs.
М;;А;;С;; 2000 Wash XB, 48 pcs.
Atomic 3000 DMX, 24 pcs.
Jem AF-1, 4 pcs.