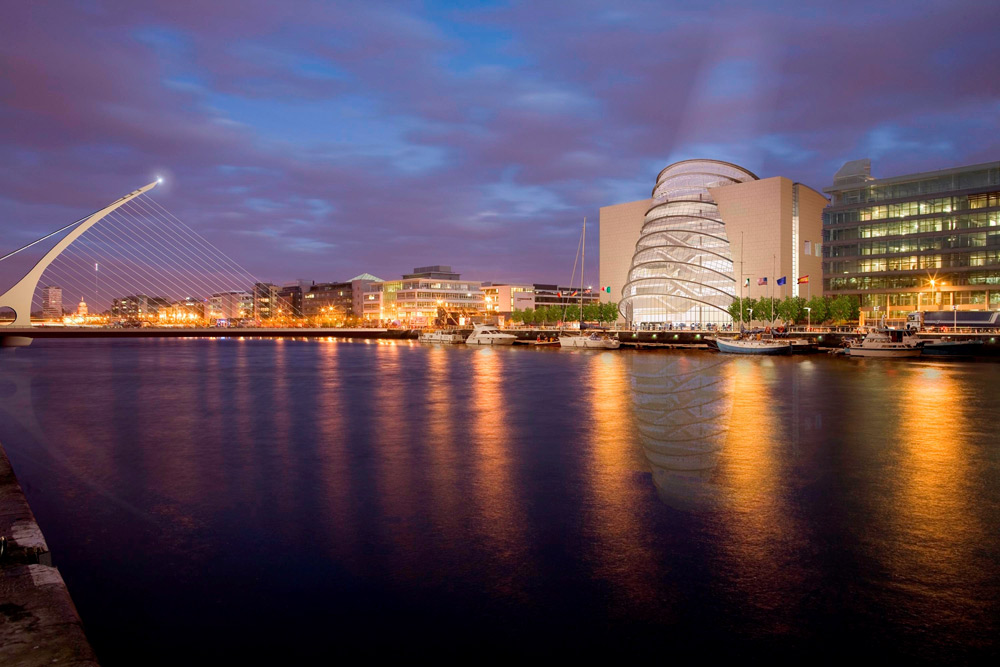 The Convention Centre Dublin Chooses Martin Lighting Technology
July 02, 2010
The Convention Centre Dublin (The CCD) announced that it has selected Martin Professional as its visual solutions provider. The CCD has purchased a selection of industry-leading moving lights from Martin Professional, including the new MAC III Performance, which will be installed throughout the new Dublin-based venue as it prepares to open for business on September 1, 2010.

"As a world-class conference facility, we want to ensure that we use only the best products and services. So when it came to choosing a partner for our mobile lighting needs, we went straight to the best in the industry - Martin Professional - who have an outstanding track record in providing quality and reliable lighting to the entire events industry," said Lee Forde, Head of Technical at The Convention Centre Dublin. "In keeping with our goal of running The CCD as a sustainable business, we are delighted to be able to use Martin Professional's new LED lighting, where possible."

Installed in The CCD's largest halls, The Forum and The Liffey Suite as well as in its 2000-seat Auditorium with full theatrical stage, The CCD will use Martin Professional products for stage productions, product launches and banqueting events such as award ceremonies. The CCD's Martin lighting solution will include 10 Martin MAC III Profile with MAC III Performance modules, 12 Martin MAC 700 Wash, 10 Martin MAC 700 Profile, 84 Martin MAC 575 Krypton and 18 Martin MAC 301 LED Wash.

Installation and supply of the complete theatrical lighting, dimming and control systems was by Cine Electric Ltd, Ireland's longest established entertainment lighting provider. Director of Cine Electric, Paddy O Toole, commented on the choice of fixtures, "In consultation with the Centre's technical staff, and after considerable testing and evaluation, the unanimous decision was to install Martin lighting throughout the venue. The service and attention to detail we received from the sales and service departments at Martin was second to none. Cine Electric are looking forward to working with Martin in the future."

The Convention Centre Dublin
Developed by Treasury Holdings (www.treasuryholdings.com), The Convention Centre Dublin is situated at Spencer Dock on the banks of the River Liffey. Ireland's first purpose-built international convention and event venue is positioned to become the leading premium mid-sized convention centre in Europe. Recognised as the first carbon neutral international convention centre, the venue is configured to accommodate conferences from 8 to 8,000 participants in 22 purpose-built meeting rooms. It includes a 2,000-seat auditorium, 4,500 square metres of exhibition space and banqueting facilities for up to 3,000 guests. The centre combines flexible and elegant conference halls and meeting spaces with an experienced management team and an extensive range of support services. Offering the latest technology, this sophisticated venue will include advanced audio-visual equipment and lighting systems as well as Wi-Fi enabled halls and meeting rooms. The venue will employ approximately 250 full-time staff when operational.