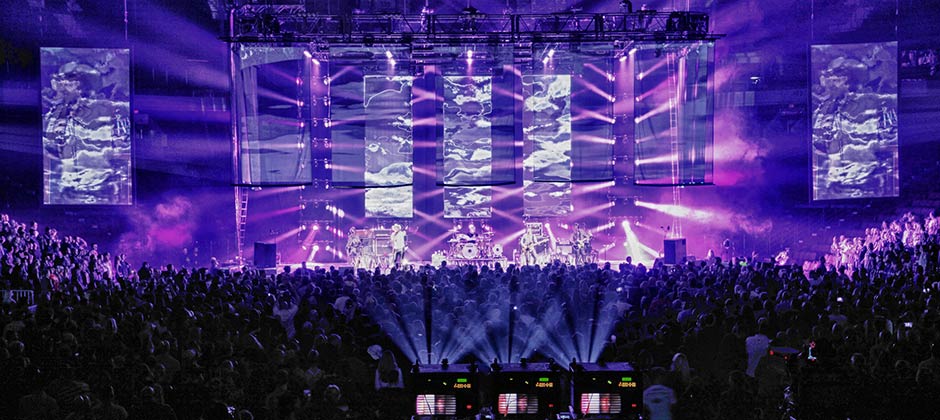 The Tragically Hip brings retro and modern together with MAC 101s
June 03, 2015
What is a lighting designer to do when faced with creating two shows in one? That is precisely the problem Brent Clark had to tackle when planning for The Tragically Hip's latest tour. The band decided to break up their performance into three parts, the first and third would feature new music while the middle of the show would be songs from their 1992 hit record Fully Completely. Consequently, Clark needed to come up with a design that felt both modern and retro at the same time.
Fully Completely was a hit in the 1990's so Clark found inspiration in an old digital clock and the old PAR can look. He wanted to recreate a 90's appearance in a modern way. Using 134 MAC 101 fixtures, Clark was easily able to build his PAR can look which proved to be impactful during the various parts of the show. To produce a "show within a show," the MAC 101 backdrop had to work in a way that would bring the audience in during both parts of the performance. Clark also created a complex trussing system with color forces that looked like a digital alarm clock. The grid was on automated motors and when the band walked out, it spelled out their name.
Clark said:
"I needed lights that are really punchy that would look good for the two different sets. The MAC 101s were great! When I brought down the video screens, the lights then shot out between the panels and helped shrink the space. They provided the right amount of attention to the stage when I needed it."
A video presentation wall was also an important feature on the stage. Creating the mechanism to move the video panels from overhead to a backdrop was one of the bigger challenges for Clark. In the end, however, the panels offered an impactful transition between the different parts of the show. Using the video enabled Clark to transform the space so the audience really had a sense of the show within a show feel. He also added scrim around the stage during the Fully Completely section to create a box effect, making the space feel more intimate. Clark also used MAC Viper Profiles around the stage because he liked their hard-edged beams. He felt they helped bring the audience into specific moments in the show.
This tour has been one of many Clark has designed for The Tragically Hip over the years. Having the challenge of two shows in one coupled with the idea of bringing a retro, yet modern feel to the stage was something that Clark and his team successfully created. He attributes the tour's success to his years of experience.
Clark continued:
"I've been working with The Hip for the last ten to fifteen years. What makes this tour easier for all of us is that now we are older and wiser than we used to be. Luckily, I had a great partner in Christie Lites to help me pull off this vision. They have been great to work with and all the products they've provided are stellar." 

Martin equipment
MAC 101, 134 pcs.
MAC Viper Profile, 14 pcs. 
Rental company: Christie Lites