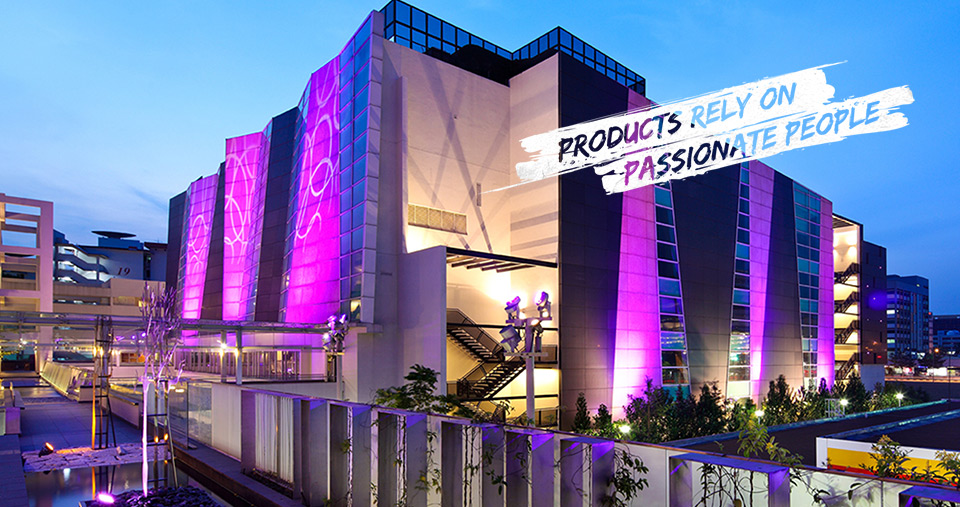 Trinity Christian Centre, Singapore - a new night-time icon
December 16, 2014
In a prominent intersection on the outskirts of Singapore City in Paya Lebar lies Trinity Christian Centre, Trinity@Paya Lebar. Designed to imitate the vast canyons of the Israeli deserts, the building's beige-colored facade mimics the folds of the desert landscape.
The original lighting scheme did not live up to Trinity Christian Centre's aspirations to become a neighbourhood night-time landmark. In fact, even the next door gas station outshone it and made more of an impact on the surroundings with lights. In consequence, ONG&ONG (Lighting Design) were commissioned to design and implement a new lighting concept for this house of worship.
Inspired by the original visions behind architecture ONG&ONG (Lighting Design) set out to use the light to mimic the hues of colors of the Israeli skies and to tell meaningful stories to the community.
Speaking of the challenges involved with redesigning a lighting concept, ONG&ONG (Lighting Design) Director Ms Swee Hong Ong said:
"Our task was to enhance and improve existing architectural features in the night. To ensure the success of the lighting design we had to conduct various onsite tests and consider the surroundings and conditions before we could propose our idea for the new design.This process is a lot more demanding than designing a new project from scratch."
After a series of shootouts to test various fixtures from different manufacturers in relation to their wash quality and color rendition, Martin fixtures from the Exterior range were chosen to project the new design onto the facade of the building. The fixtures were mounted on poles, equipped with lenses and glare shields to reach all the folds in the facade and complement the geometry of the architectural surface.
Elaborating on the choice of fixtures Ms Ong added:
"The Exterior range from Martin proved to have the rich, saturated color wash that we were looking for. The fixtures are easily controllable and unlike the other fixtures we tested, the exact calibration enables all the fixtures to display the same colors."
The new lighting design attempts to create a connection between the church and its community. Pre-programmed sequences display messages of faith and joy to spectators, and colors and projected patterns add a dimensionality to the architecture. The animation and vibrancy of the colors mirror the dynamism of the sky.
Concluding, Ms Ong said:
"Apart from depicting the sky, as an added benefit the color scenes we've worked on together with Trinity also works to relate to the events and festivities celebrated by the church. The animated scenes and effects would not have been possible without our great installer, Kurihara Kogyo. We can only be happy with the result we achieved together."
Against the backdrop of the relatively quiet, semi-industrial surroundings, Trinity has now completed its transformation into a new night-time icon in the neighbourhood.
Martin Equipment
Exterior 400 Image Projector, 14 pcs.
Exterior 410 with snoot kits, 28 pcs.
M-PC controller, 1 pcs.
Lighting design: ONG&ONG (Lighting Design)
Martin equipment supply and installation: Kurihara Kogyo Co., Ltd
Lighting programming: Martin Professional Pte Ltd