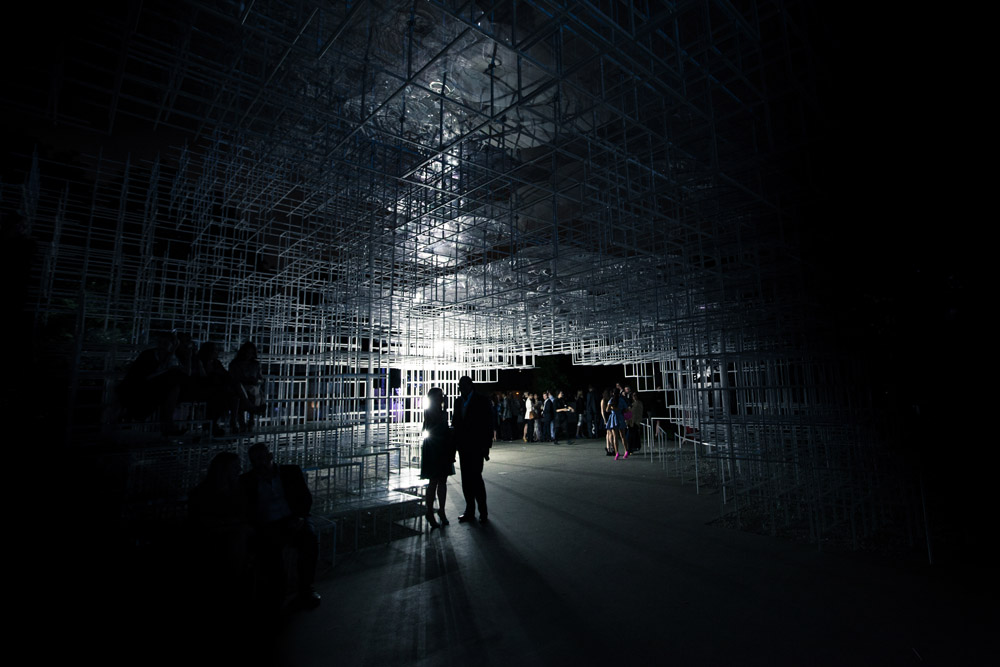 United Visual Artists, My Beautiful City and Martin Awaken Serpentine Summer Pavilion
July 19, 2013
See a video of the Serpentine Summer Party Pavilion illumination here.

Once a year comes the most eagerly anticipated party in London - the Serpentine Summer Party.

Presented annually at the Serpentine Gallery, one of London's best-loved galleries for modern and contemporary art with up to 800,000 visitors a year, the Serpentine Summer Party is one of the most anticipated events on the cultural calendar with the Pavilion commission the most ambitious architectural program of its kind worldwide.

This year, London-based art and design practice United Visual Artists (UVA), in collaboration with My Beautiful City, transformed the cloud-like Pavilion into an electrical storm. UVA invited Martin Professional to be involved by providing lighting equipment for the event to complement their performative installation within the Pavilion structure.

Hidden yet powerful, Martin Exterior 400™ series LED fixtures complemented UVA's miniature high-powered LED strips, which were temporarily attached to the Pavilion. The partnership of technology succeeded in making the architecture "breathe," awakening a character and energy, seemingly from within. Martin Exterior 1200 Image Projectors™ and Exterior 400 Image Projectors™ lit the structure from the Serpentine Gallery roof while the perimeter lighting was also done using Exterior 400™ and Exterior 420™ fixtures.

The 2013 Pavilion was designed by multi award-winning Japanese architect Sou Fujimoto, who, at age 41, is the youngest architect to accept the invitation to design a temporary structure for the Serpentine Gallery. Past Pavilions have included designs by Herzog & de Meuron and Ai Weiwei (2012), Frank Gehry (2008), the late Oscar Niemeyer (2003) and Zaha Hadid, who designed the inaugural structure in 2000.

This year's Serpentine Gallery summer party was hosted by L'Wren Scott, former model turned fashion designer and long-term partner of Sir Mick Jagger, and attracted a star-studded guest list, from supermodels Kate Moss, Eva Herzigova and Naomi Campbell, to fashion designers Daphne Guinness and Alice Temperley; film celebrities Sarah Jessica Parker, Matthew Broderick, Ewan McGregor, Jeremy Irons. HRH Princess Beatrice and Zaha Hadid were also guests.
For more on United Visual Artists and their involvement in the Serpentine Summer Party, see here.