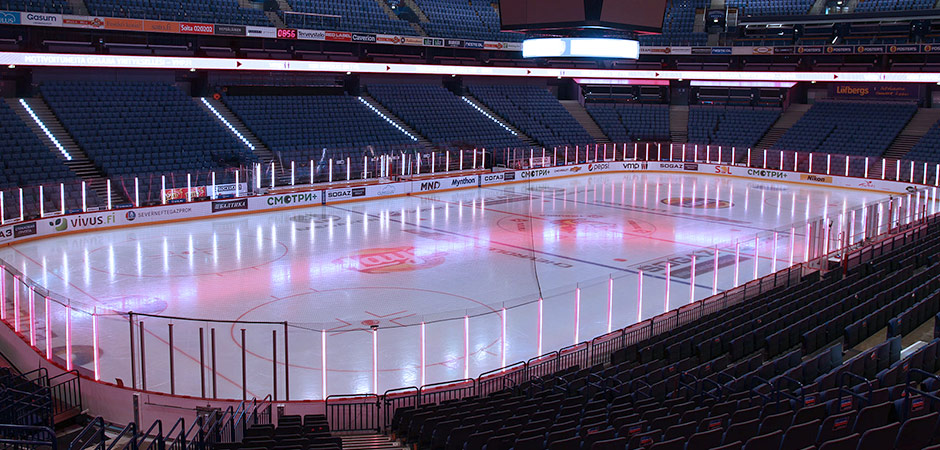 VC-Strips integrated at Finnish Hartwall Arena's ice hockey rink
July 07, 2015
In a unique approach to indoor arena lighting, Finland's Hartwall Arena features an innovative LED video system integrated with its ice hockey rink. The arena, which is home to the Jokerit of the Kontinental Hockey League (KHL) and Finland's National Men's Hockey Team, was recently modernized to enhance the fan experience with significant upgrades to its lighting, video displays and digital signage. As part of the modernization designer, manufacturer and supplier of ice rink equipment, ICEPRO OY, created a concept to integrate lighting within the stanchions supporting the rink's glass safety dividers. To realize their vision ICEPRO OY worked with Finnish A/V Integration firm, Studiotec, to develop a lighting design that included more than 940 of Martin Professional's VC-Strip LED video fixtures.
The system is built into the stanchions between the glass dividers of the rink as an extension of the arena's banner and 360-display screens and can run the same content as all the other displays. To accomplish this, Studiotec needed to overcome several challenges that included space and resolution limitations. In addition, the project, which began in March 2014 had to be completed in time for the opening game of the KHL season on September 4, 2014. Tapio Järvinen, who has worked with Martin since 2007 where he joined Studiotec as a Product Manager said:
"The stanchions provided only 27x27 millimeters of space, which is quite a small area to install a video facade. We needed a solution that was able to fit within the space while also providing enough resolution to run the same content as the other displays throughout the arena. Martin's VC-Strip was the natural choice, not only from a logistical standpoint, but also because their support is incredible. You know you can rely on the Martin team to work with you whenever you need support."
Integrated in all 118 stanchions around the rink, Järvinen's design consisted of 944 (eight per stanchion) VC-Strip fixtures with 25 mm pixel pitch totaling more than 14,000 pixels. Each stanchion features a two-sided installation with four VC-Strips facing the arena's seating and another four fixtures facing the ice.
To control the design, Järvinen relied on the P3 System Controller and P3 PowerPort 1500 due to the high-quality image processing capabilities and extremely easy setup/configuration. According to Järvinen, if they had used DMX-signal to control the system, they would have needed 83 separate DMX universes. With the P3 system controller, there are about 40 lines from the PowerPort to the rink, with one cable for every three stanchions. Järvinen said:
"The Martin P3 system controller is quite unique in its simplicity to install and configure. It would have been an extremely complicated system had we used other options. From the processing to the power/data distribution to the video facade, Martin's P3 system controllers are easy to configure and fast to install."
Overall, Järvinen considers Martin his top choice:
"We've been a distributor of Martin equipment for about four years and the level of support we've received on our projects has been outstanding. I would choose Martin over any other solution out there."
See the Hartwall Arena installation in action.
Martin Equipment
VC-Strip, 944 pcs.
P3 PowerPort 1500, 10 pcs.
P3-100 System Controller, 1 pc.