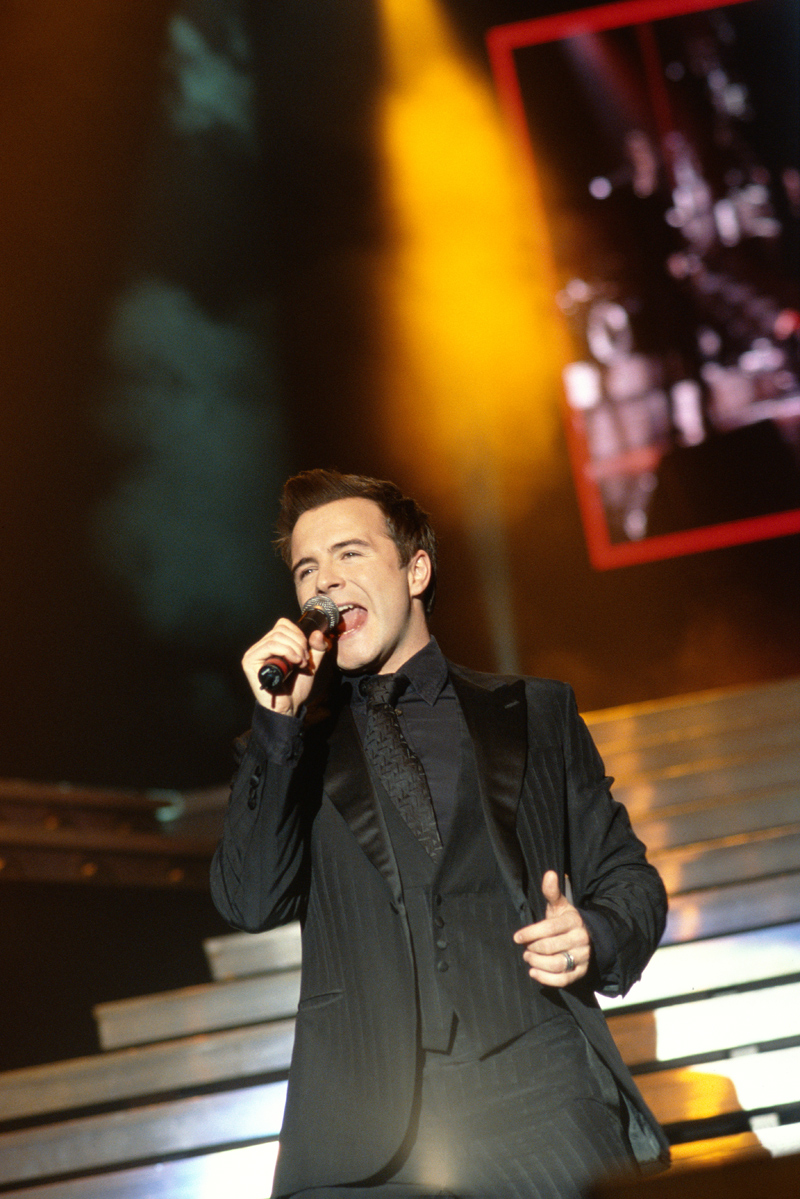 Westlife Tour 2005
June 24, 2005
Irish boy band Westlife keeps going strong having just wrapped up another successful tour. Bandit Lites UK supplied 24 MAC 2000 Profiles and 28 MAC 2000 Washes for the latest UK/European tour with lighting design again by Peter Barnes with David Lee stepping in for lighting direction. Martin lighting has been an indelible presence on all of Westlife's big tours to date.
"The lighting brief for this year's tour was similar to those of previous tours - big, bright and active," David Lee points out. "Westlife may be a boy band but they have a good chunk of rock 'n roll mixed in. The lighting design was done by Pete Barnes who has done the last three tours and I have operated and programmed them for him. This tour is kind of a joint effort between us to come up with the looks for the show."
The lighting rig consisted of two diamond trusses, trimmed at different heights and gently raked to show off the metalwork. The rig was dripping with MAC 2K's evenly spaced across the truss working with Jem ZR33 Hi-Mass foggers for those 'heavenly' Westlife looks.
There were five sections to the show, each with a different feel and look to it. David explains, "Section one is the intro to the show, which starts after about three minutes of video tape at the other end of the arena, designed as a distraction while the band gets into position. The four members make their way to the stage from the FOH position, walking through the crowds and lit only by four 2K spots. The boys hit the stage, pyro goes off and we're straight into the first four songs of the set where there is loads of activity.
"Section two is dominated by ballads and is very subtlety lit using the MAC 2K's. The last song of this section is a loud and in your face Westlife anthem 'Lookin Like That'. In this number the 2K's really get a pounding and stand up to the pace."
Section three is a medley section, "very discotheque" as David describes it, so he incorporates lots of rolling color and gobo effects. "All songs have a good strong bass line so the 2K wash lights with a narrow beam play a vital part. I like to use the PC lens as you can get a good, narrow and powerful beam or a super wide wash – it's a very versatile light."
Section four sees the band going back in time to the "Rat Pack" era. "The last album Westlife released was a covers album of the original Rat Pack, 'Allow Us to be Frank,' with Sinatra, etc. so with the stage now backed with a set of red velvet pleated theatre style drapes, we decided to keep this section very monochrome/ black and white looking utilizing the CTO colors of the MACs at different levels with saturations and not much movement from the fixtures."
Section five concludes the show with three of Westlife's biggest hits so Peter and Dave pull out all the stops with lots of big looks and fanned focuses.
"Specific features that I like with the 2K wash lights are its output and zoom feature, which lets you create some great effects with just a simple change of zoom and color at the same time," David says. "And the PC lens gives you that tight beam; it allowed me to make some great ACL looks without having a single Par 64 up there.
"The lights seemed to hold up well especially on this tour that was 12 weeks long. Equipment does get tired when it's in use every day for such a long period of time, but I must say that the reliability of these fixtures is pretty good with a few broken color flags being the only problem."
Bandit also supplied other automated lights, Chroma Banks, Truss Toners, 4 lites and 2k spots for the show.
Crew:
Crew Chief and moving light operator: Ian Lomas
Dimmers and electrical: Jason Hyne
Technicians: Ricky Butler, Charlie Denny