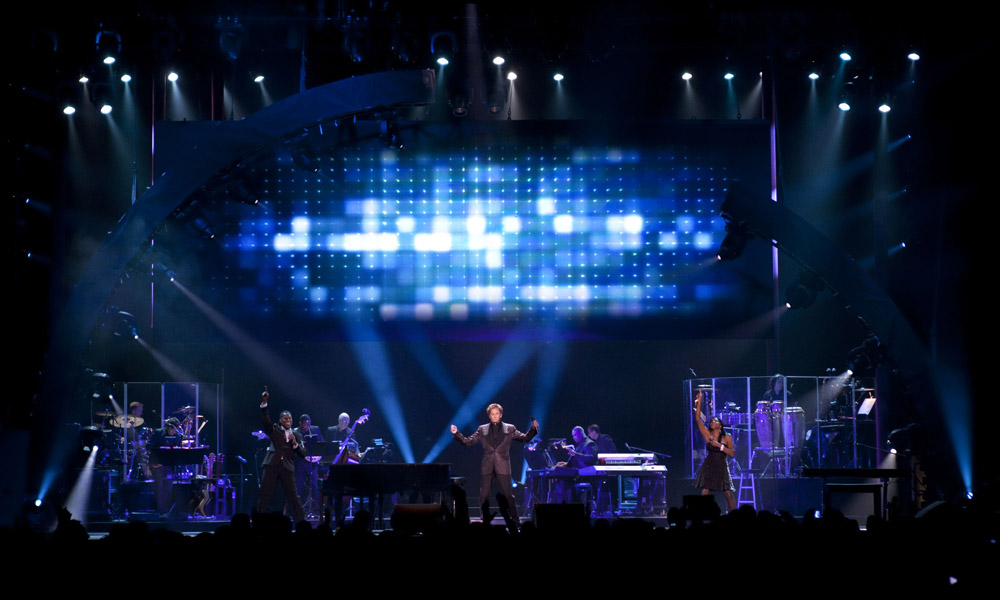 Bandit Hits Broadway with Barry Manilow and Martin Vipers
February 27, 2013
Bandit Lites is pleased to announce it is lighting Grammy Award-winning superstar Barry Manilow's triumphant return to the world's most famous street. After more than two decades, Manilow brings his colossal collection of hits to the St. James Theatre on Broadway. Opening night for Manilow on Broadway was Tuesday, January 29, 2013 and the show will run until March 2.

Lighting designer Seth Jackson worked diligently with Manilow to create an elegant and polished environment for the intimacy of a Broadway house. While some lighting designers could be daunted by the compact environment, Jackson adapted his design to fit the traditional venue with legs, borders and proscenium.

"Cues can have more subtly and precision, color choices can read much clearer, and the kind of looks and focus choices you make are much more contained," said Jackson of the smaller space. "We did our best in the process to forego the 'usuals' of the concert look and paint with a much finer brush."

That finer brush yielded what Jackson refers to as stylized one-man show, rather than a concert. The trusses are covered, and everything is masked. A video screen sits against black and all of the content has masks around it, giving the appearance the imagery is floating in the air.

"We never once let you see the edges of the video screen," Jackson explained, "and we decided to use no live cameras. This is storytelling, not larger than life stardom."

With the exception of front of house positions with Source 4s and scrollers, the rig is completely automated and made up of a combination of Martin MAC Viper Profiles™, MAC Auras™ and other automated fixtures.

Jackson attributes his success to the show to the team he had surrounding him, including his associate designers Brent Sandrock and Nathan W. Scheuer.

"They each bring so much to the table and help add such creativity and originality to everything we work on that I don't care to ever do a show alone," Jackson said. "Having this team surrounding me just pushes me farther creatively. Additionally, both of them bring so much expertise in terms of programming, networking, video content, you name it. We were also able to have our assistant, Jack Rushen, along for the entire process which was a huge help in keeping us organized."

After a twenty year hiatus from Broadway, it was apparent that Manilow's return held many expectations. After the incredible opening night, Jackson and his team were pleased to hear how rather than a "flash and trash rock show", people found themselves commenting on the accurate and appropriate look of the show for a Broadway house, a compliment Jackson (who is from a theatre background himself) says he takes with a lot of pride.

"It has been our honor to work with Seth and the entire Manilow organization for well over a decade," said Bandit Lites' vice president Mike Golden. "I admire the work and attention to detail Seth and production manager Sacha Bambadji put into the Barry Manilow show, and it's an honor to be associated with all involved. I am very humbled to represent Bandit Lites to this legendary artist, his manager Garry Kief and their entire staff."

"Mike Golden and the team at Bandit have been instrumental to the success of this project," Jackson said. "They have gone out of their way to help in every area. Additionally, enough can't be said to lighting director Jason Workman's contribution to this process. He and Barry have a great relationship, and he keeps the show up and running every night."

Boasting more than 80 million records worldwide, Manilow is known for his pop/rock hits "Could It Be Magic", "Mandy", "Can't Smile Without You", and "Copacabana (At the Copa)". Five of his albums have been on the best-selling charts simultaneously, and his last Broadway show in 1977 earned him a Special Tony Award.

About Bandit Lites, Inc.
Bandit Lites is a global leader in the entertainment lighting marketplace. From touring productions to fixed installations, Bandit Lites has a full staff of highly trained professionals to deal with all types of lighting needs. Bandit's global presence will insure seamless transitions no matter where your next show takes you.