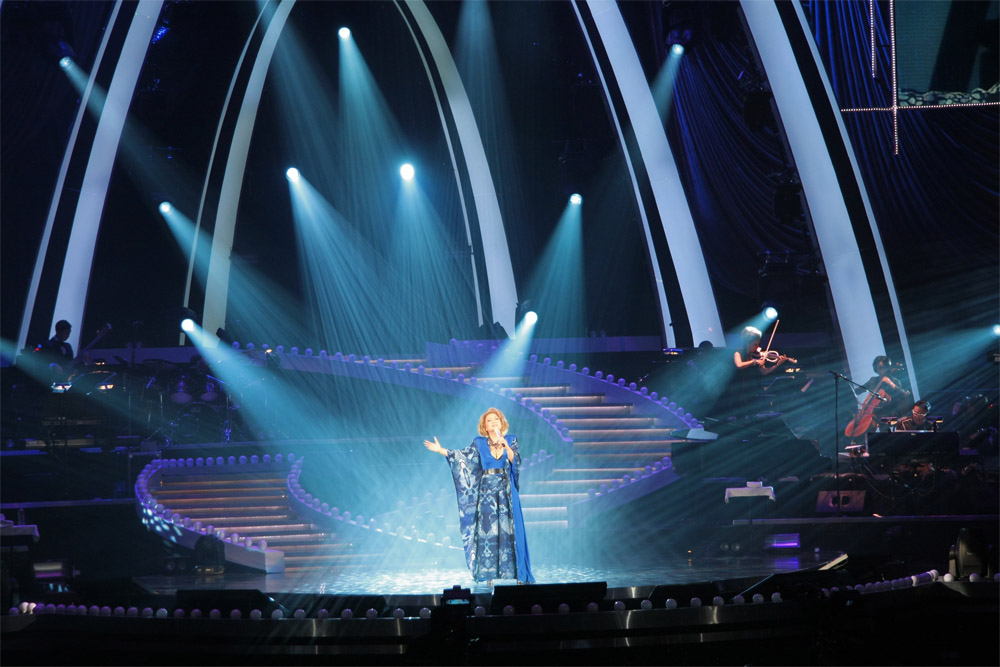 MAC III Profile™ Impresses on Alan Tam and Teresa "Time After Time" Concerts
September 13, 2012
"I've never seen such a wonderful lighting design at a Hong Kong concert," exclaimed a spectator after seeing the Lu Guozhi-designed Alan Tam and Teresa "Time After Time" concert at the Hong Kong Coliseum in late July. That sentiment was repeated often during a string of Hong Kong shows from July 20-28.

A concert that fans had been waiting to see for quite some time, award-winning Hong Kong singers Alan Tam and Teresa Carpio put their talent on display amidst a classically simple and operatically-themed stage design draped in Martin MAC luminaires.

Event organizer Entertainment Impact used MAC III Profiles as the key fixture of the rig, along with dynamic effects and color from MAC 350 Entour™ LED moving heads and MAC 2000™ series moving lights. Lighting supply for the shows was by Martin's Hong Kong representative, Martin Professional (HK) Ltd.

At over 33,000 lumens of brightness with a unique fat beam look, the MAC III Profile is a high-performance spot luminaire that has proved a lighting designer favorite since its launch in 2008. The fixture played an important role on the Alan Tam and Teresa show with LD Lu Guozhi using 24 of them at different positions on stage.

The two singers performed dozens of classic Chinese and English songs in an electrifying performance. Whether singing a romantic song or more upbeat melody, the MAC III Profile's speed, smoothness and accuracy of movement matched each song perfectly, its focus and zoom system adjusting from 11.5° to 55° in a second.