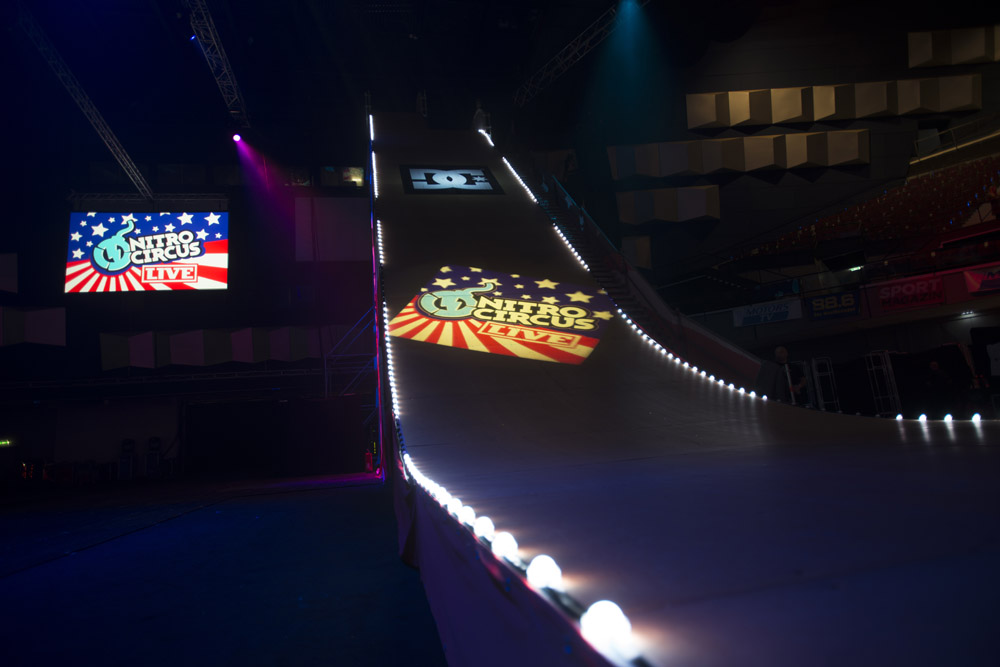 Nitro Circus Live ramps it up with Martin VC-Dot 4
January 10, 2013
Martin Professional's new VC-Dot™ LED string was used to dynamically line the 14-meter high "Giganta" take off ramp on Nitro Circus Live's recent European tour. Used for accent lighting on the edge of the ramp, the lightweight strings of individually controllable LED Dots provided a host of advantages for lighting designer Paul Collision.

In the past, Paul says, the "Giganta" ramp, which is used for freestyle BMX, skate and other things with wheels, has been edged with LED tubes.

"These have looked fine," he says, "but they take an enormous amount of time to set up. They are also quite fragile. I had a long search to find the right product and ultimately the VC-Dot was the product I always came back to. It ticked all the right boxes and was visually different from the previous effect, but many say an improvement."

The VC-Dots are available with 1, 4 or 9 LEDs per pixel and come in an RGB color mixing version or cool, medium, or warm white single color versions. Used on the Nitro Circus Live ramp was the VC-Dot 4™ RGB version.

Controllable via DMX or by Martin's family of award-winning P3 System Controller, the VC-Dots are an extremely easy setup compared to similar products and involve no DMX pixelmapping, loose power supplies, excessive cabling or time-consuming addressing procedures.

"It was quick to set up and would take only 15 minutes for two people to run out. In the past, the ramp lighting had taken 3 hours to do with two people," Paul says, who came on board after another designer had completed a long stint with the show.

"Usually the tour takes a leisurely pace with two set-up days before the first show day. On this tour, for the first time, the shows were set up, completed, and pulled down all in one day. The VC-Dot was also a very light weight package, meaning we could fly it in and out without spending huge amounts of money on transport."

Paul used 100 meters of the VC-Dot and ran it from a P3-PC System Controller from a laptop at FOH. "We took no care to get the same strings in the same places each day, as the process of re-mapping the pixel map was so fast it hardly seemed worth it."

Paul chose to use domed white caps to soften the LED source and increase the viewing angle. "I was slightly concerned we would lose too much output," he says, "but in the end I needn't have worried. They looked fantastic and were often commented on."

Other Martin gear used on the show was four MAC III Profiles™ for gobo projection. Lighting vendor for the tour was Neg Earth from the UK. "Their gear was not only exceptionally maintained, but came with the most professional crews I've ever had the pleasure of working with," Paul concludes.

The live action sports performance show featured some of the world's top action sports athletes performing stunts on dirt and motor bikes. The brain child of pro action sports athlete Travis Pastrana, the Nitro Circus Live European tour visited seven countries across Europe over November and December 2012.