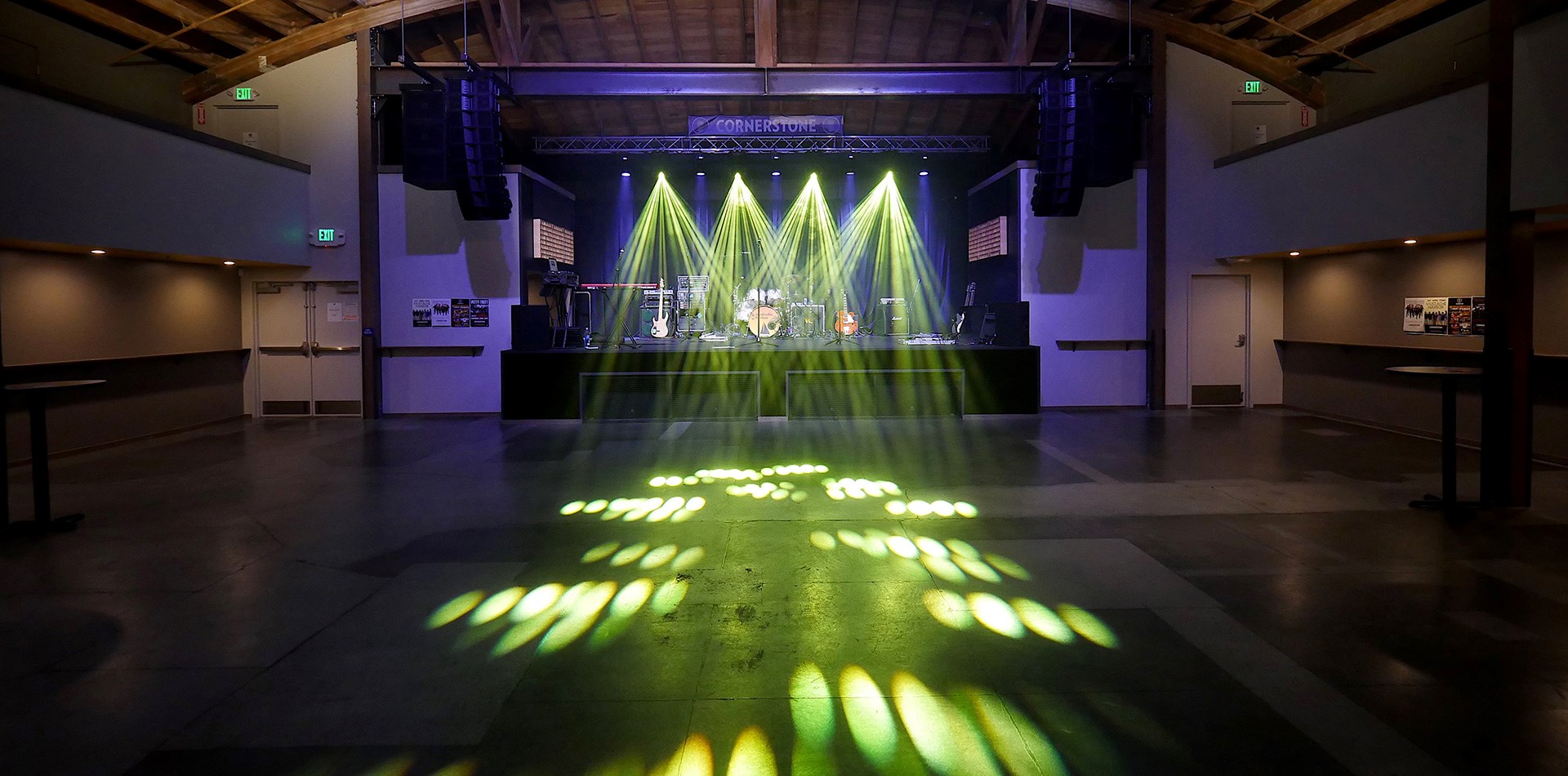 Cornerstone Live Music Venue Delivers a World-Class Audio and Visual Experience with HARMAN Professional Solutions
August 14, 2017
Integrator Brad Schield installs a complete HARMAN audio and lighting solution to provide exceptional sound quality, flexibility and ease-of use for a broad range of performances.
BERKELEY, Calif.—Brad C. Schield and Associates (BSA) recently designed and installed a complete audio and lighting system by HARMAN Professional Solutions in Cornerstone, a newly opened live music venue, restaurant and beer garden in Berkeley.
Cornerstone hosts performances by local bands, tribute acts and national touring artists, including The Offspring, Jefferson Starship, Third Eye Blind, George Clinton & Parliament Funkadelic, and many more. In order to deliver an exceptional audio and visual experience for both music fans and artists, Cornerstone owner Alex Popov hired BSA to install a cutting-edge networked audio and lighting system for the 600-capacity venue. BSA selected a complete networked HARMAN audio and lighting solution made up of JBL Professional speakers, Crown amplifiers, AKG microphones, Soundcraft consoles, BSS and Martin lighting fixtures for their professional performance, seamless integration and intuitive operation.
"HARMAN is an industry leader in innovative audio technology," said Brad Schield. "They can provide me with a complete solution from microphones and mixers to speakers and amps, and it all works together seamlessly. I know I can shop one source, and there's not going to be a weak link in the chain. HARMAN has been doing this longer than anyone—it's an integrator's dream."
The audio system includes a main hang of 18 JBL VT4886 line array speakers, 6 JBL VT4883 subwoofers in the air, 4 JBL STX828S subwoofers built into the stage, and JBL SRX Series powered speakers for stage monitors. JBL SCS8 speakers deliver full-range audio inside the restaurant, while JBL AWC82 and JBL SB2210 speakers are installed in the beer garden. The entire system is powered by Crown I-Tech Series amplifiers and optimized by JBL V5 speaker presets. The system also includes a comprehensive collection of AKG microphones to handle any live sound scenario. To ensure maximum audio coverage in 13,000 square feet of venue space, BSA used JBL VERTEC Line Array Calculator II software to meticulously map out speaker placement and arrangement.
Plus Four Marketing commissioned, supplied and tuned the HARMAN system at Cornerstone. By using a single distributor and a complete HARMAN solution, BSA was able to streamline the installation process and complete the project quickly and efficiently.
"The HARMAN system installed at Cornerstone was near-perfect right out of the gate and needed very little EQ adjustment," said Keith Erickson, Tour Sound & Large Venue Specialist at Plus Four Marketing. "The Soundcraft consoles are set up with preset recalls that allow audio to flow from either side of the venue. The entire system is networked via Dante, without copper cable. It makes it very easy for the owner to operate the system. Plus, Alex was also able to use HARMAN's Finance program, which allowed to him to purchase all of the equipment he needed at one time. This made the installation much more streamlined and efficient."
Soundcraft Vi2000 and Si Performer digital live mixing consoles not only provide unparalleled mixing power, they can be linked together via built-in Dante and BLU link interfaces to enable easy multi-track recording and flexible network routing options. Utilizing the Dante network and a BSS BLU link-equipped eight-channel Crown DC-I amplifier, audio can be routed to eight different zones throughout the restaurant and outdoor beer garden. The Dante network allows audio to be sourced from multiple locations in the facility. Separate shows can take place simultaneously in the venue and beer garden, or audio from the main venue can be routed to restaurant and outdoor patio, allowing guests to listen to the live performance from anywhere in the facility.
BSA also installed a lighting rig, consisting of 13 Martin RUSH MH6 CT and 4 Martin MH7 Hybrid fixtures. Controlled by Martin M-PC software, the lighting rig has more than enough flexibility for local acts and serves as a great foundation for touring acts that bring their own lighting package.
"We have the flexibility to provide a complete audio experience in every area of our space," said Popov. "The audio systems work together seamlessly. When we were researching the sound system, we travelled to different venues around the country. I can't think of a single place we visited that sounds better than the HARMAN system we have at Cornerstone. When The Offspring played here, they told us how great the room sounded. They've played some of the biggest and best venues in the world, so that was major validation of the HARMAN system. It was a great experience."