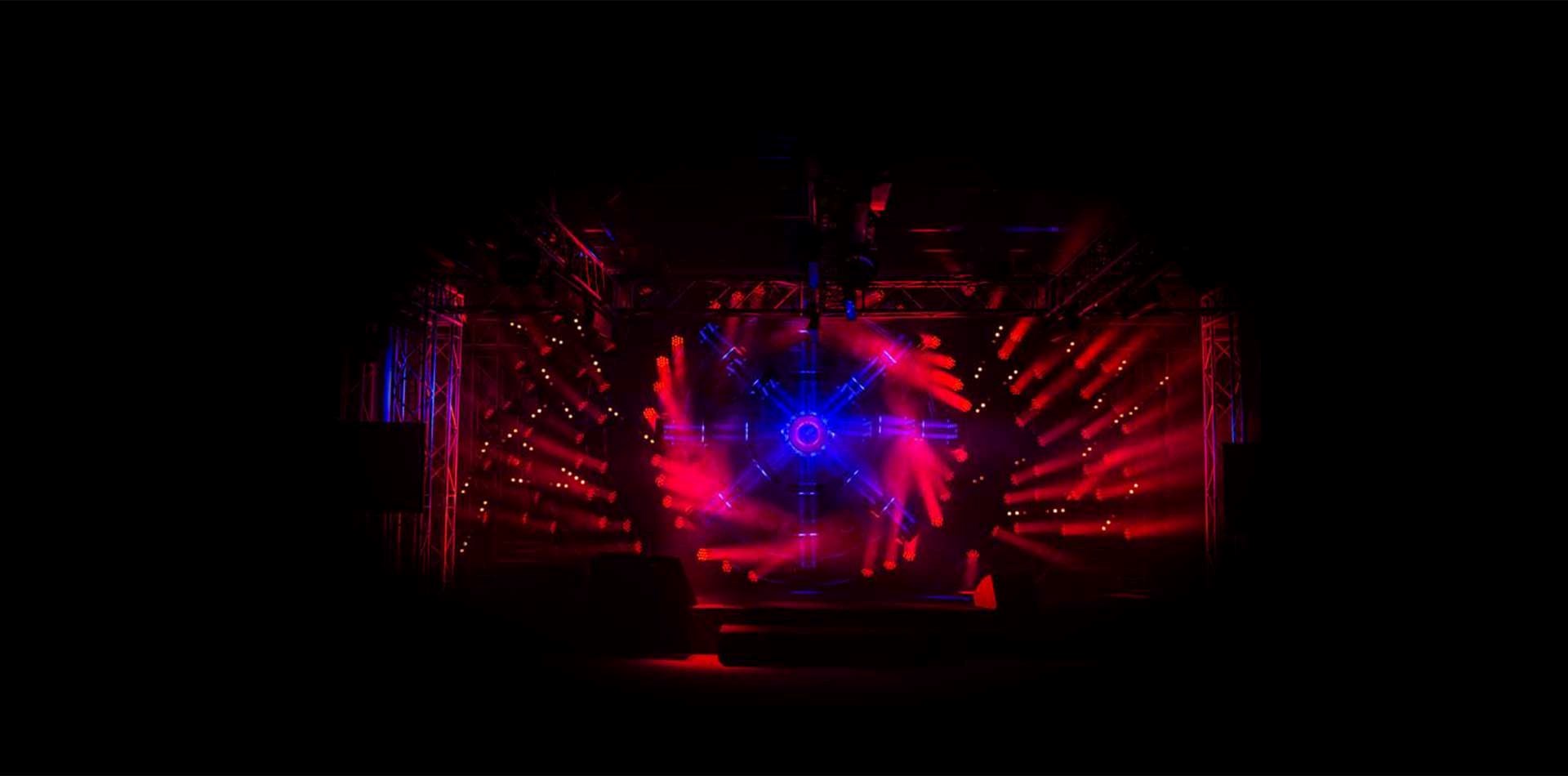 Euroshow Moscow Presents Brilliant Martin by HARMAN Lighting Demonstration at Prolight + Sound NAMM Russia
June 06, 2016
Large Martin by HARMAN system wows exhibition attendees with light show featuring MAC 101, MAC Aura, RUSH Strobe and MAC Quantum Wash fixtures
Showcasing the talents of lighting designers Alexey Zhuravlev and Roman Vakulyuk, several Martin by HARMAN lighting fixtures were featured at Prolight + Sound NAMM Russia. There were several special events for the show's attendees, including a unique project implemented by Euroshow Moscow. Demonstrations like this have become highlight attractions at many large professional audio/video tradeshows. The concept for the show was created by Alyona Morozova, and Zhuravlev and Vakulyuk joined the team during the programming.
"The show was held in a dark pavilion, there was nothing except sound and light, nothing to distract the audience's attention," said Lighting Designer, Alexey Zhuravlev. "At one point, we 'drew' a portal to another dimension with blue shades and deep, rich red color from the MAC 101. Euroshow Moscow supplied a high-quality audio system and, thanks to them, the sound of each accent was perfect."
This creative installation looked like a huge screen mounted in the pavilion, comprising many different fixtures with a wide range of functionality. A huge lamp spotlight in the center was a bright point in this alien space. The unique set included LED pixel panels mounted on half-circled trusses, spotlights, LED strips and compact, ultra-fast Martin by HARMAN MAC 101 LED wash-beam fixtures.
Because the sound track was full of interesting accents that required special highlighting, the designers decided to use a time code for programming this show. Zhuravlev and Vakulyuk created a wide range of presets and found many interesting options that were arranged according to the main idea. Each presentation with the hundreds of fixtures involved was completely automated. In addition to the central screen installation in the hall, MAC Quantum Washes were positioned in the center, with MAC Auras around the perimeter, to create eye-candy and a smooth wash light.
"These fixtures were an obvious choice for us," said Zhuravlev. "MAC Quantum Washes and MAC Auras are very powerful fixtures for their size, they can create wash effects with required intensity and do not overload the environment. Additionally, an onstage forum hosted during the exhibition demanded a soft, smooth wash light, so as not to exhaust guests. Low-quality fixtures can have a blinking effect that often goes unnoticed, but viewers' eyes get tired. Such difficulties never appear when working with MAC series fixtures."
Many Martin by HARMAN RUSH fixtures were also involved in this bright project. The entire perimeter of the pavilion was decorated with stripes of LED screens, and RUSH strobes were installed between those panels. In total, this project incorporated 96 MAC 101s, 20 MAC Auras, 17 RUSH 5x5 strobes and 11 MAC Quantum Washes.
"This installation helped us implement a very interesting concept," said Vakulyuk. "The RUSH strobe modules became a kind of alternative TV screen that connected the LED solutions together. We used them as media panels and got a very interesting result. I really enjoy working with the RUSH strobes because of this specific functionality."
For more information on Euroshow Moscow, please visit: www.euroshow-msk.ru
For more information on Global Show Trade and Lighting Designers Alexey Zhuravlev & Roman Vakulyuk, please visit: http://www.gst-group.net
Photography: Anton Popov
Design: Alyona Morozova