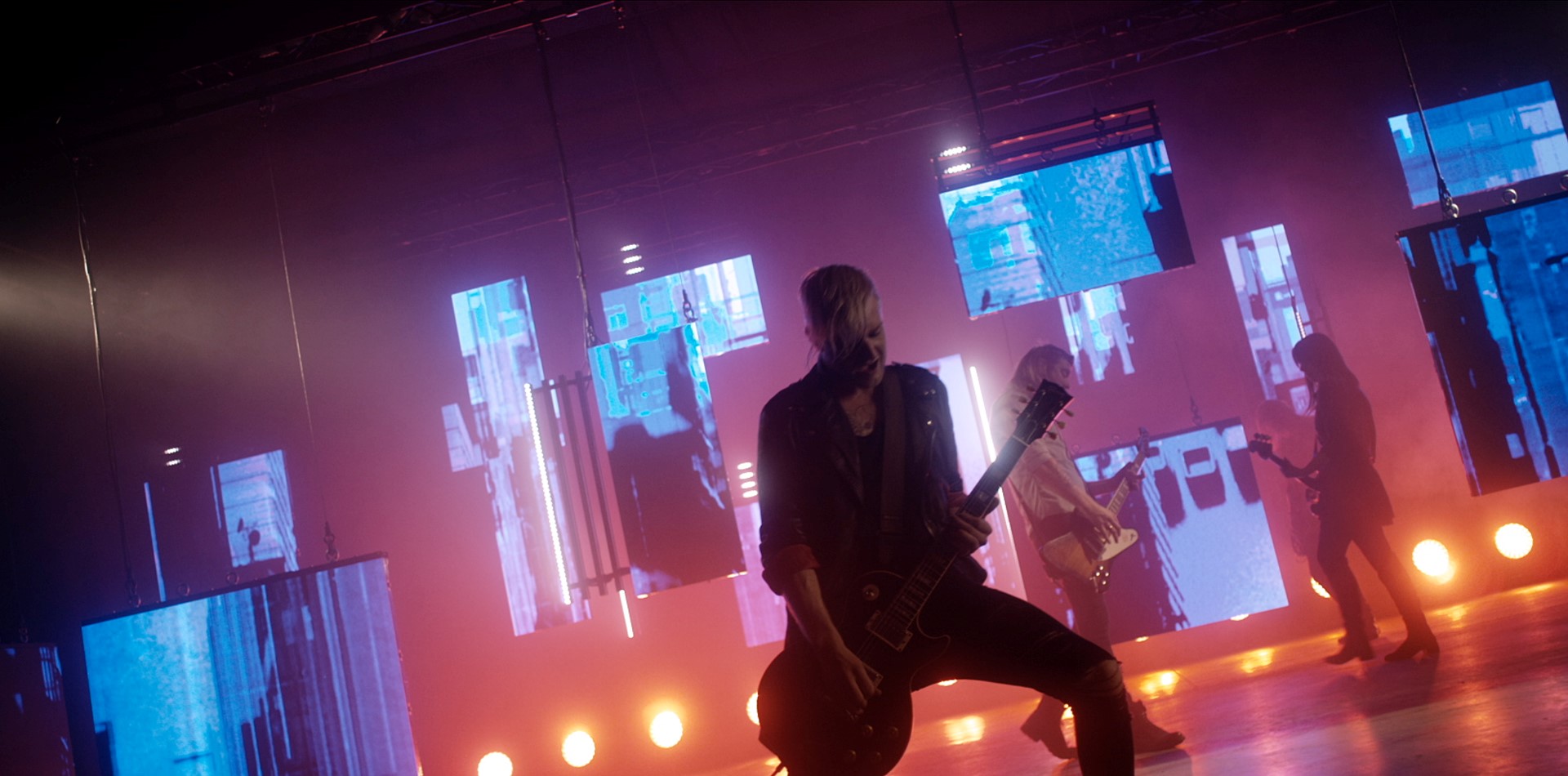 How to use creative video panels in music video production
January 09, 2017
When Copenhagen-based rock act Superloader wanted a creative video to make a spectacular visual impact for their single "City Light" we seized the chance to help them out. Martin VDO Face 5 and VDO Sceptron 20 delivered.
At HARMAN we're passionate about music. And we're passionate about visuals. For three decades, our products have been involved in touring productions with top artists around the world. But we've never forgotten what feeds this industry: The underground of tireless upcoming acts. So, we decided to pay our respect to the hard-working next generation, relentlessly aiming for the stars, by providing a cool setting for Superloader's video for the song "City Light". Thus, we teamed up with award-winning Croatian cinematographer, Vedran Rapo, who is well-versed in capturing the full potential of lighting fixtures on camera.
Creative video design
"Getting involved in this project was a welcome opportunity for us to demonstrate the new VDO Face 5 video panel's ability to integrate with the VDO Sceptron 20 and the MAC Quantum Wash fixtures to create dramatic scenarios for a music video" says HARMAN Product Manager – Integration & Visuals, Simon Allan, designer of the visual content of the video.
Working off the cityscape theme, the design is based around the VDO Face 5 panels emulating building-like structures. Three planes create a sense of depth for the band members to walk between. Various video content was used to create a high impact gritty feel to the video. VDO Sceptron 20 fitted with Lens Arrays are used to mimic the out of focus street lights and offer an alternate size of light source. Finally, MAC Quantum Wash fixtures and JEM Compact Hazer Pro were used to create the feel of a burning, smoky cityscape.
Cross-unit uniformity
The VDO Face 5 panel combines really well with the VDO Sceptron 20 because, like all Martin creative LED video products, both fixtures run on the P3 System Controller. The seamless integration of as many panels as you like makes it a breeze to set up a total visual solution mixing different creative video products.
The Martin range of creative LED products all have consistent pixel-to-pixel calibration. This ensures that even when full bright colors are used the panels look completely uniform across product types – you get the exact same color output across the units. Says Wouter Verlinden, HARMAN Product Manager – LED Video: "Uniformity is very important on camera because sometimes we're just using flat whites or colors on the panels, and if they're not completely identical you'll spot it right away".
Control via video and DMX content
Three P3-150 System Controllers were applied on this production because we ran three rows of video panels in the design. Each layer is a mix of VDO Face 5 panels and VDO Sceptrons. Great thing is: These creative LED video products can be mapped out very easily on the P3 controller – you simply create the layout as it appears physically on the set. Bjørn Stolt, HARMAN Senior Product Specialist operating the creative video content on this production: "Besides running all fixtures as video products via the P3 controller units, we also had them set up on the M6 lighting controller as RGB DMX fixtures. This gave us the maximum amount of flexibility in terms of control as it allowed us to adjust colors by pulling down DMX values from the M-Series console".
From a filmmaker's point of view
Vedran Rapo, award-winning director of photography with loads of commercials, arts and music videos under his belt: "Nowadays, where cameras and sensors are becoming more sensitive it is very important that you're able to run the panels at a lower intensity without sacrificing the color quality or losing the depth of the image". On the pragmatic side of things, Vedran boldly adds: "Being able to quickly change the shape of the panels is a huge time-saver on set".
But how does the band like it? Those, who're actually pushing a product with this video? To quote lead singer Bjørn Poulsen: "Wow. Just wow. Initially, we didn't really know what to expect since we had never worked with creative video before. The creative content that Simon designed gives the video a visually exciting impact that emphasizes the feel of the song. It has indeed exceeded our wildest expectations and we're all super happy about the result".
Check out the Superloader music video + an exciting "making of" bonus video with interviews and in-depth behind the scenes footage.