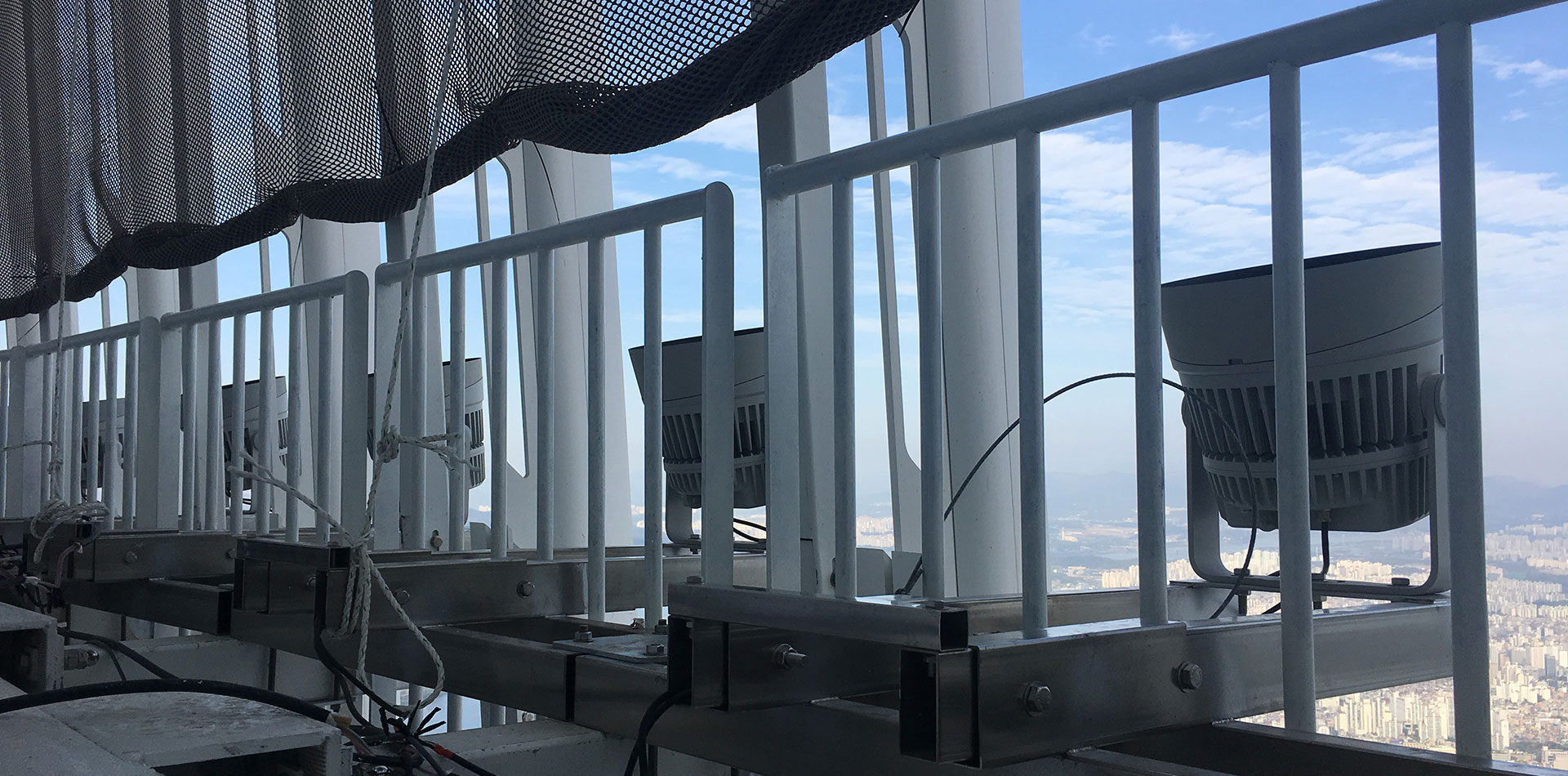 Lotte World Tower in South Korea Takes Illumination to New Heights with Martin By HARMAN
September 18, 2017
Hansam System, Co., Ltd deploys Martin by HARMAN fixtures for their versatility, rich color and reliability under adverse conditions
SEOUL—Hansam System, Co., Ltd recently installed a comprehensive Martin by HARMAN lighting solution in Lotte World Tower, South Korea's tallest skyscraper and the fifth tallest building in the world.
Featuring 123 floors, Lotte World Tower is home to a wide range of facilities and public spaces, including business offices, private residences, a luxury hotel, a mega mall, a cinema, an aquarium, a concert hall and a large observation deck. The building owners hired Hansam System, Co. and lighting consultants EOS SLD and Nikennomura to design an ambitious lighting solution that would visually enhance the architecture of the building's roof, observatory ticketing area and grand ballroom. After careful consideration Hansam System, Co. selected a full array of industry-leading Martin fixtures for their creative versatility, rich color palette and proven reliability under adverse weather conditions.
"This was an amazing project to be involved in," said Hongsik Kim, CEO, Hansam System Co., Ltd. "We are honored to have our work seen by anyone who visits Seoul. The exceptional brightness and vibrant colors of Martin fixtures are a perfect match for an application of this magnitude."
"It's an honor for our products to highlight such an iconic landmark," said Ramesh Jayaraman, VP & GM, HARMAN Professional Solutions, APAC. "Lotte World Tower is a world-class building that will attract millions of guests in the years to come, and thanks to a complete Martin by HARMAN solution implemented masterfully by Hansam System, its magnificent architectural design will be a beacon of light to all who see it."
In order to increase the building's visibility, Hansam System deployed Martin Exterior Wash 210 fixtures on Lotte World Tower's lantern-shaped roof, which can now be seen from miles away. Designed to illuminate large structures, building facades and bridges, the Exterior Wash 210 offers superior color mixing and is IP-rated for permanent outdoor use.
"Because of the dangers involved with maintaining fixtures at this height, we needed the lighting fixtures to be durable and reliable enough to withstand the wind and the rain," said Dongjim Kim, Sales Manager, Hansam System. "We had faith that the Martin Exterior Wash 210 fixtures would not fail in adverse weather conditions."
Expected to draw around 3 million visitors annually, the Seoul Sky Observatory at the top of Lotte World Tower offers breathtaking views of Seoul and its surrounding area. To create an exciting atmosphere while visitors wait in line for a ticket, Hansam System installed Martin VC-Dot 1 LED string lights in the ceilings, which are controlled by a Martin P3-050 system controller.
"The space we had to work with posed some difficulties, but the VC-Dot system made customizing the configuration very simple," said Kilyoung Jung, Director of Sales, Hansam System. "This was our first time using the Martin P3-050 system controller, but thanks to its intuitive design, we got the hang of it in no time. The P3-050 allowed us to create inspired scenes which maximize the potential of the VC-Dot LED string lights."
The Signiel Seoul Hotel occupies the 76th to 101st floors of the tower, and features a 5,920-square-foot grand ballroom that can accommodate up to 300 seated guests. In order to provide unique and intimate environments at a wide range of events, the ballroom is outfitted with a range of Martin fixtures, including MAC Viper Profile, MAC Viper Wash, RUSH PAR2 RGBW Zoom and RUSH PAR2 CT Zoom.
"To enable a wide variety of lighting scenarios, the lighting fixtures in the ballroom should be flexible and powerful," said Sungyu Kim, Sales Manager, Hansam System. "The MAC Viper Profile and MAC Viper Wash can handle the needs of any event, whether supporting a dramatic performance, providing theme to a wedding or strobing a dance floor."
TAGS: Architectural, Hotel