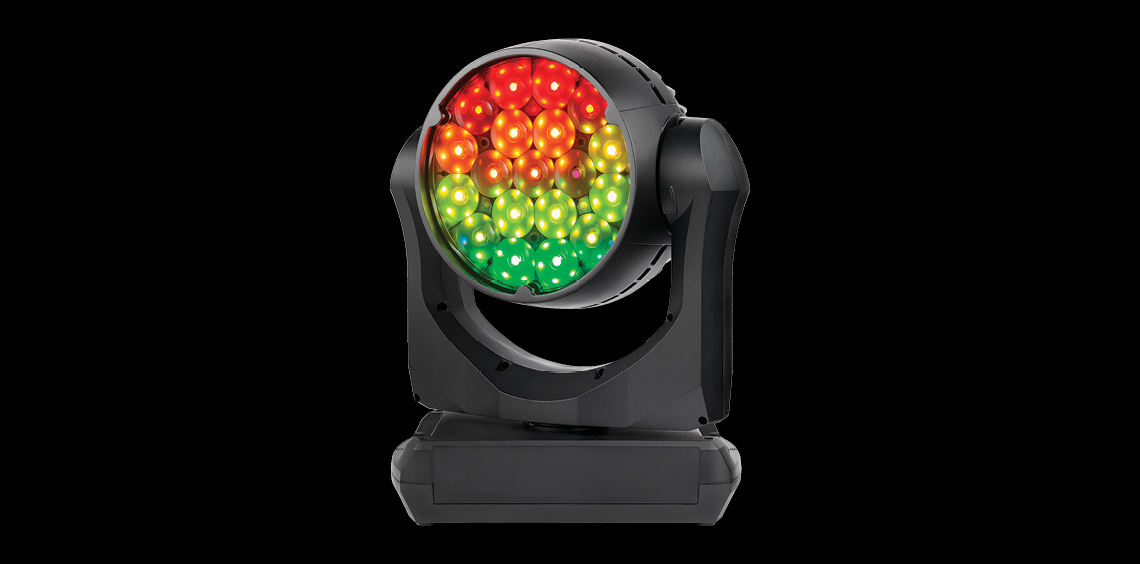 Martin by HARMAN Announces New MAC Aura PXL LED Pixel Wash Light
April 15, 2020
NORTHRIDGE, Calif.—HARMAN Professional Solutions, the global leader in audio, video, lighting and control systems, today announced the new Martin MAC Aura PXL LED wash light, the industry's first wash light with individual pixel control of both the main beam and Aura backlight.
With a bright, precisely-calibrated RGBW engine, instant color mixing and seamless pixel mapping, the MAC Aura PXL is both a sustainable workhorse for rental companies and a powerful creative tool for lighting designers. The MAC Aura PXL expands on the unique LED backlight concept introduced in the popular MAC Aura with an enhanced feature set that presents amazing new possibilities.
"The MAC Aura PXL is the next evolution of the MAC Aura product line, and delivers essential new features that lighting designers have been requesting," said Markus Klüsener, Global Product Line Manager for Stage Lighting, HARMAN Professional Solutions. "With control over each individual pixel, not only the 19 main beam pixels, but also down to the 141 Aura backlight pixels, via DMX, ArtNet, sACN, but most importantly and simply, our very own P3 protocol; lighting designers can create never-before-seen effects and map pixels to video with ease. And with its powerful output and reduced size and weight, this fixture represents a powerful addition for any rental company's inventory."
Sporting an RGBW LED engine capable of 13,000-lumen output, the MAC Aura PXL is a true workhorse lighting fixture. Precisely calibrated LEDs deliver rich, saturated colors and subtle pastel hues with instant color mixing and minimal color degradation over time. The MAC Aura PXL's precise, silent 1:8 zoom goes from wide wash coverage to a tight and high intensity 5 degree narrow beam. Fast LED refresh rates compatible with shutter speeds used on film and TV enable flicker-free operation with no banding, resulting in perfect on-camera performance.
As the first Martin wash light with individual pixel control, the MAC Aura PXL unlocks completely new creative opportunities for lighting designers. The 19 pixels that make up the beam can be programmed individually or used as a video element within a P3 system with ease. The enhanced Aura backlight, with its 141 individually-controllable LEDs, takes Martin´s signature eye candy effect to the next level with the opportunity to create mesmerizing animated effects, never before possible.
A single Ethercon data connection supports all modern protocols such as P3, ArtNet and sACN, while a 5-pin DMX connection ensures universal compatibility. A built-in Ethernet switch with fail-safe relay means the fixture can be turned off and on without affecting other fixtures down the line. Weighing just 33 pounds with a small footprint, the MAC Aura PXL takes up less truck space and is easy to transport and rig.
Additional Details
We invite you to learn more about the new Martin MAC Aura PXL LED pixel wash light and to explore what's possible from HARMAN Professional in the wide variety of applications we support.