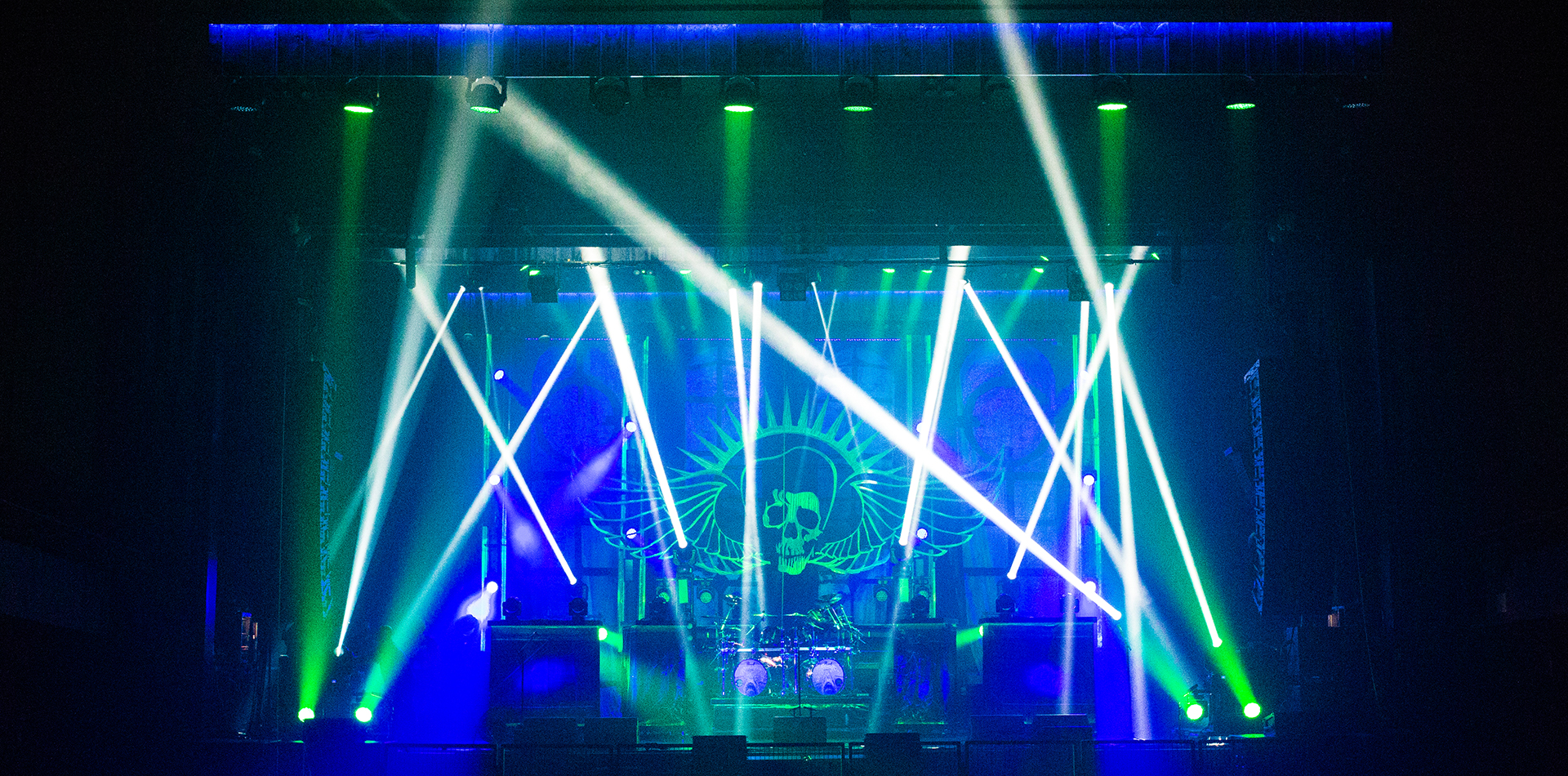 Martin by HARMAN Delivers an Intense and Dynamic Lighting Experience for Volbeat's World Tour
September 05, 2016
MAC Axiom Hybrid fixtures provide lighting designer Niller Bjerregaard with unprecedented versatility, power and scalability for a wide range of concert tour environments
Known for their unique fusion of rock and roll, heavy metal and rockabilly, Danish band Volbeat recently embarked on a world tour in support of their sixth album, "Seal the Deal & Let's Boogie." The band is performing in midsized arenas and theaters for the U.S. portion of the tour, while headlining major festivals and large arenas in Europe. Lighting designer Niller Bjerregaard selected MAC Axiom™ Hybrid fixtures for their exceptional power, performance and versatility, which enable him to deliver exceptional results at the wide range of venues on the tour.
"In Europe, we play huge arenas and major festivals, but in the U.S. we play theaters and smaller arenas," said Bjerregaard. "We wanted to create a lighting rig that could easily scale up or down to handle all the different performance scenarios. When I tried the MAC Axiom Hybrid, I knew it was the light I was looking for. The brilliance of the Axiom is that I can use it as a spot, a wash or as a beam for different parts of the show. It's the first light I've seen that can perform all of these different roles so seamlessly."
The lighting and stage design for the Volbeat tour is based on the artwork and lyrics from the band's new album, with a complex and intense visual presentation that matches the band's energetic performances. Bjerregaard's goal was to create a lighting rig that could translate the scale and intensity of the band's massive festival shows to smaller environments.
"The show is very theatrical and the lighting has a lot of depth, with multiple screens and mirrors," said Bjerregaard. "At different times during the set, the stage can look either very big or very small. Basically, wherever you are in the room, you'll have something interesting to look at on stage. It's a very dynamic presentation."
The lighting rig for the Volbeat tour was supplied by Christie Lites with support from rental representative Cory Wilson. In addition to the MAC Axiom Hybrid fixtures, the rig also includes MAC Quantum Wash fixtures and MAC Aura LED wash fixtures. The Axiom Hybrid fixtures are the centerpiece of the rig, and their lightweight design, high output and exceptional color palette proved to be the perfect match for the tour.
"The Axiom is fairly small and lightweight, but the output and brightness are insane—it's a very powerful fixture," said Bjerregaard. "It has a great color mixing system, the gobos are excellent, the focus is very smooth and it's a very easy light to work with overall. Every day I find a cool new thing that I can do with it. It's one of the best lights I've ever used."
photo by Brittany Bowman