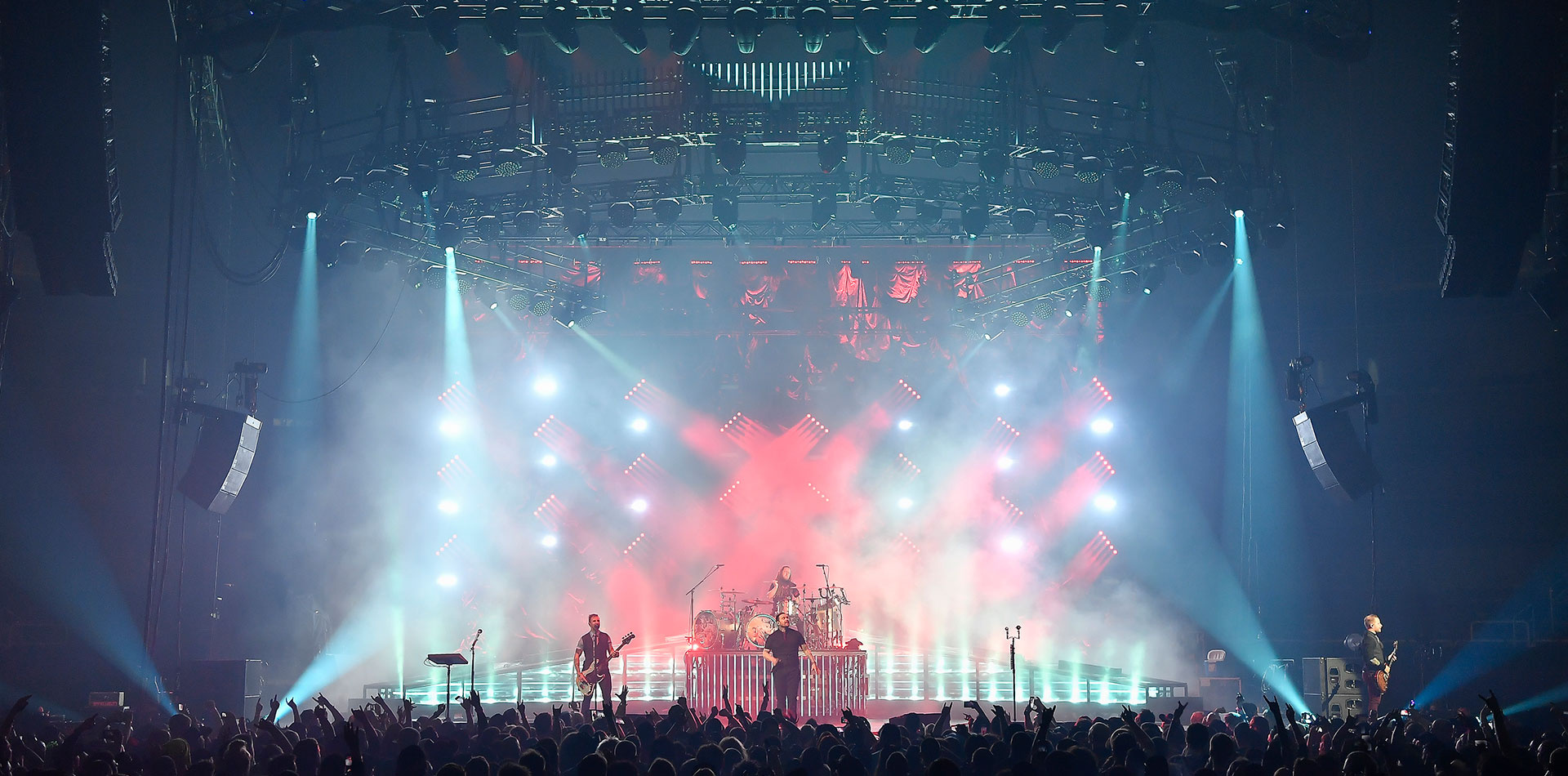 Martin by HARMAN Delivers Cutting-Edge Visuals for Shinedown's "Carnival of Madness" Tour
December 19, 2016
SRae Productions deploys VDO Sceptron 10 LED video fixtures and MAC Viper Profile fixtures to create a modern and innovative lighting set for the band's world tour
Award-winning lighting designer Sooner Routhier of SRae Productions recently used a full array of Martin by HARMAN VDO Sceptron 10 LED video fixtures and MAC Viper Profile fixtures to create an innovative, modern and exciting lighting experience for Shinedown's recent "Carnival of Madness" tour. After using the same lighting setup for several years, the band asked SRae Productions to create a new and modern lighting set that represented the band's unique sound. SRae Productions selected the VDO Sceptron 10 and MAC Viper Profile for their powerful performance and unmatched versatility.
"Brent Smith, the lead singer of Shinedown, approached me and asked us to create a lighting set that best represented the band," said Sooner Routhier, lighting designer, SRae Productions. "I wanted to create something that has never been seen on a Shinedown stage. We didn't have the budget to create content for the show, but I wanted to have moving texture in the set. We used twin wall polycarbonate and put the Sceptrons behind it to create a low-resolution video wall. The Sceptrons provide moving texture under the ramps and in front of the drum kit—and they look incredible."
The VDO Sceptron 10 fixtures are available with an extensive range of field-exchangeable optical accessories for a wide variety of looks, and feature easy setup, mapping and configuration. The MAC Viper Profile fixtures offer an incredibly versatile feature set in an incredibly fast, efficient and compact package.
"These days, it's important to get a lot of bang for your buck in a lighting rig," said Routhier. "We've been using Martin products on a lot of our designs this year. The Martin MAC Vipers are a fantastic spot for rock and roll. The color mixing is quick, and they have a great stock gobo package that provides us with chunky aerials necessary for a heavier rock band like Shinedown as well as softer aerials for artists like The Lumineers. I think we even use the shake feature at some point in the show."
In addition to the VDO Sceptron 10 and MAC Viper Profiles, Routhier is also a big fan of the MAC Quantum Wash fixtures, which she used extensively for recent tours by The Lumineers and Pentatonix.
"The MAC Quantum Washes allow us to program multiple color and beam effects as well as flood an entire stage with light," said Routhier. "The Quantum washes provide us with a variety of effects, and we love that we're able to use the washes in entirely different ways from song to song. They're extremely bright and punchy and can be used as a simple wash fixture or an aerial effect."
Over the past 15 years, Shinedown has become one of the biggest hard rock bands in the United States. The band has released five albums over the course of their career and sold more than six million albums worldwide.