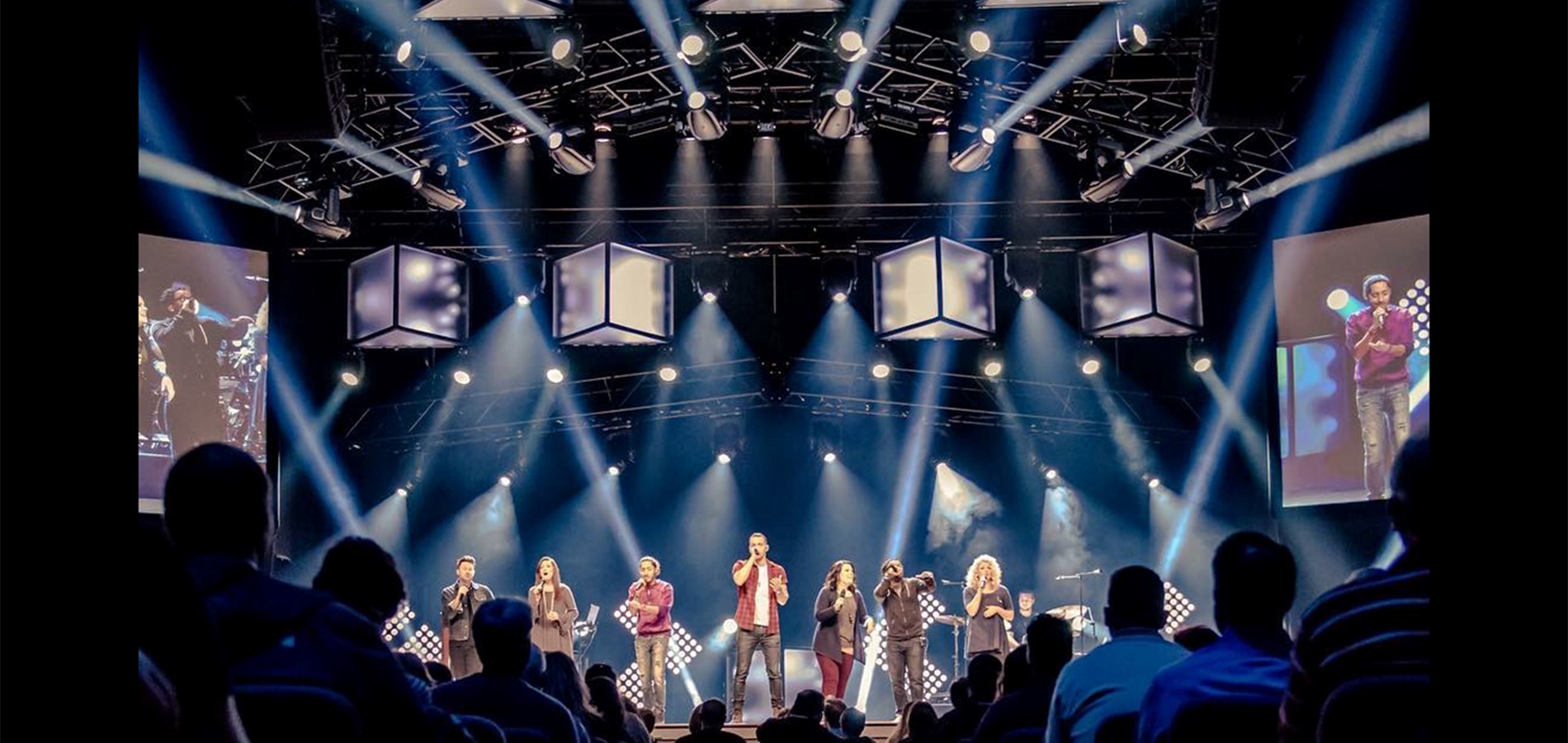 Martin by HARMAN Helps Woodstock City Church Bring New Light to Worship Services
September 27, 2016
Full array of Martin fixtures, beams and strobes to enhance worship services and bring concert-style lighting to a wide range of productions
HARMAN Professional Solutions today announced that Woodstock City Church recently installed a full array of Martin by HARMAN fixtures to enhance worship services at its new state-of-the art facility. Lighting director Rob Shawver and the Woodstock City production team selected 34 Martin fixtures for the church's main auditorium, including MAC Viper AirFX fixtures, Atomic 3000 DMX strobes, RUSH MH 3 Beams and more. The new Martin lighting rig enables Woodstock City Church to bring concert-style lighting to a wide range of events and provide a compelling worship experience to more than 4,000 people each week.
"This was the first time we've designed a lighting rig from the ground up, and we were excited to work with the HARMAN team to build a state-of-the-art rig for our church," said Rob Shawver, lighting director at Woodstock City Church. "I've always liked Martin fixtures, and their customer service has been great—they make us feel like we're part of their team. We've received great feedback on our new Martin lighting rig, and people are always telling us how beautiful the lights are."
Woodstock City Church is part of North Point Ministries, a network of six churches throughout the metro Atlanta area. The Woodstock City Campus recently moved to a new facility to accommodate its growing congregation. The church takes a modern approach to worship by incorporating popular music and games into its services.
"At Woodstock City Church, one of the ways we accomplish our mission is by creating engaging services," said Shawver. "We provide weekly worship services that are commonly full-on, concert-style productions. For example, we did "Firework" by Katy Perry on the Fourth of July. Other times, we will host smaller, more intimate services, and we use the lights to supplement the production. Our goal is to enhance the experience rather than introduce distracting elements."
For Woodstock City Church, it was important to design a lighting rig that could complement these high-energy performances, while maintaining the versatility to deliver beautiful, atmospheric segments for more intimate experiences. The Martin rig at Woodstock City Church now includes 21 MAC Viper AirFX, 2 Atomic 3000 DMX strobes and 11 RUSH MH 3 Beams. The MAC Viper AirFX plays a huge role in the production for its ability to combine hard-edge, mid-air effects and a beautiful wash field in one luminaire.
"The MAC Viper AirFX fixtures have been great, and they give us so many creative options," said Shawver. "The color mixing is smooth, and the colors have excellent punch. We absolutely love that they can mimic a beam as well as a super-wide zoom. We use mid-air effects to create really dynamic lighting and evoke the emotion that complements the music. They've been amazing."
E2i Design, based in Brighton, Mich., supported this effort. Learn more about them here: www.e2idesign.com.
ABOUT WOODSTOCK CITY CHURCH
Woodstock City Church is a non-denominational church located in Woodstock, Georgia. The church is part of North Point Ministries, Inc., a network of six churches in the metro Atlanta area. For more information, visit http://woodstockcity.org/.