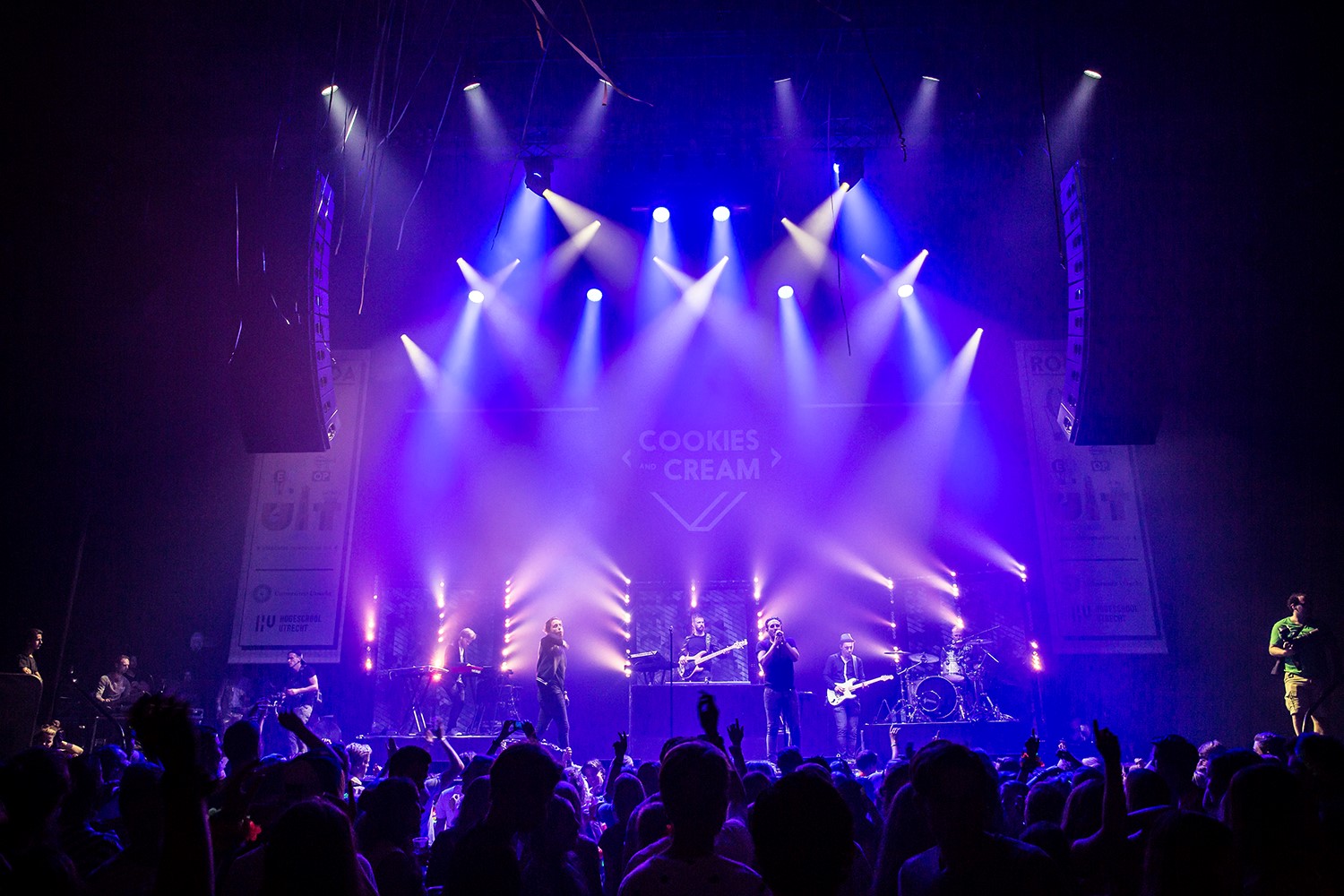 Martin by HARMAN Illuminates the Many Sounds of Utrecht's TivoliVredenburg Live Music Venue
March 04, 2016
Designed to host musical acts that cover the entire spectrum of genres, from classical to heavy metal, TivoliVredenburg called on Martin by HARMAN to deliver dynamic lighting solutions that create different atmospheres for each of its unique performance spaces. The prestigious live music venue is made up of two previously separate entities, Tivoli and Vredenburg, that were recently brought together to form a single large venue. TivoliVredenburg comprises five distinct performance spaces: a jazz hall, a concert hall, a chamber music hall, a pop/rock hall and, for crossover genres, Pandora hall.
Lighting integrator and distributor Fairlight BV worked with professional lighting supplier and installer Air Light to create the lighting system at TivoliVredenburg. The lineup of Martin equipment at the venue is nothing short of impressive: 72 MAC Aura wash lights, 46 MAC Viper Profile high-output luminaires, 16 Atomic 3000 DMX strobe lights, 14 MAC Quantum Wash lights, 16 MAC Quantum Profile LED profile fixtures, 16 MAC 700 Profile lights, four JEM ZR44 Hi-Mass™ foggers, four JEM Ready 365 CO2 hazers and two Exterior 1200 image projectors.
According to Marcel Zandbergen of Fairlight, the tight installation deadline was a challenge, but ease of product setup was a big help. "There were many different parties involved in the project, from the audio installers to the team managing the hoist controllers to the people looking after fireproofing," said Zandbergen. "We had a very tight timeframe to complete the system installation, with just a few months between the order being placed and the opening of the venue."
The MAC Viper Profile lights are being used primarily for pop and jazz acts. The MAC Aura wash lights are used throughout the entire venue.
"With the Aura wash, one minute they'll be lighting the artist and the next minute they will be used for ambient lighting. They're extremely speed-versatile," said Zandbergen. "They can go fast or slow with equal ease. And, of course, they provide a really wonderful white balance, beautiful zoom and beautifully deep, saturated colors. They operate very quietly. With so many different styles of music, it makes a lot of sense to use the Aura as the main light in the whole building."
TivoliVredenburg marks the first time the Martin MAC Quantum Profile lights have been installed in the Netherlands. "The MAC Quantum Profiles are in Pandora hall, which hosts everything from fashion shows to small rock concerts," said Zandbergen.
With this stunning array of Martin lighting solutions, TivoliVredenburg is poised to keep its audiences captivated for years to come.