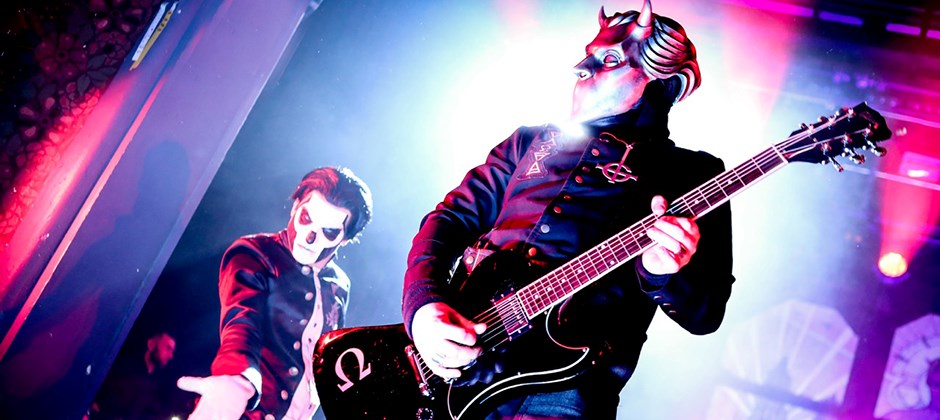 Martin by HARMAN Lighting Fixtures on Tour with GRAMMY® Award Winner, Ghost
March 21, 2016
Distinctive use of MAC Quantum Profile and RUSH MH 6 Wash floor fixtures create theatrical, mystical look for Ghost's recent European club and festival tour
Swedish rockers Ghost were honored with an award in the "Best Metal Performance" category at the 58th Annual GRAMMY® Awards, held February 15 at the Staples Center in Los Angeles. Supporting the release of the latest album, Meliora, and enjoying the extra attention with a GRAMMY for the song from that album, Cirice, Ghost recently finished a European tour featuring Martin by HARMAN lighting fixtures that helped set the tone.
Freelance lighting designer Christian Wienberg Bonde worked with Ghost for several months in preparation for the tour. Ghost has a distinguished stage presence and the band was heavily involved in set design and production decisions throughout the tour, which saw the band play intimate clubs and festivals while traveling with a floor lighting setup.
"I was a fan of the band before they asked me to come onboard, so I had a very strong idea of what I wanted to do from the start," said Bonde. "This band is all about a big majestic sound and look, but we had to be certain the lighting didn't overpower what was happening on stage. We wanted the lighting to help guide the audience through the show."
By using MAC Quantum Profiles and RUSH MH 6 Wash fixtures, Bonde was able to create the mystical, textured look he had in mind. All solos from the two guitar players and the keyboard player were lit by backlight spots, and the entire program was cue based, much like a theater production.
"The MAC Quantum Profiles were used as a big floor wash behind the band. They were the most important fixtures of the show," Bonde said. "We used seven Quantum Profiles for club shows and nine for bigger shows and festivals. They're small, lightweight and I love the sharp beam and gobos. We used eight RUSH MH 6 Washes as sidelights, also because they're lightweight and have a great output."
The MAC Quantum Profile is an extremely bright LED profile fixture that combines top-quality white light with a fast, smooth CMY color mixing system and crisp gobo projection. The RUSH MH 6 wash is an exciting adaption of the hugely popular RUSH PAR 2 RGBW Zoom, combining the same LED engine and zoom system with added features like moving head capability, spectacular 10°­–60° zoom, full electronic dimming, strobe effects and temperature-controlled fan cooling for quiet operation.
"Martin is the market standard all over the world," Bonde said. "I've had a close professional relationship with Martin since the early 1990's when I first worked on a television show in Denmark. We had the first 1220 and Pal scanners and the old Martin 3032 controllers. I've been a Martin fan ever since."
Photo Courtesy of Tim Tronckoe Photography